We are specialized in vegetable oil press and other relative machines, and we are the sole oil press machine factory with 30-history in middle China. We have built many successful projects around the world, such as Ghana, Zambia, Tanzania, Cote d'Ivoire, Australia, America and so on. We are totally confident to give you the BEST guidence on the way to the success of your soybean oil making business.


For the ones who are planning to start soybean oil processing business of mini or small scale, equipment selection and matching is the very first step for the success of your business. Here we recommond you our best-selling equipment set for mini and small sized soybean oil processing factory, capacity ranges from 1 ton/day to 20 ton/day.
Consider the following points before working on the whole business plan:
Clear thinking is necessary for making a perfect business plan, so here we give some points that you must figure that out first.
Raw Material: Just soybean or you want to process other kinds of oilseeds with the same machine set?
Capacity: How many tons raw material you will put per day? Or you want to get how much oil per day?
The purpos of the final oil: crude oil or refined oil? And is there any quality requirements for the final oil.
Cost budget: Many people don't even think about the budget in the first place. But it is really necessary!

You are also welcome to get in touch with us and we can help you carry out the best customized soybean oil processing plan according to your specific contitions and requirements!.
Small Soybean Oil Processing Projects for Reference
The followings are some of our small scale edible oil processing plant built before. You can take them for reference. If you are interested to get detailed information of these oil milling projects, feel free to send us an inquiry!
Small Scale Soybean Oil Mill Project Set Up in Togo
The following video is about a small scale soybean oil mill project designed and built for one of our client in Togo. It is a complete oil mill plant including oil extraction machine and crude oil refinery machine. Take this soya processing plant for reference if you are about to start your own soybean oil manufacturing business in India or other countries around the world.
Mini Soybean Oil Processing Unit for Sale
If your are starting your first soy bean oil processing plant with limited cost budget, we strongly recommend this mini-type complete set. This newly developed mini soybean oil processing unit is designed with Integrated Oil Press (oil pressing and filtering all-in-one). It is a great choice for mini vegetable oil mill or as initial investment of oil processing business. The following are the details about this mini oil processing line.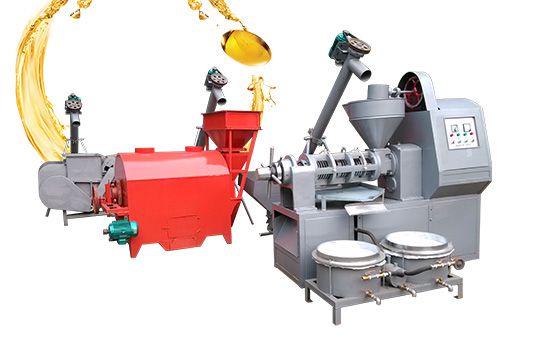 With automatic screw feeding machine, this mini soybean oil processing line also ensures the oilseeds feeding uniform and continuous, which avoid the unstable material feeding by manual. As the labor cost is rising, this automatic mini soybean oil production unit is obviously great choice!
Capacity: 2~10 ton per day (below 10TPD);
Contained Machinery: Cleaning sieve, screw elevator, roasting machine (cooker) and multifunction screw oil press.
Highlights: Lower cost, higher output, fewer labor and continuous production.
Suitable Oil Plants for the Mini Edible Oil Processing Unit: This mini oil processing unit is capable of pressing various kinds of oil-bearing materials and oil plants, including soy, sesame seeds, corn seeds, sunflower seeds, cotton seeds, rapeseed, groundnut kernels and so on. The equipment composition may be different for extracting oil from different oil seeds. Don't hesitate to contact us anytime you are planning to set us a mini vegetable oil processing unit or start a small oil manufacturing business.

Characteristics of the Mini Soybean Oil Processing Unit: This mini scale oil production assembly unit maintains complete functionality of large oil mill plant, but requires very small land space and cost investment. Besides, this mini unit is simple in structure, easy to install, operate and maintain. Compared with single oil expeller, this soya oil processing unit is automatic and needs fewer labor. Due to its smart and reasonable design, only 2 or 3 worker is enough to control the whole production line.

Soybean Oil Pressing Machine for Sale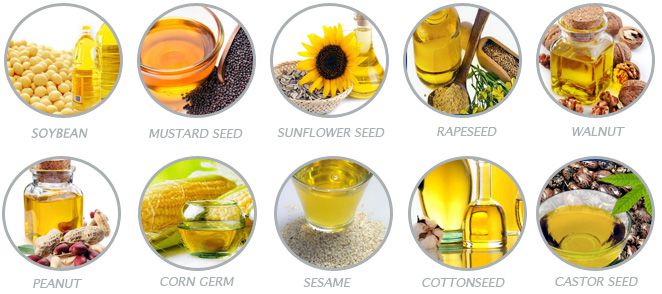 There are two types of oil press machine for setting up a mini or small soybean oil process plant: normal screw oil press and multifunction oil press machine. Both these two types can process various oilseeds including soybean, peant, mustard seed, sunflower seed, castor seed, etc.

Normal Screw Oil Press

| Model | Capacity(T/24H) | Power(KW) | Dimensions(MM) | Weight(KG) |
| --- | --- | --- | --- | --- |
| YZS-68 | 0.8-1 | 5.5 | 920*390*750 | 150 |
| YZS-80 | 2-3 | 5.5 | 1540*540*620 | 370 |
| YZS-95 | 5 | 11 | 1920*550*765 | 480 |
| YZS-100 | 4-5 | 7.5 | 1910*610*765 | 550 |
| YZS-120 | 6 | 15 | 1970*700*780 | 680 |
| YZS-130 | 9-12 | 18.5 | 2320 *700 *780 | 820 |
| YZS-165 | 15-20 | 22-30 | 2290*750*1020 | 1600 |
You are welcome to inquiry about this mini unit of soybean oil production and our oil presses. It really worth investing! 7x24 hours at your service!
Multifunction Oil Press - a combination of screw press and vacuum oil filter.
The key machinery of this mini oil production assembly unit is multifunction screw oil press or expeller. This multifunction oil press is a combination of screw press and vacuum oil filter. Besides, it also include motor, electric control cabinet and heater. When oil is expelled from the seeds by the oil press, the oil filter will purify the oil and filter out unwanted impurities. The finial oil product can be used as edible oil or biodiesel oil. With this multifunction oil press, you don't have to pay for an extra oil filtering machine.

| Model | Capacity(T/24H) | Power(KW) | Dimensions(MM) | Weight(KG) |
| --- | --- | --- | --- | --- |
| YZS-80A | 2-3 | 5.5+0.75 | 1060*590*600 | 780 |
| YZS-95A | 5 | 7.5+1.5 | 1230*640*570 | 900 |
| YZS-100A | 5 | 7.5+1.1 | 1220*590*600 | 900 |
| YZS-120A | 6 | 15+1.1 | 1350*700*600 | 1000 |
| YZS-130A | 10 | 18.5+1.5 | 1350*700*570 | 1000 |
I am interested in soyabean oil processing machine of 15 tons per 8hours working capacity with its refinery pls send detail lagos port Nigeria.
Hi, Thanks for your enquiry to our products.
As for your request, 15tons per 8 hours means 45Tons 24 hours. So that will be around 50TPD pressing plant.
If you want refinery plant also, it's capacity will be around 5Ton per day refinery. Pls understand, as for such big capacity, the system will not stop once you start it.
it'll be running for 24hrs without stoping considering economical cost.
I need deatil of price and setting up small oil manufacturing of soyabean.

In order to offer the most suitable equipment combination and give you the quotation of a tailor-made oil press line, we have to confirm some information with you:

1. What is your raw material? Is it just soybean? So we can confirm which pretreatment equipment is needed.

2. How many tons raw material you will process per day? Or you want to make how much oil per day?

I would be very grateful if you can send or forward to me FOB price including packaging to Tema Port in Ghana, West Africa

Why do you choose FOB? Because we always use CIF with other customers. Do you have other goods in China and has confirmed the vessel and port?

If you confirmed to use FOB, we should send the goods to which port, Shanghai, Tianjin or other port?