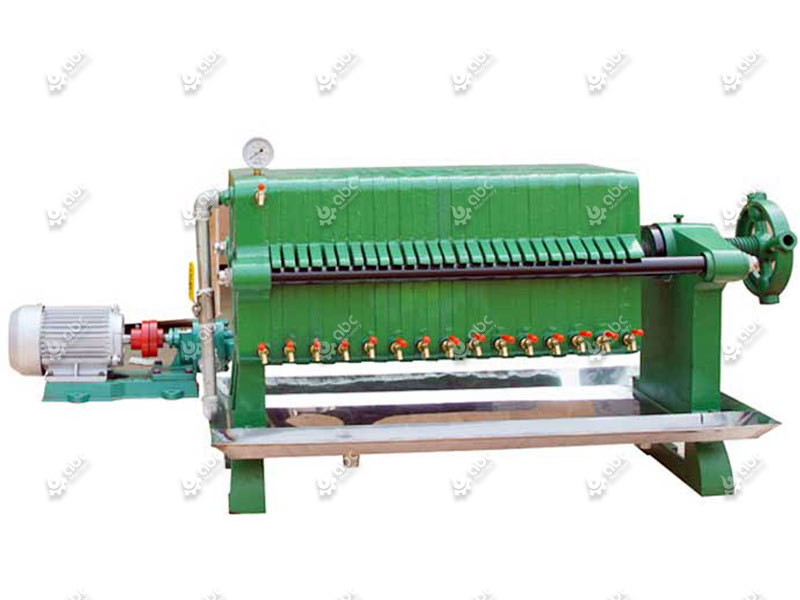 Plate and frame filter press is also known as frame filter or plate oil-filter. This is a small sized filter press for for filtering small scale crude oil expelled out by screw oil press. It can be matched with YZS-68, YZS-80, YZS-95, YZS-100, YZS-120 oil presses for continuous processing. This serial of filter press is ideal equipment for mini or small edible oil mill plant or individual workshops.
Yes! I am Interested!
Ask for Price
Details:
The 6LB series oil filter press is a kind of plate oil-filter which is widely used in small scale oil processing plant or small refinery plant for separating solids from crude oil for manufacturing edible or cooking oil.
6LB Plate and Frame Oil Filter Press Parameters
It is mainly consists of front stand, rear stand, machine base, pre-filtering clothe, oil pump, tension bolt and filter plate.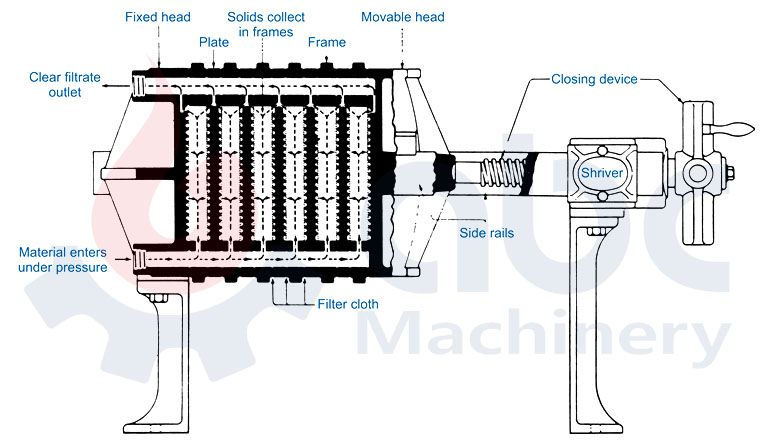 Dtructure Diagram
6LB-250
No.of filter plates
Dimension of filter plate
Working pressure
Productivity
Power
Dimension
Weight
13pcs
250*250mm
0.3-0.4MPa
100kg/h
0.75kw
780*530*670mm
155kg
6LB-350
No.of filter plates
Dimension of filter plate
Working pressure
Productivity
Power
Dimension
Weight
25pcs
350*350mm
0.3-0.4MPa
200kg/h
1.1kw
1300*750*700mm
450kg
ABC Machinery supplies quality filter presses with maximum filtration efficiency and long service for oil production of different scale or capacity.
Oil Filter Press Filtering Cloth
This small scale oil filter press is designed with a fine-mesh filtering cloth, making it particularly efficient in edible oil refinement. The filtrating cloth between the filter plates forms many rooms. Under the action of high pressure, the oil goes through the filtrating cloth and then be expelled from the faucet.

Operation Tips for Oil Filtering Process
To prevent leakage of the oil, ensure all the pipe clips are tightened before start the machine.
Generally, the filtered oil will flow out from the faucet in about 3 minutes after starting the machine. If no oil out, you need to stop the machine immediately and inspect the oil pipe for blockage.
History of Filter Press
Filter Press has been around since early 1800s in the United Kingdoms. They functioned in removing seed oils through pressure cells as we still have today. However, today, more sophisticated filter press machines are available in the market. They are now known with the name Recessed Chamber Filter Press, or Membrane (Diaphragm) filter Press.
How does Pressure Filters Work?
When in operation, crude oil enter into the filter press chambers through the pump at the speed of 100 psi to 900 psi. The oil fills each plate and frame chamber, then flows through the cloth medium, which is across the drain-field. The pressure generated in the gravity drain field and pressure coming from the pump combines to create a pressure differential, which causes the solid oil cakes to thicken and build up. The filtered oil discharges through the discharge port.