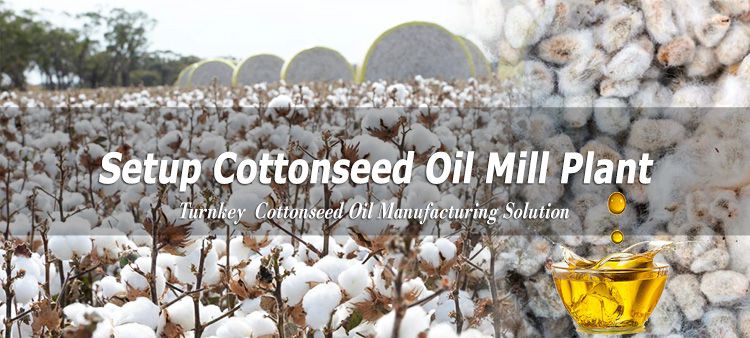 Offer Turnkey Cottonseed Oil Production Project Plan
Provide quality cottonseed oil milll machinery, mini scale, small scale and full scale oil pressing and refinery plant for vegetable oilseeds and nuts! Affordable price! Best Service!
Setup Cotton Seed Oil Mill Plant [Turnkey Project Service]
If you planning to start your own cottonseed oil plant, you should be interested in cotton seed oil extraction process, oil mill plant layout, tips for cotton seed oil mill machine selection, cotton seed cake processing and how much a complete oil mill project cost? ABC Machinery is always here to help you!
Customized Cottonseed Oil Mill Project Report [Photo Display]
The Cost of Establishing Cottonseed Oil Mill Plant
You should know that the project investment depends on various factors including production output, equipment selection, factory layout and degree of automation.
Here are some references for you:
The equipment cost of 5ton per day small cotton seed oil manufacturing workshop is about $8000. The larger the output, the greater the difference of investment cost between different project design.
Start Small Cottonseed Oil Milling Business
Here is the main equipment for small scale cotton seed oil mill plant: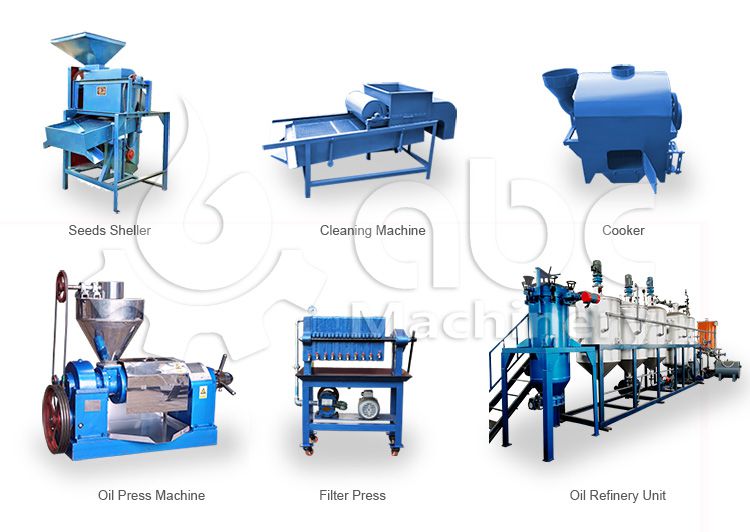 Build a Mini Cottonseed Oil Pressing Line
We are engaged in offering a wide range of vegetable oil milling machinery, small oil processing unit and full scale oil manufacturing business plan. The following small oil milling complete unit is one of our hot sale products. This unit is fully adopted mechanical driven, connecting a series small oil milling equipment tegether to realize continuous oil manufacturing and high rate of oil yield. This small oil pressing unit can process various oil seeds and nuts, such as coconut, palm kernel, sesame seeds, sunflower seeds, peanuts and soybeans etc. Fewer land space, small investment, wide application and labor saving, the this small complete plant is ideal choice for starting a small oil milling business! Tell us your needs and let us help you make a customized business plan!
Tips for Cottonseed Oil Extraction Equipment Selection
There are three methods for producing cottonseed oil.
The first method is
mechanical screw oil pressing
, the second one is

pre-pressing & solvent extraction

, and the final third method is

direct
solvent extraction
.
All the processes are done by the use of different cottonseed oil mill machinery.
Cottonseed Oil Extraction Process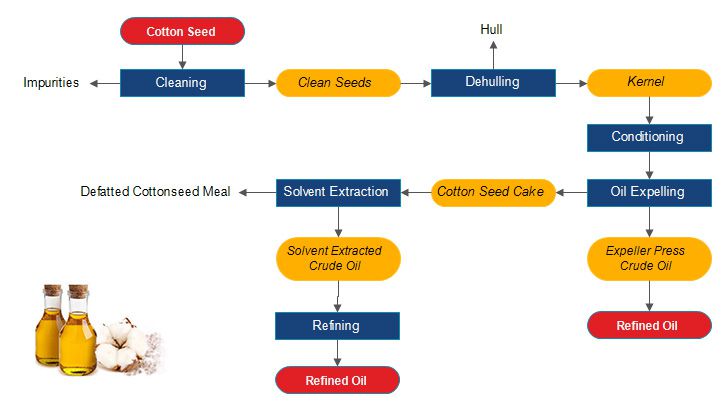 Cotton Seed Oil Extraction and Refinery Process
When setting up a complete cottonseed oil extraction plant, you must take process design and equipment selection into account. It is important to consider the advantages and disadvantages of the processing technology and equipment. To make a comprehensive judgment and prevent unnecessary waste of resources, the process parameters and equipment type selection must be according to the oilseeds characteristics, production output, equipment characteristics, factory situation, etc. It is also necessary to consider whether the existing equipment can be used in your cottonseed oil mill plant to increase the utilization rate of equipment and reduce the repeated investment.
Cotton Seed Pre-processing Equipment

The performance of pre-processing equipment determines the core competitiveness of cottonseed oil factory or company. Therefore, when setting up production line of cottonseed oil, be sure to pay great attention to cottonseed pretreatment section.
Tooth roller sheller, disc sheller, blade sheller are the 3 common types for
cottonseed dehulling machine
. The advantages of disc shelling machine are more obvious and it is the best choice for cottonseed processing.
Less affected by cottonseed moisture.
Easy maintenance.
Good adaptability to different oilseeds.
High hulling efficiency and effect (the shelling rate can reach 98% when the moisture is less than 12%).
Cotton seed shells are in good condition, better for selling. The main application of cotton shells is to cultivate strains of bacteria for the cultivation of mushrooms or other.
Kernel & Shell Separation Screen
With proper equipment for separation, the recovery rate can reach 98%. After separation, there is almost no kernel left in the shells. Truly achieves zero waste. The equipment investment can recover in half a year.
Flaking Machine: The purpose of flaking is to damage the oilseed cell structure, increase the surface area, maximize the consistency of the material, so as to improve the oil extraction efficiency. Therefore, flaking machine is necessary equipment for industrial scale cottonseed oil production.
Cottonseed Cooking Machine
The so-called cooking of oilseeds refers to the process in which the seeds are treated by wetting, heating, steaming and frying. The purpose is:
Destroy the cell structure, making it easy for oil expelling.
Make the phospholipid to absorb water and expand, reduce the solubility of phospholipids in crude oil and increasing oil yield and quality.
Denature the protein. The greater the degree of protein denaturation, the higher the oil yield.
Combine gossypol with protein.
Steaming cooker and heat conduction oil furnace are the two common equipment for this process. Both heating methods have advantages and disadvantages. Welcome to contact us for equipment details and price list.

Cottonseed Oil Expeller Press
Our cottonseed oil expeller press machine has a variety of models. Feel free to contact us, our service team will help you choose the most appropriate one depending on your situation and requirement.

Generally, for commercial cotton seed oil mill, with enough factory space, multiple oil presses are recommended project plan, to improve the equipment operation rate and reduce the factory running cost. And also prevent the risk of production stop when one oil press went wrong. For cottonseed solvent extraction plant, the residual oil in the cottonseed meal should be controlled at less than 1%, so as to reduce the relieve the pressure of solvent extraction workshop. Oil should be produced as much as possible in the oil pressing or expelling process, making the residual oil rate in cotton seed cake less than 12%.
Settling / Clarification Tank, and Oil Filtering Machine
The purpose of oil clarification and oil filtering is to reduce the impurity content in crude cottonseed oil, laying a solid foundation for improving the quality of refined oil in oil refinery. The choice of clarification tank does not have many requirements. Customize the settling tank according to your site and production capacity. Referring to oil filtering, there are plate and frame filter, vertical blade filter, horizontal blade filter and so on. At present, the vertical blade filter is the most common used type in small to medium scale edible oil refinery plant, and horizontal blade filter press is widely used in large scale oil processing plants. The selection of the filter must be based on impurity content of crude oil, and oil refining capacity.
Cottonseed Oil Refining and Fractionation
When​ producing advanced edible cottonseed oil, the oil must be processed by refining and winterization / fractionation. Besides, the utilization of solid fat after separation should also be considered in your business plan. This is one of our edible cottonseed oil refining project we designed and built in Afghanistan. Take this for reference! You are also welcome to contact us for customized projects and cost deteails.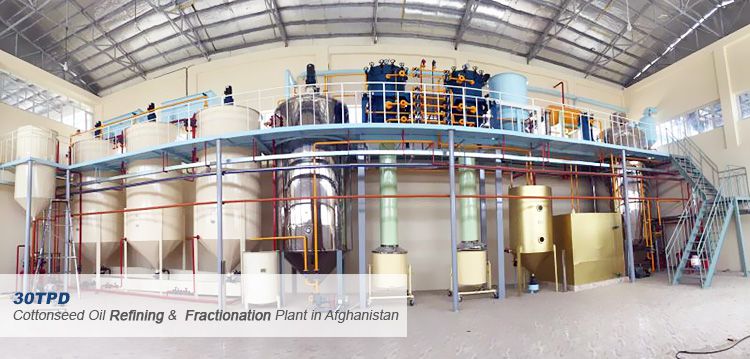 Cotton Seed Oil Refining and Fractionation Project
ABC Machinery is a pioneer manufacturer of oil processing machine and complete equipment, established in 1997. We can offer all kinds oil oil machinery including oil mill, filter press, oil refinery machine and so on. Our cottonseed oil millmachinery has been used in numerous reputed cooking and vegetable oil plant, solvent extraction plants and refineries all across the nation. Welcome inquiry the details of our machinery! (info@abcmach.com)
Cottonseed Oil Production
Cottonseed oil has clear and light golden color and quite a mild taste (the color degree depends on the amount of refining). It is also seen as standard for measuring odor and flavor of other edible oils. India has the highest cottonseed oil production ranks in world market-1,277.00MT, because cotton is one of the most crucial commercial crops in India. The second and third places in Cottonseed oil production take China and Pakistan, accordingly producing 1,048.00MT and 510.00MT.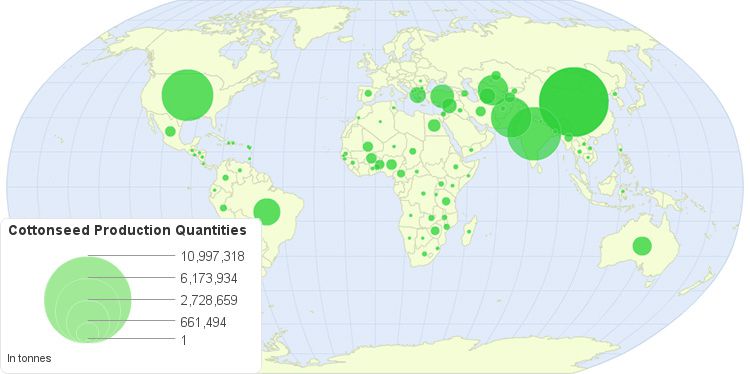 World Market of Cottonseed Production
Major Cottonseed Oil Producing Countries
Cottonseed includes hull and kernel, as hull contains fibers and linters, and the kernel is full of protein, carbohydrate, vitamins, minerals and sterols. Cotton seed oil is one of the most unsaturated edible oils. Though cotton cultivation dates back to several centuries, the cottonseed oil production is relatively new branch in world industry. In 1793 the first oil processing plant emerges, but it was only in the twentieth century that it was utilized for commercial purposes. Nowadays, cottonseed oil takes the fifth place in all edible oils.
TOP 10 Countries of Cottonseed Oil Production (1000 MT)
China
1,382
India
1,370
Brazil
592
Pakistan
469
United States
277
Turkey
244
Uzbekistan
189
Australia
100
Mexico
96
Mali
63
Wide Application of Cotton Seed Oil
Cottonseed oil is an extracted from the seeds of different cotton plants. These plants are mainly grown for cotton fiber, animal feed or oil. They have the same structure as those of sunflower seeds. Cottonseed oil is of light golden color with mild taste, but generally the color of the oil depends on the degree of its refining. Cottonseed oil is primarily used in cuisine for making mayonnaise or as a salad addition. Being cheaper than olive or canola oil, cottonseed oil is used as frying oil in many restaurants and locations of food service. Cottonseed oil mill machinery is used for crushing cottonseed oil seeds thus making it useful for culinary purposes. (Read more: How to Build a Sunflower Oil Processing Plant?)
Many of us use cottonseed oil for culinary purposes, but not everyone is aware of the benefits of cottonseed oil. Due to the high amount of antioxidants, which are essential for good health, cottonseed oil is necessary product for our health. It is rich in vitamin E and low in cholesterol. It is not heavy oil that is the reason it is mostly preferred for baking or preparing food. However, overusing cottonseed oil can have negative effects as it is high-calorie edible oil and contains over 120 calories.
Pl send your offer with technical detail, Area required for Cotton Seed Oil Extraction Machine. (India)
Thanks for your attention to our product.
Pls confirm: The capacity?---Different capacity the design is different.
The cotton seed needs sheller or not?
Then we could send you the offer accordingly.
I belong to Haroonabad, Pakistan. I want to start oil (cotton seed) business. I do not have any previous experice. I want to start from small size and want to increase graduly. Please give me information and estimated cost of machinery. Please bare in mind I want to expend. I am doing business with chinese companies last 8 years and very happy with their honesty. I am runing a company in UK
Thanks for your attention to our oil product and details state about your needs.

Could you please inform the capacity(kg/h) you need according the local cottonseed situation? Or let me know the budget of the cottonseed oil plant? Then i can advise you the suitable oil press machine type. Regarding to enlarge in the future: We have done this for many customers. That's absolutely no problem.
Thanks for your appreciate to us. We also have customers in Pakistan.