This process line is a bath type refining line constructed in Afghanistan, which can product cottonseeds oil 30TPD. Although this small production line does not cost much, it includes all the necessary equipment. (Click here to see the equipment loading and shipping photos: Cottonseeds oil refinery and fractionation plant delivered to Afghanistan)
Technology Flow Chart of Refining system: crude oil→deacidification → degumming → decoloration → deodorization → winterization / fractionation → refined oil product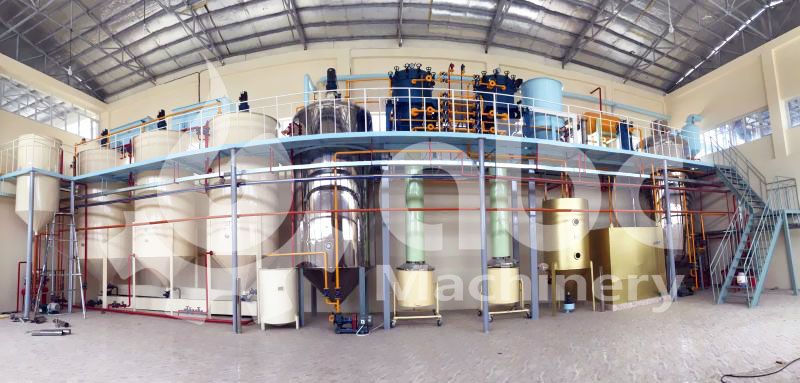 Finished Cotton Oil Refinery Plant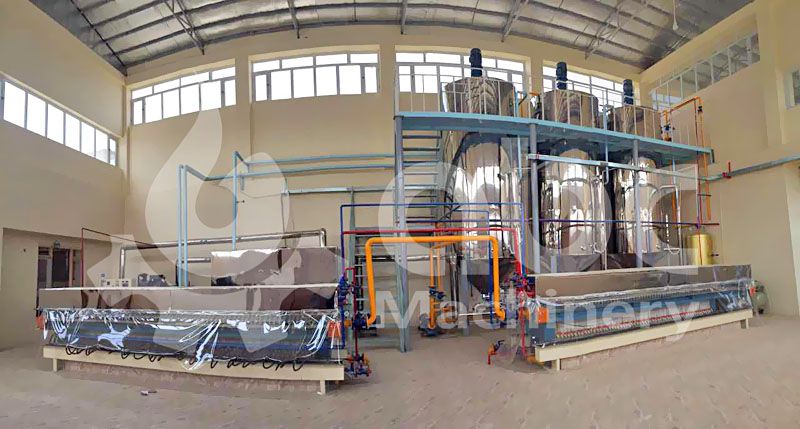 Finished Cotton Oil Fractionation Plant
Photos of the Cotton Oil Refining Project in Construction
The photos below were taken onsite when finished construction. If you are also intersted in starting a cotton oil refining business, feel free the contact us for customized solution and equipment cost. (Related Project: 50TPD Cottonseed Oil Solvent Extraction Plant in Uzbekistan)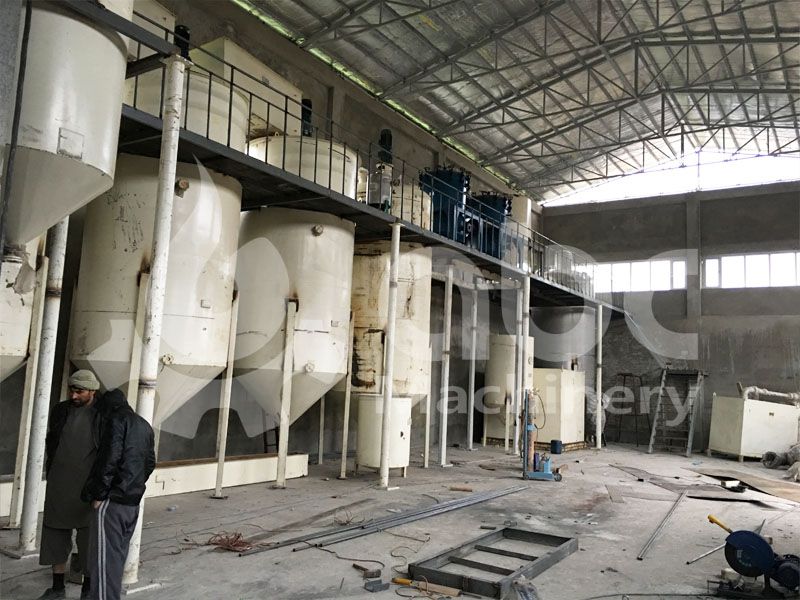 Cotton Oil Refinery Plant
Under Construction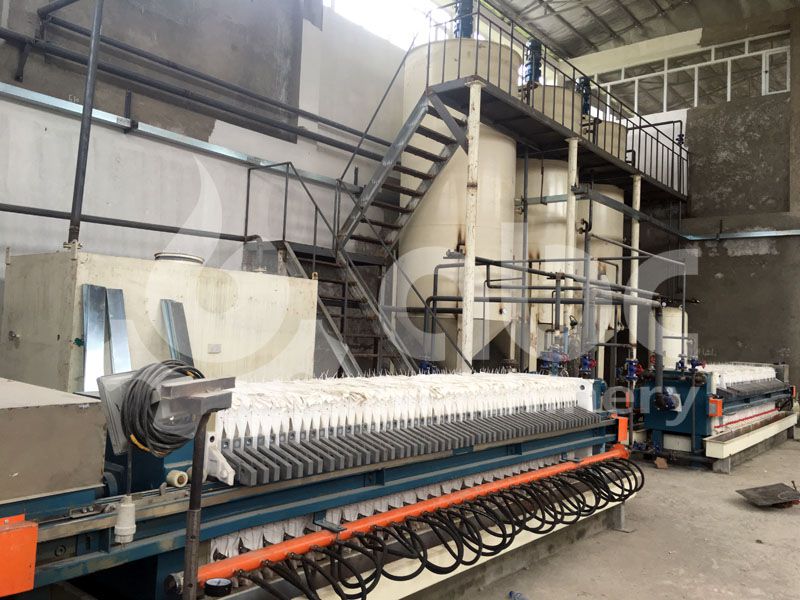 Fractionation Equipment

You maybe alson interested in Cottonseed Oil Expeller >>
Description Of The Cotton Oil Refining System
If you are planning for start a small scale cottonseed oil refining business and need to get more information about this project, feel free to contact us!
The technology is adopt the continuously working by disc centrifuge. This technology is according to the difference of variety of crude oil and quality to adjust the processing chart(Physical refinery and chemical refinery is both OK).


Mini Scale Cotton Oil Refining Unit for Sale
This stage is including the Acid refining, alkali refining, washing, drying etc. Adopt the vacuum drying for drying alkali refining oil. The oil and water( Alkali liquid) will finish the react at the best time and mixing. All the working under the pressure except the drying that this way can prevent the oil inlet and avoid the oxidation. This technology suitable for all the vegetable oil except the castor oil and fish oil etc other animal fat.
---
The oil after heating (90℃) mix with white earth at vacuum de-color tower to de-color. The oil after de-colored with the mix materials to vertical leave filter press to filtering. (Alternative use) and to bag filter to precious filtering. Remove the white residual white earth and get the de-colored oil.
---
Heating at first for the oil that the oil will be de-wax that means the melt all the wax that they are in the oil before crystal. Control the crystal by man-made to make sure the particle is easy to separate. Then do the heating exchange in the heat exchanger with de-wax oil, and cool them at right temperature. Crystallizing tank has a nip cover or pipes in the inside that this way can make the oil into the maturing tank at the suitable cooling speed and temperature. Then pump to horizontal leave filter press.

The oil from maturing tank to filter press, when the oil come out at the exhausted place, close the Discharge air valve and open the liquid outlet valve. The liquid is a little dirty cause of no filtering Layer. Dirty oil to the dirty phase of oil pool and pump the maturing tank again for filtering. When the oil cleaning, the oil will be back the cleaning oil pool immediately, and pump to the heat exchanger to heating the de-wax oil to get the de-waxed oil.
Filter press need cleaning when the cake at the stated thickness. Before cleaning, there is no any oil in the filter press. Take the compressed air to blowing the cake with little moisture, then cleaning plates. Discharge all the cakes close vibrating air valve and star the hydraulic pump to close the body of filter press and filter plates. Close the Waste Valves and adjust other valves to stand by the next filtering.
---
Via Heater, Heat Exchanger, and Heater, the standard bleached oil is heated to process temperature (240-260℃). Subsequently pump the oil to Combined Deodorizer. The Combined Deodorizer is combined type: the upper layers are packed type to remove odorizing components such as free fatty acid; the bottom layers are plate type to get effect of hot bleaching. Peroxide value in oil is reduced to almost zero. Oil from the Deodorizer enters into the condenser to recover most of the heat and makes further heat exchange. Finally the oil is cooled to 80-85℃ by Cooler. Volatile from the Deodorizing system is separated by FFA Catcher. The separated liquid is FFA at 40-50℃. Vacuum in Deodorizing tower was made by steam jet pump, the residual pressure in the tower is keep at 266Pa. (Related Article: How to set up a complete cotton seed oil extraction plant?)