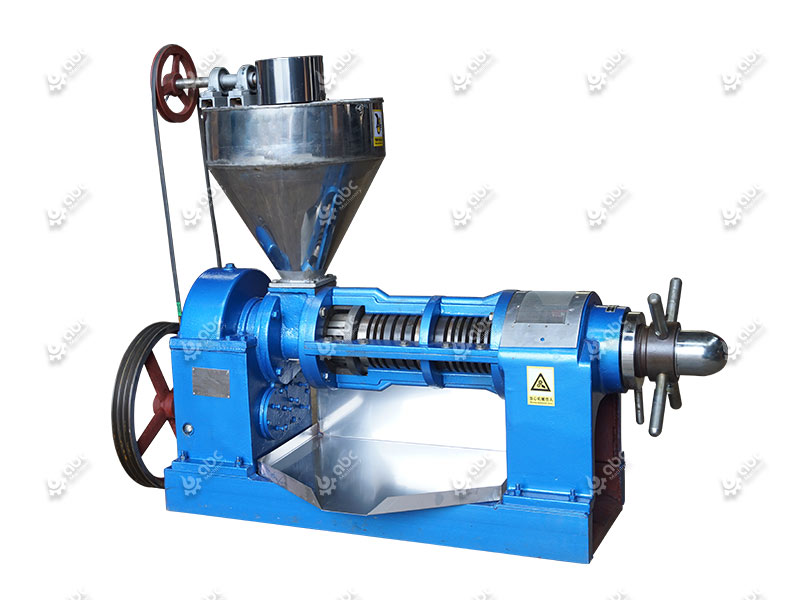 Oil seed expeller – an important component of oil mill plant
Screw oil press which is also known as oil seed expeller is the heart beat or the most vital part of the entire oil mill plant. This is regardless of whether it's a small scale or large scale oil processing plant.
The machine works by a simple mechanism whereby the precooked seeds are fed into the machine's chamber through a hopper. The screwing action of the machine forcefully pushes the oil seeds towards the narrow end. As the oil seeds are pressed and forcefully pushed to the narrow end, oil is squeezed out of the seed due to increased pressure and harvested via the tiny holes. The refuse or by-product of harvested seed oil is collected as oil cakes and can be sold to generate additional revenues to the business. Most processing plants finance some of their operations from the sales of oil seed by-product or oil cakes.
Yes! I am Interested!
Ask for Price
Details:
Having been in the oil press machine industry for a couple of years, we are experts and offer a wide variety of high-quality screw oil press models with different capacities and capabilities. You can always be sure to get an oil press machine that fits your oil making needs from these varieties of the collection. We are endowed with industry experts who will be happy to guide and advise you through the entire process.With a ABC BEST screw oil press machine, you can start a low investment business and gradually build it to success. We have trusted industry experts, loyal and always at your service.
Here below are the technical details and pertinent information about some of our screw oil presses:
| Model | Capacity(T/24H) | Power(KW) | Dimensions(MM) | Weight(KG) |
| --- | --- | --- | --- | --- |
| YZS-68 | 0.8-1 | 5.5 | 920*390*750 | 150 |
| YZS-80 | 2-3 | 5.5 | 1540*540*620 | 370 |
| YZS-95 | 5 | 11 | 1920*550*765 | 480 |
| YZS-100 | 4-5 | 7.5 | 1910*610*765 | 550 |
| YZS-120 | 6 | 15 | 1970*700*780 | 680 |
| YZS-130 | 9-12 | 18.5 | 2320 *700 *780 | 820 |
| YZS-165 | 15-20 | 22-30 | 2290*750*1020 | 1600 |
An screw type oil press consists of a screw-shaped enclosed in a sealed chamber which has both the inlet and outlet. The inlet and outlet are used to input oil seeds to be processed and harvest the oil subsequently. There is also another outlet for collecting the seeds by product.
How Screw Oil Press / Expeller Works
A screw oil machine works by pushing oil seeds through a caged barrel-like cavity. The device uses continuous pressure and friction from the screw drives to compress and moves the oil seeds with the waste products exiting through the other side. The extracted oil flows out through small openings that do not allow the solid seed fiber to pass through. After that, the pressed seeds or waste products are formed into a hardened cake and is removed from the machine through another opening on the other side.
Prior preparation of oil seeds before processing or oil extraction slightly varies but depends much on the oil content and physical properties of the oil seeds. However, almost all oil seeds go through the normal process of seed cleaning, seed drying, seed size reduction, seed flaking, cooking and finally tempering.

ABC BEST screw oil machines are suitable for processing a wide variety of vegetable oil seeds and nuts.
Oilseeds & Nuts the screw oil press can process: Mustard Seeds, sunflower seeds, Rapeseed, soya beans, Canola Seeds, Soybean, Castor Seeds, Shea nuts, Coconut or Copra seeds, Karanja Seeds, Cotton Seeds, Jatropha seeds, Corn Germ, Neem Seeds, Flax Seeds, palm kernel, Groundnuts, Sesame Seeds, Shea Nuts, Soya bean / Soybean, Groundnut, etc.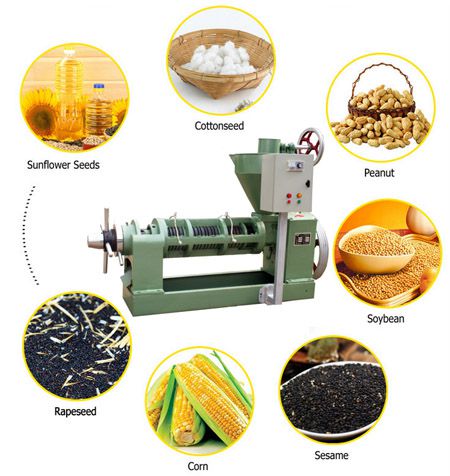 We are writing to inquire about cotton seed oil making machine. Our preference is capacity of 12 tons or 10 tons per day. It is to be exported to Burkina Faso (Africa).

Thanks very much for your enquiry to our products. As for your request, could you confirm whether the cotton seed is delinted or not? If possible, pls send us some cotton seed photo for reference, so we could suggest and quote for you accordingly

I would like to know what kind of oil press machine you can propose me for producing peanut oil and corn oil. The capacity I want is around 500 kg/h.

As for your raw material, 500kg/h is no problem with our small screw press oil expeller, however,i need you to confirm the following questions

1. Is the peanut decorticated or not..?

2. For the other raw material, is it corn seed or corn germ/embryo...? As you know, the seed couldn't be pressed directly, only corn germ/embryo.

3. As for 500kg/h, do you want just an oil press, do you have other auxiliary equipment already, such as cleaner, cooker...etc?

I need a cold press oil extractor that can handle green coffee beans.

Thanks for your enquiry to our products. As for your request, pls advise how much coffee beans do you want to process per day.
Besides, what's the oil content in the seed, do you have relevant index about the composition.

Can I press palm oil kernels with it. If yes please sent me your PDF plus quotation. If no please advise us an other model which suites?
Yes, this machine could be used for pressing palm kernel. Pls double confirm is your raw material palm seed or kernel? Besides, what's your desired processing capacity per day, so we could suggest and quote for you accordingly.
Hi,I am interested in the manual oil press for coconut oil. Please can you inform me how much it would cost to purchase a unit for sending to Papua New Guinea
It's all very small capacity, mainly for home use. Could you advise how much coconut do you want to process per day? So we could suggest and quote for you accordingly.
Can I use the cold press for dilo oil?
I saw the dilo is a little like the dry copra, with very high oil content. Could you advise what's the oil content and how much do you want to process per hour/day? Besides, what's your nearest port and three phase voltage and frequency. So I could suggest and quote for you accordingly.
Importance of oil expeller press while setting-up oil processing plant
While setting up the oil processing plant, seed oil expeller / press is a significant component that dictates other parameters such as production capacity, automation scale, and quality of produce among other commercial aspects of production. ABC BEST Machinery have in-depth knowledge, skills and experience with oil presses and have invested heavily in research and development of this component of oil seed processing machinery.
As a result of numerous years of research, we has designed and engineered some high quality of oil pressing machinery. Utmost attention has been focused on studying the vital parameters such as the design of the worm and tapering of the screw. This has borne fruits as we has been successful in making machines that ensure increased output as well as high quality of the oil extracted. We has come up with a broad range of expeller oil products that suits the diverse needs of different customers. This includes models that can handle a few kilograms per hour to several tons per hour of oil seeds.
Oil press's modes of operations
There are two modes of operation for a seed oil presses, and these are hot oil press mode and cold oil press mode. The significant difference between the two oil presees is that with the cold press mode, the oil seed is fed to the oil machine without preheating whereas with the hot press method the oil seeds have to be preheated. Another significant difference is the yield of oil and quality of the cake. In cold press mode, the cake produced is of high quality and more valuable. This isn't so with hot press method as the preheating ruptures the seed cells and increases the oil yield but result in a bad quality cake production.