The oil cake is the main residual of oil seed production line. Generally, the seeds of oil crops are high in fat and protein. Rapeseeds for example, contains more than 40% fat and more than 20% crude protein. After the fat is extracted through oil extraction process, the protein content of the residue is greatly increased, making the oil-cake one of the best protein supplement for animal feed.


Oil Cake (left), Oil Meal(right)


Oil Cake / Meal Pellets for Cattle
| Oil Cakes | Dry Matter | Crude Protein | Crude Fiber | Ash | Ether Extract | Nitrogen |
| --- | --- | --- | --- | --- | --- | --- |
| Copra | 90.1 | 21 | 13 | 5 | 15 | 49 |
| Palm Kernels | 89.0 | 19 | 13 | 4 | 15 | 49 |
| Sunflowerseed with Hull | 91.3 | 24 | 34 | 5 | 15 | 22 |
| Groundnuts with hull | 92.4 | 32 | 24 | 6 | 15 | 23 |
| Groundnuts without hull | 92.6 | 46 | 5 | 4 | 15 | 30 |
| Rapeseed | 87.6 | 35 | 10 | 9 | 15 | 31 |
| Cottonseed with hull | 89.6 | 23 | 22 | 6 | 15 | 34 |
| Cottonseed without hull | 92.2 | 39 | 12 | 6 | 15 | 28 |
| Sesame seed | 89.5 | 40 | 7 | 13 | 15 | 25 |
| Soya with hull | 87.9 | 42 | 6 | 6 | 15 | 31 |
Animal Feed Pellet Machine for Oil Cakes
Click here >> to see Detailed Parameters of our small Poultry / Cattle / Livestock / Aquiculture Feed Pellet Machine

Small Animal Feed Production Line
The following assembly unit is designed for
600~1000kg/h
feed pellet production line.
Click here
to view detailed parameters.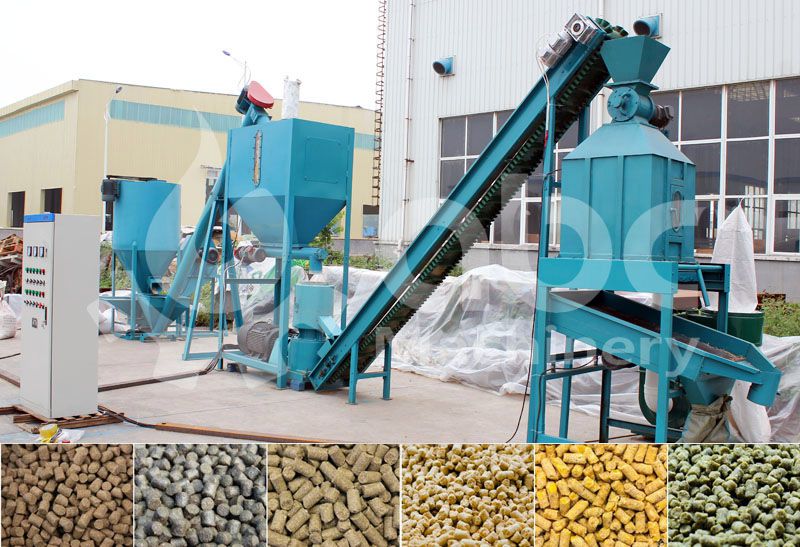 Oilseed Cakes / Meals for Animal Feed Production
The commonly used oilseeds cakes includes soybean cakes, rapeseed cakes, sunflower seeds cakes, peanut cakes, cotton seed cakes, sesame cakes and linseed cakes etc. These cakes are all good choice for making feed for ruminant livestock. But from the economic point of view, cottonseeds and rapeseed cakes are the most used material for animal feed production.


Soybean Cake Feed Pellets
Soybean cake is the by-product of screw press oil production while soybean meal is the by-product of solvent extraction plant. The biological value of soybean cake (meal) is much higher than that of grain and is also higher than the rest of oilseed cakes. Its content of Lysine is particularly high, accounting for 2.18% of dry matter. The methionine content can reach 0.59%. It is also rich in other eight essential amino acids. The protein digestion rate of soybean cake (meal) is about 82%. It is really a good kind of protein feed with good taste and is favorite by all animals especially aquatic animal such as fish. (Related Product: Small soybean Oil Processing Plant >>)
---
The cottonseed cake (meal) is also rich in protein. The crude protein is 30~35%, the crude fiber is 11~15%. The crude protein content of cottonseed kernel cake is 5~10% higher than cotton seed cake (with shells). Therefore, the nutritional value of cottonseed kernel cake is higher than that of cottonseed cake and easier to be digested. Its energy value is slightly lower than soya cake.


Cottonseed Cake / Meal Feed Pellets
The cotton seed cake contains a toxin called cotton phenol. It is a derivative of naphthalene, a yellow pigment that harms cells, blood vessels and nerves, harmful to aquatic animals. The method of detoxification is simply adding 0.5 percent of succinate. (Related Product: Cottonseed Oil Mill Plant >>)
---
It is the by-product of rapeseed oil production. Rapeseed cake is widely applied to animal feed manufacturing industry in China especially Aquatic animal breeding industry. The protein content of rapeseed cake is 32~38%, which is slightly lower than the soybean and peanut cakes. Its amino acids content is very close to soybean cakes. In addition, it also contains rich calcium, phosphorus and important micronutrients. Its content of vitamin B is even higher than soybean cake.


Rapeseed Meal Feed Pellets
Rapeseed cake contain some toxins, mainly mustard glucoside (a sour glucose glycoside), content about 6 ~ 10%. Thus, rapeseed cakes are spicy and poor in taste. The method of detoxification is fermentation or high temperature (100 ℃). China already has a very long history in breeding fish with rapeseed feed, and poisoning things have never happened, even if feed with 100% rapeseed cakes. (Related Product: Rapeseed Oil Press >>)
---
Peanut cake is featured of good taste and high protein content. Its protein content is after soya cake, but its energy value is higher than that of soya cake. When using peanut cakes for making aquatic animal feed, it is beat to go through heat treatment (120℃) to limit the activity of antitrypsin. If the temperature is higher than 120℃, the amino acid is likely to be damaged, at the same time, the protein biological value is also reduced. (Related Product: Peanut Oil Making Machine >>)


Peanut Cake Feed Pellets
---
The cakes produced from shelled sunflower seed is a great kind of protein feed. Its crude protein content is more than 40%, crude fat under 50%. The content of calcium, phosphorus and vitamin B is also higher than that of soybean cake. Besides, its content of riboflavin, thiamine is especially high.


Sunflower Seed Oil Cake Feed Pellets
Actually, the currently sunflower seed cake is mostly produced with shells. As the shell of sunflower seed contains a lot of lignin, making the cake difficult to digest for aquatic animals, and als reduces the nutrient digestibility. (Related Product: Sunflower Oil Processing Plant >>)
---
The crude protein content of flax seed cake is more than 37%, rich in calcium. The linseed cake contains flax glycoside and linolenic acid. It's very important to notice that under a certain temperature and with the action of water, the flax enzyme can make the glycoside into hydrocyanic acid. If per kilogram flax seed cake produce 200 milligrams of hydrocyanic, it can be toxic. (Related Product: Flax Seed Oil Press >>)


Flax Seed Feed Pellets
---
As the protein of maize is mainly stored in the embryo, the crude protein content of corn germ cake is 24.5%. The crude fat content is also high, about 8.5%. The nitrogen free extract content is higher, 53.3%. Its high digestibility, rich nutrition and good feed energy value make corn germ cake a kind of good raw materials for producing animal feed pellets. It is easy to digest, good for taste and has no toxicity problems. However, its biological value is lower than that of soybean cakes. (Related Product: Corn Oil Processing Plant >>)


Corn Germ Cake Feed Pellets

What Affects the Nutritive Value of Oil-cake?
The nutritive value of oil-cake is greatly influenced by the process technology of oil extraction. The extraction process can be divided into 3 basic types:
Mechanical Oil Pressing,

Solvent Extraction

Pre-Pressing And Solvent Extraction (for the seeds with oil content more than 30%, pre-pressing is suggestion before solvent extraction)
Screw press is the most applied today. In the process of squeezing, the seeds are heated, and this has a certain destructive effect on protein of the oil-cake. But for ruminant livestock or animals, it increases the amount of protein in the rumen, thus improves the utilization rate of protein.
Oilseed with or without Shells
There are some oilseeds which have solid shell such as cottonseeds, peanuts and sunflower seeds. For these oilseeds, the final oil-cake quality is significantly influenced by the degree of shelling.
Physical Oil Pressing Vs Solvent Extraction
The oil content of oil cakes from physical oil pressing is generally higher than oil cakes from solvent extraction. Oil cakes from oil pressing process is high in energy, which includes 5%~10% of crude fat, but easily oxidized.
Oilseed cakes from solvent extracting process are called oilseed meals. They typically have high phosphorus content and low calcium content. They are rich in vitamin B, but the content of carotene and vitamin E is very low.