Small pellet machines for sale is based on flat die type structure design. It is ideal choice for making small scale pellets including making pellets at home. It adopts double-stage driving system including belt, worm and gear. This small pellet press is featured of steady operation, low noise and low risk of blocking problem. The spindle speed is about 60rpm and the roller speed is about 2.5m/s, which can effectively remove the gas in the materials and increase the density of final wood pellets. Besides, low speed design can also reduce the running noise and the wear rate of pellet mill spare parts.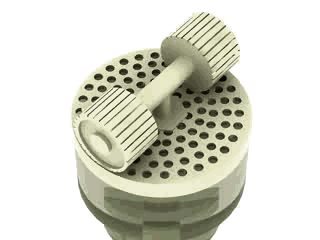 Die-turned Machine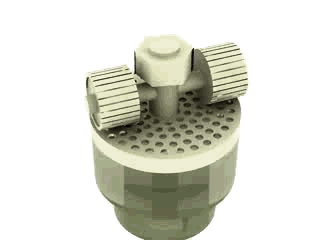 Roller-turned Machine
Die-Turned Vs Roller-Turned
Small flat die pellet press machine can be divided into die-turned typle and roller-turned type. Mechanically, the main difference lies in the motion pattern of pellet die and press roller, and transmission components. Although both types are good choice for making small scale pellets of high quality, R type has smarter design and better gearbox. So refer to cost, with the same capacity and power, the price of D type is relatively cheaper than R type.
We can offer a variety of flat die aperture (6-12mm) with corresponding compression ratio, so that you can choose according to your needs.
Die-Turned Household Pellet Press
Roller-Turned Small Pellet Machine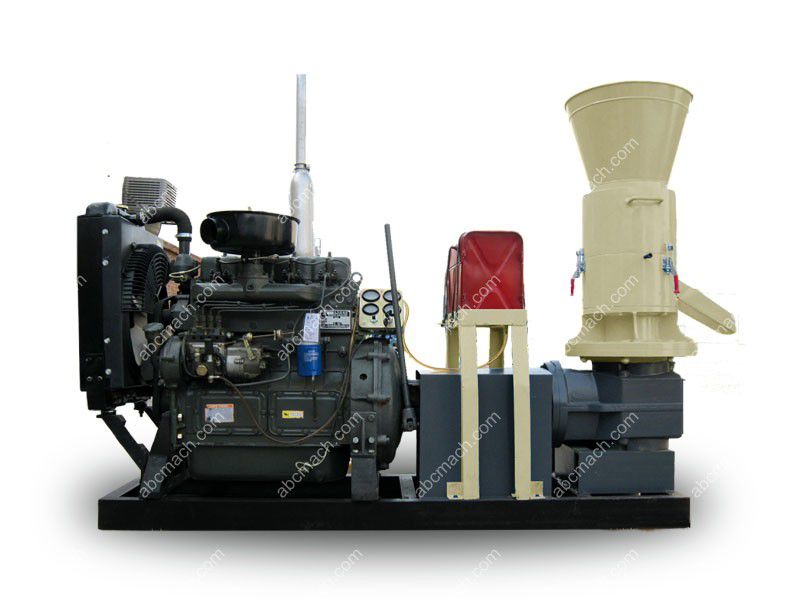 Motor-driven Small Pellet Press (Model A)
| Model | Power(Ph) | Output(kg/h) | Weight(kg) | Packing Size(mm) |
| --- | --- | --- | --- | --- |
| ZLSP-R 200A | 15 | 80-120 | 320/350 | 1460*950*1100 |
| ZLSP-R 300A | 36 | 250-350 | 850/890 | 1100*700*2480 |
| ZLSP-R 400A | 55 | 350-450 | 1010/1050 | 1300*800*2600 |
| ZLSP-R 420A | 62 | 400-600 | 1200 | 2590*660*1400 |
| - | | | | |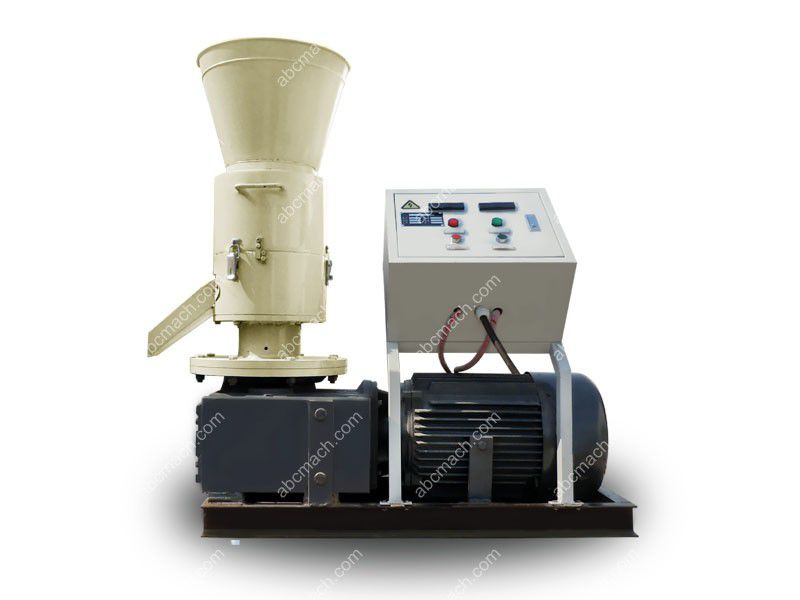 Diesel Engine Small Pellet Mill
(Model B)
| Model | Power(kw) | Output(kg/h) | Weight(kg) | Packing Size(mm) |
| --- | --- | --- | --- | --- |
| ZLSP-R 200B | 7.5 | 80-120 | 215/245 | 950*450*1050 |
| ZLSP-R 300B | 22 | 250-350 | 540/575 | 1350*750*1400 |
| ZLSP-R 400B | 30 | 350-450 | 770/810 | 1400*800*1450 |
| ZLSP-R 420B | 37 | 400-600 | 1100 | 1630*620*1400 |
| ZLSP-R 550B | 55 | 500-800 | 1770 | 2300x750x1850 |
Flat die type wood pellet machine is developed from original feed pellet mill. The pressure between the flat die and press roller is largely upgraded to meet the special characteristics of biomass and wood materials. The structure of flat die pellet machine can be divided into transmission parts and granulating (pelletizing) parts.
Transmission Parts: motor, universal joint and gear box.
Granulating Parts:large shaft and pelletizing chamber (pellet die, press roller and knife).
Working Principle of Small Pellet Press (Flat Die Type)
After the raw materials are fed into the pelletizing chamber, the die and roller will rotate and press the materials through the pellet die holes. Then, they will be made into cylindrical bar and be cut into uniformlength when discharging out of the pellet machine. Below is the operation video guidance of our small pellet making machines. Feel free to contact us if you have any questions!
---
---
Application: This small scale pellet press can be used to pelletize various biomass materials, including sunflower husk, peanut shell, sawdust, cotton stalk, wheat straw and other forestry and agro wastes. This small pellet press is ideal choice for individual uses to make wood pellets at home.
Advantages of Small Pellet Presses
It is designed with large press roller, which enhances the bearing ability and protects the bearing from high temperature. Besides, the thickening of roller makes it possible to do 2 or times repair, so that to largely prolong the service life, reduced the production cost and increase the profit of the pellet production.
Small size and capacity, suitable for making small scale pellets at home or on farm;
Simple structure design, easy to operate;
High quality of flat die and press roller, long service life;
Multiple choice of power: PTO (power taken off) type, gasoline engine, electric motor and diesel engine;
Agents Recruiting Now!
We are now recruiting agents on small pellet presses world wide. If you are interested in our products you are welcome to discuss business cooperation and common development! We can offer all around services for our agents. Furthermore, when we get orders in your country, we will transfer the order to you! Sincerely expect your joining!
Small scale pellet mills are widely used as home pellet press and farm pellet making machine. There are multiple types of pellet die with different compression ratio for the press machine. You can make pellets from various different biomass materials by changing an appropriate die.
Interested in PTO driven Bamboo pellet mill. I live in Athens GA and have acres of bamboo planted over a ten year period and am looking at uses for bamboo debris.

For pellet making, the suitable size is 3-5mm. Can you get such size bamboo dust? If not, will you consider a hammer mill.

Please check price sheet for the PTO pellet machine to your email in the attachment.If any model is of your interest, please kindly tell.

If you want bigger capacity machine, please also tell. For any other question or requirement, feel free to contact.

Your products can be find in Romania?

Yes, we we have customers in Romania.
Thank you for your inquiry of our pellet mill machine. We are professional and leading manufacturer in this field and currently the only manufacturer with R&D center in China with ensured after-sales service . Our products have past the CE, ISO9001:2008 of reliable quality, and have been sold over than 50 countries in the world.