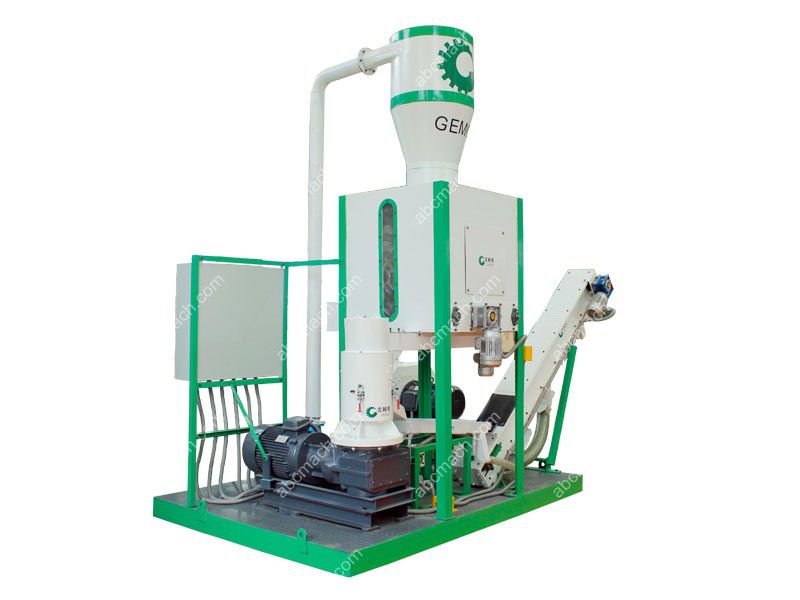 This mobile pellet plant is featured of compact structure design and removability. This small wood pellet plant consists of the system of material mixing & storage bin, cyclone separator, hammer mill, screw feeder, pellet mill, vibrating screen, bucket conveyor, electric cabinet, water tank and foundation frame.
It is convenient to move the plant out.
Capable of processing many kinds of biomass materials including wood and agricultural wastes;
The feeder and screw conveyor are designed with frequency conversion motors to better control the speed;
Adopt Schneider electric parts;
Yes! I am Interested!
Ask for Price
Details:
Type
Power (Hp)
Output (kg/h)
Weight (kg)
Package Size (mm)

Feed Pellet Processing (2.5mm~8mm)

MPL300D
41.44
500~700
2300
3500*1960*3500

Wood Pellet Processing (6mm~10mm)

MPL300R
41.44
250~350
2300
3500*1960*3500
MPL400R
49.44
350~450
2400
3500*1960*3500
MPL420R
56.81
400~600
2500
3500*1960*3500
I need it to run on 230V single phase power as this is all i have in my area.
We can offer the special motors for you, but it must to use industrial power: 3 phase, single phase home use power is not available, please check it again.
Is the mobile plant only use electricity, not use diesel engine?
Yes we can use 3 phase with our diesel gen set.
i see it listed at 35 KW usage is this the total amount it will use ? Does this mobile plant use a ring die pellet mill ?
Our mobile pellet plant use flat die pellet mill, not ring die pellet mill, please check and confirm it.
I would need a dryer with this plant to dry my pine wood chips of 26mm size that are 40-50% moisture.
Regarding your raw materials:pine wood chips of 26mm size, it need to use drum dryer, the minimum capacity is for 500kg/h.
Below are some frequently asked questions about this movable small scale pellet line/plant for sale.
What's the diameter of final wood pellets?
The diameter of final wood pellets is adjustable by changing the die of pellet mill. It can be 2.5~12mm. But the pelleting effect of 6mm and 8mm pellets are the best.
How is the pellet plant disassembled and packed?
For open-top container, the cyclone, elevator and pipes can be dissembled and packed separately from the foundation frame. The others can be packed integrally with the foundation frame. For non-open-top container, the mixing chamber should also be disassembled.
What's the decibelof noise when making pellets with this plant?
There will be noise in the pellet making process. But it is within limits of criteria. Here are the decibels of each part on this small wood pellet plant (all the statistics are approximately):
| Hammer Mill | 100 Decibels |
| --- | --- |
| Pellet Mill | 90 Decibels |
| Vibrating Screen | 90 Decibels |
| Fan | 80 Decibels |
| Elevator | 80 Decibels |
Is 41.25kW the total power of the whole pellets plant?
Yes, it is. But this plant doesn't include drying and packing machine. Extra power is needed if adding dryer or packager.

How is the dust discharging problem during pelletizing process solved?
This mobile wood pellet plant is designed with dust recycling pipeon the top of the cyclone. So, don't worry about the dust problem.

What's the temperature of pellets after cooling?
Around 40-50℃.This pellet mill plant is equipped with frequency converter. You can control the speed of scraper conveyer via the frequency converter, so that to adjust the cooling effect.

What's the thickness of storage bin steel plate?
It is 2.5 mm in thickness.

Is this pellet mill plant suitable to process viscosity materials?
It is capable of dealing most normal materials. But for high viscosity biomass materials, this plant inapplicable.

What's the maximum feed-in material level of the mixing feeder?
Better be lower than 800mm. Higher material level requires longer mixing time.