Capacity: 600 to 1000 kilo gram per hour;
Pellets Diameter Rang: 2 to 8mm;
Application: Used designing feed pellets for feeding cattle, geese, pig, duck, fish, chicken, sheep, rabbit, and other animals, livestock and poultry.
The STLP400 and STLP300 feed pellet plant remains a small poultry manufacturing machine operating at 600 to 1000 kilo gram per hour. You can also call it small animal feed pellet mill. This machine comes with great features of gringdine, mixing, pelletizing, conveying and cooling.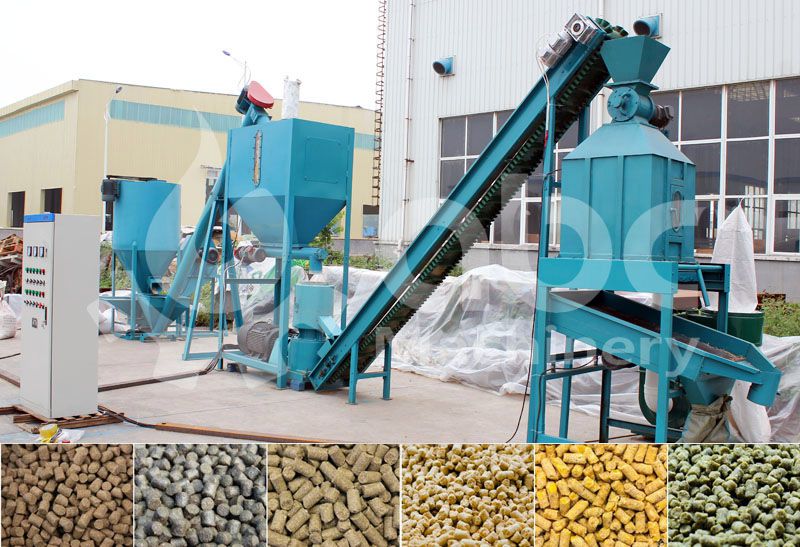 Small Scale Animal Feed Pellet Mill Assembly Unit
The average diameter reading of the machine reads 2 to 8mm. This feed pellet mill can handle several functions and ideal for processing pellets for a plethora of animals, livestock, and poultry. If you are thinking of make your own feed pellet mill plans, this small plant unit is what exactly you need! Feel feel to inquire for the equipment price. Tell us your raw materials, capacity needs and cost budget, then we can offer customized project plan with detailed quotation!
| Model | Power (Kw) | Capacity (kg/h) | Weight (kg) | Dimension (mm) |
| --- | --- | --- | --- | --- |
| STLP300 | 45.7 | 600-800 | 2464 | 15000*4000*4500 |
| STLP400 | 61.2 | 800-1000 | 2902 | 15000*4000*4500 |
Features Of The Small Animal Feed Pellet Mill
Reduced Investment: The pellet mill is designed to satisfy workshop conditions and reduced requirement due to its compact structure style.
Reduced Installing Cost: The machine comes with simple installation instructions. After connecting the machine, you can go ahead to start using it immediately.
Minimized Manufacturing Cost: The plant can only be operated by one to two employers. Your profit will be increased due to low cost and less labor.
Comprehensive Application: The machine is ideal for making feed pellets for a plethora of poultry animals and livestock.
Animal Feed Pellet Mill Process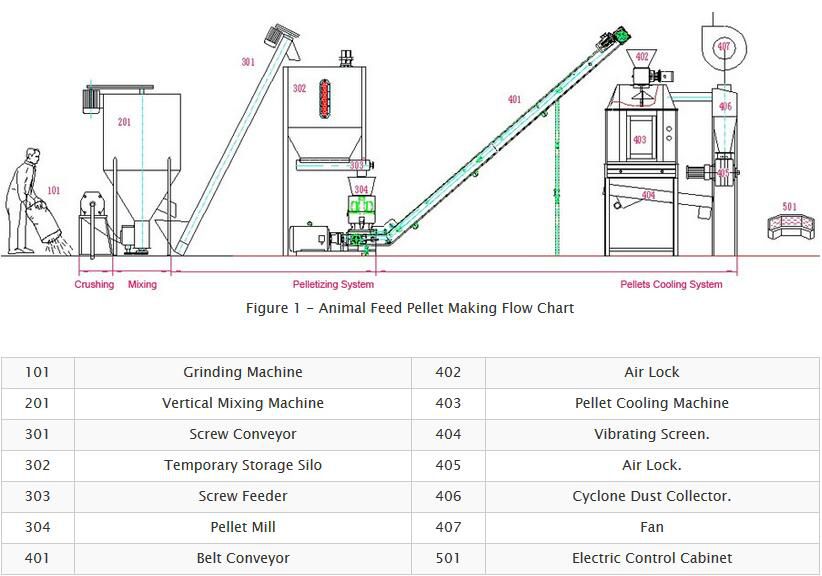 Here is a brief introduction of how does the feed pellet mill work. In the crushing machine compartment, you will first have to add feed ingredients or feed-stuff such as maize and soybean meal. This mixture is later crushed into powder after being placed in the plant crushing segment. The powder is combined with other items in the likes of wheat bran, bone, meal, micro-element and vitamin in the mixing equipment. This mixture will turn into feed mesh after the entire mixing process has been completed. At this juncture, the feed mesh is delivered to the feed pellet mill and covered with uniforms in desired length and diameter. The feed pellet can be packed directly after cooling and screening.
Comprehensive Details Of The Small Scale Feed Pellet Mill Unit
In this paragraph, you will discover the detailed information of every aspect of the small animal feed pellet mill. If your quest is for comprehensive quotation or anything concerning the machine, simply give us a call.

The grinding mill machine is typically used to grind several items such as oil seed meal, beans, wheat, broomcorn, corm and other materials. While small farms like using this machine, it can as well be used in medium and low-scale production plant. This small plant remains the best choice if you are envisaging to assembly a pellet production company or farm.
| Model | Power (Kw) | Capacity (kg/h) | Weight (kg) | Dimension (mm) |
| --- | --- | --- | --- | --- |
| 9FQ510×125 | 7.5 | ≥600 | 122 | 955*800*1580 |
| 9FQ510×200 | 15 | ≥1000 | 170 | 965*840*1580 |
---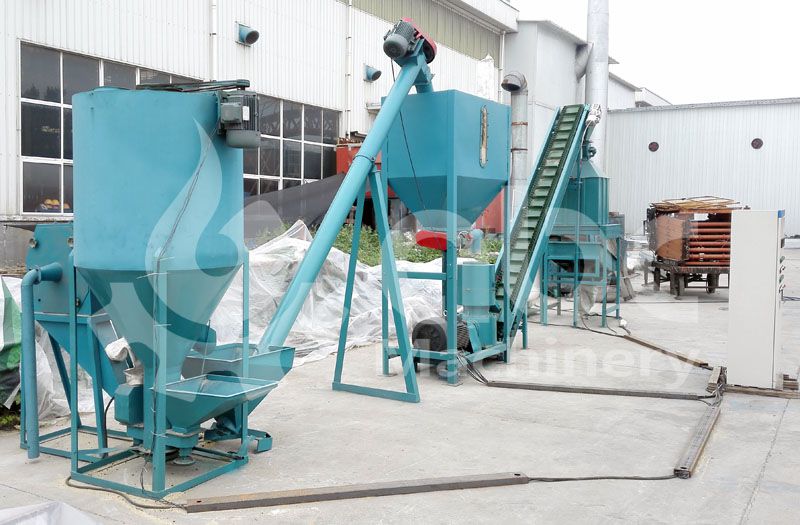 The 9HLP vertical mixing plant is typically designed to mix fodder items completely without any difficulties. The feed quality is cascaded on the vertical mixing machine. This is the primary plant that makes it possible for the mixing process to be accomplished in a timely manner. The animal feed pellet plant is basically used in both medium and small production line. With this machine, mixing all kinds of items to the right proportion is highly possible.
| Type | Power (Kw) | Capacity (kg/h) | Weight (kg) | Dimension (mm) |
| --- | --- | --- | --- | --- |
| 9HLP500 | 3 | 500 | 190 | 1500*1000*2440 |
| 9HLP1000 | 3 | 1000 | 230 | 1700*1260*2770 |
---
Animal Feed Pellet Machine

The ZLSP 400 and ZLSP 300 pellet machine remains the major tool of this small feed pellet production line. The machine can be used to process items such as cakes, oil seed meal, corns and just to mention a few. The end products are used to feed fish, poultry, and livestock. The plant remains the best choice for both medium and small scale animal feed pellet mill.
| Type | Matched power (Kw) | Capacity (kg/h) | Mainframe weight (kg) | Dimension (mm) |
| --- | --- | --- | --- | --- |
| ZLSP300B | 22 | 600-800 | 350 | 1300*560*1100 |
| ZLSP400B | 30 | 800-1100 | 700 | 1600*640*1300 |
---
Pellet Screening And Cooling Plant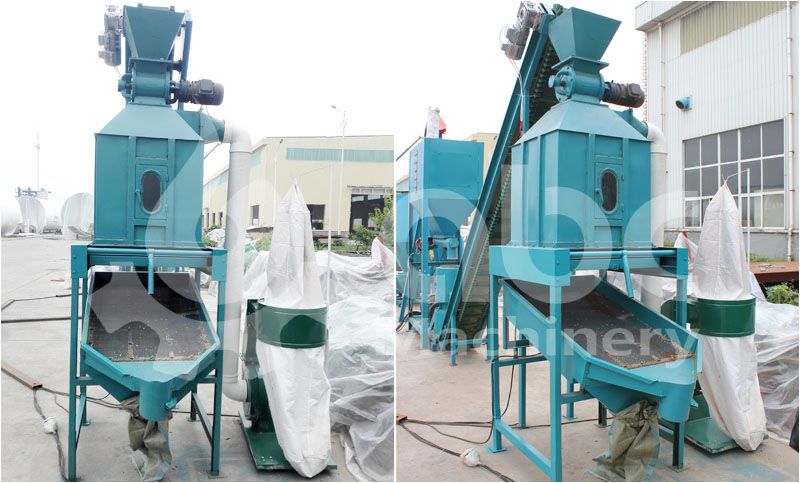 The KLN series counter flow type cooler is highly effective and unique. It is simply used to cool down the hot and fresh pellets from a feed pellet making plant. At 70-85 Celsius, pellets from the machine remain hot. For this reason, the pellets in the machine need to be maintained near room temperature to satisfy storage requirements. If this condition is not satisfied, then the pellets will eventually result into mildew. Normally, you will discover that that the pellets are placed in smaller portions of the machine. You can easily adjust the machine, install it and as well transport from one place to another. The cooling efficiency of the machine is great while air consumption remains low.
| Type | Total power (Kw) | Capacity (kg/h) | Mainframe weight (kg) | Dimension (mm) |
| --- | --- | --- | --- | --- |
| KLN1.0 | 5.5+3*0.75+0.2 | 2000 | 800 | 1096*1080*3033 |
If you are planning to setup a small feed pellet making business for livestock, poultry and cattle, simply give us a call today. We are always ready to render the best support you need.