Capacity: 100 tons per day
Project Site: Uzbekistan
Raw Material: Soybeans
Final Product: Soy Protein Isolate
Main Production Process: Soybeans Pretreatment Process, Soybean Meal Extraction Process, Soy Protein Isolate Production Process;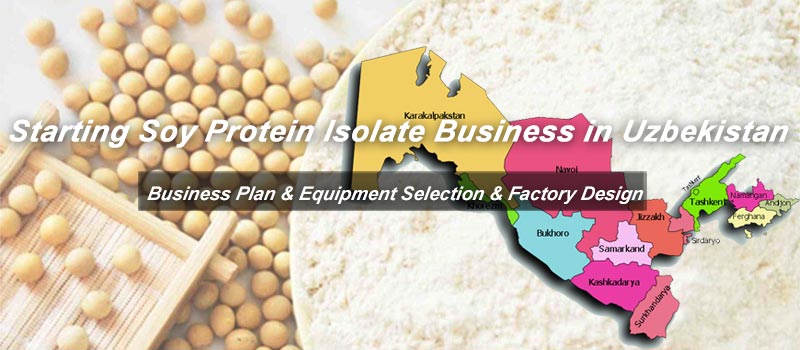 Setting up Soy Protein Isolate Plant in Uzbekistan for Business
Due to the increasing demand for plant based protein products around the world, starting a soy protein isolate production business has attracts more and more investors. Soy protein isolate is featured high protein content, low fat and carbohydrates, easy to digest, and more, so it has been widely used in food and beverage industries. At the same time, building a commercial soy protein isolate production plant is relatively low compared with before. High automation of soy protein isolate manufacturing machines, and easy to obtaine soybeans make it much easy to produce soy protein isolate at large scale. (Read more: How to Make Soy Protein Isolate?)

100TPD Soy Protein Isolate Manufacturing Plant Built in Uzbekistan
This project was specially designed and built for the largest soy protein isolate manufacturer in Uzbekistan. (Similar Project: 160L/Batch Defatted Peanut Flour Production Project Report in India >>)
We have strong capability to complete all the installation works since we have built our professional oversea installation team 10 years ago. And, every engineer has rich experience in overseas installation and are familiar with soy protein production process, which enabled us to complete the installation and commissioning of the whole project with high quality. (Read more: 100TPD Soybean Oil Plant Setup in Zambia >>)
The complete soy protein isolate plant is designed with:
Office Building;
Soybeans Preprocessing;
Soy Protein Production Plant;
Storage Silo, Oil Tank, Soy Protein Storage Plant;
Water Treatment System;
There are various types of soybean processing machines and soy protein manufacturing machines involved in this project, we don't list here all. Welcome to contact us to get detailed machine list and total cost to start a complete soy protein plant!

Commercial Soy Protein Isolate Plant Project Sucessfully Completed
This 100TPD soy protein isolate production plant was reported by local TV program and it is now the largest soy protein isolate manufacturer in Uzbekistan. If you want to know more about it, just contact our engineers anytime!
How to Use Soy Protein Isolate?
Soy protein isolate is a flexible substance that may be utilized in several ways. It may be used to smoothies and protein drinks to improve their protein content, as well as baked foods to add protein. Soy protein isolate can also be used to manufacture protein bars or energy bars, or to improve the protein content of soups and stews. Moreover, it may be used as a substitute for meat in vegetarian or vegan recipes, such as soy-based burgers or meatballs. Soy protein isolate is available as powders, flakes, and granules, making it simple to include into a broad variety of recipes. It is essential to adhere to the suggested serving size while consuming soy protein isolate to ensure that you are receiving the appropriate amount of protein for your needs.