This is one of the largest soybean oil mill built in Zambia. It is a turnkey soybean processing project including Storage Silo, Soybean Oil Expelling, Solvent Extraction Plant, Oil Refinery Plant, and Animal Feed Plant. We can offer A-to-Z edible oil production project plan, just feel free to contact us for customized business plan and cost details!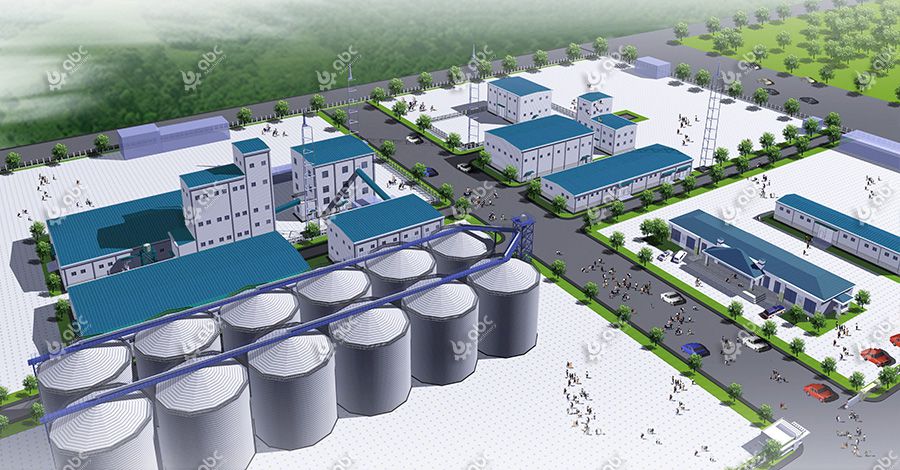 3D Soybean Oil Factory Design Drawing
Complete Soybean Oil Mill Plant Layout
A construction team which includes 3 project manager and more than 80 installer were sent to Zambia for the project installation and debugging. This project was started on May 2010, finished constructing on March 2011 and finished debugging on May 2011.
Outside of the Project Under Construction
Genereally we offer the installation and commissioning service in 2 ways, one is to arrange engineer only for guiding; the other is to send the whole installation team from China. And this project is the second way.
---
Inside of the Soya Oil Milling Plant under Construction
---
Inside of the Finished Soybean Oil Mill Plant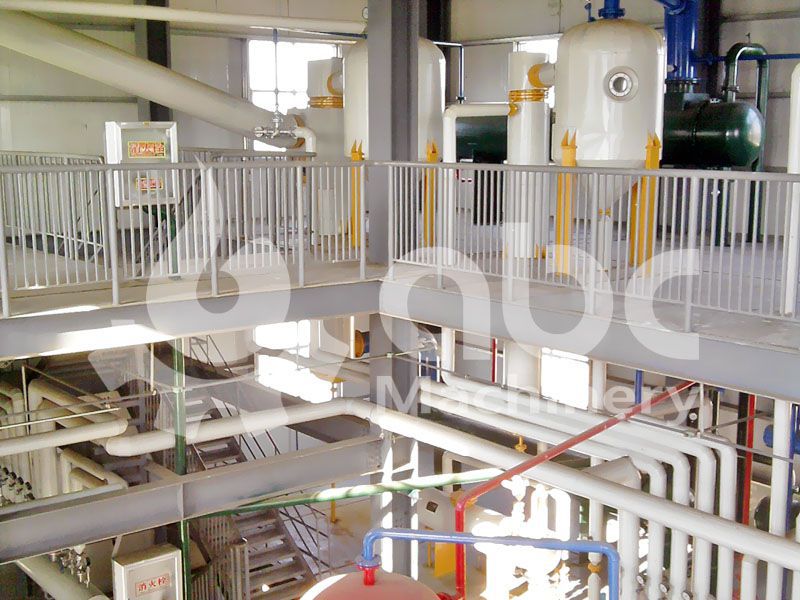 Oil Extraction workshop section
Soybean Oil Manufacturing Process

Pretreatment Process Flow Chart
Pretreatment Section
Cleaning and Impurities Separation: Large-size and small-size impurities in soybean are removed by Vibrating Screen. The soybean is uniformly distributed on the surface of Vibrating Screen, then light impurities are removed with function of aspiration channel. The Vibrating Screen is stable in performance, large in working capacity, and low in noise. (Related Product: Soybean Peeling Machine)
---
Gravity De-stoning: Heavy impurities such as stone, glass, metal are removed from the flowing soybean. It is negative pressure vessel, which will not only remove impurities, but ensure cleanenvironment. (Related Product: De-stonner Machine)
---
Magnetic Separation: for separating out metallic impurities. Complete with buffer soybean feeder. (Related Product: Magnetic Selector)
---
Dust Separation: By Cyclone and Centrifugal Fan. In this way, light impurities are separated and the workshop is clean.
---
Conditioning: First heat the soybean to 55-60 ℃ to soften it for downstream flaking easier. Meanwhile, the soybean is uniform in texture and moisture content. So the conditioner has two functions: drying and softening. The Conditioner is made up of feeding, heating, drying and discharging sections and discharging funnel. Feed the conditioner at the top, subsequently soybean is distributed uniformly to reduce scouring to the heating tube. Typically, soybean-out temperature: 60, moisture content in soybean: 10%. The Conditioner should ensure the soybean flow without interruption, and the soybean is conditioned uniformly with least energy consumption. In addition, try to extend the serviceable time of Conditioner.
---
Cracking: the soybean is cracked (crushing amchine) into 4-8 parts for downstream hull-kernel separation and flaking . Max. powder ratio: 4%. The Toothed Cracking Roller is large in working capacity and stable in performance. Space between the tooth rollers can be adjusted easily. There is no material when the Cracking Roller is stopped.
---
Flaking: Flaking process will destroy soybean cell tissue. The flake is uniform in thickness and good in ductility.(Related Prodcut: Oilseeds Flaking Machine for Sale)
Soybean Oil Extraction Section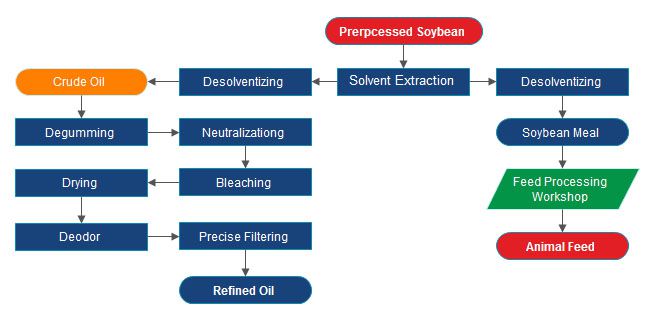 Oil Extraction and Refining Process Flow Chart
Oil Extraction: The flaked soybean is conveyed to Rotary Extractor and kept for a certain level. Spray the flaked soybean with solvent (hexane). The flaked soybean moves forward with the action of driving device. In this case, the flaked soybean is sprayed and immersed, thus oil in soybean is separated out. Mixture of oil and solvent is called "Miscella". When the Miscella has been filtered, it will flow to the Miscella cell. Pump the Miscella of high concentration into the Miscella Tank and then to the evaporation and oil stripping system. Miscella of low concentration is sprayed again. After approx. 1 hour, the oil is extracted out. Then the cake slag (here called as "meal") is pushed to the wet meal (there is solvent in the meal, so it is called"wet meal") outlet of extractor. Recover solvent in wet meal by Desolventizer (DTDC). Constant material level works for sealing and stabilizing material flow. The transmission bearing is set outside to prevent against mechanical trouble caused by solvent corrosion. Meal in Miscella is removed by Liquid Cyclones. (You maybe also interested in: How to start a mini soybean oil mill?)
---
Wet Meal Desolventizing System: The Desolventizer is made up of 5 layers. The 1st layer are designed for pre-heating wet meal to reduce moisture condensing and are designed for steam penetration. Mixture of steam and solvent vapor will pass through wet meal, which will not only make heat exchange but also remove some solvent in the wet meal. The 2 nd and 3rd layers are for desolventizing by direct steam. Fresh steam (let in) removes solvent in wet meal completely. Toast the meal in the 4th layer, since there is steam condensate in the direct steam, which will increase moisture content in meal. Blow in cold air in the 5th layer to low meal temperature (The temperature of meal would be 8 -10 higher than ambient temperature). Hot air used in Desolventizer is supplied by Hot Air Heater. Remove the meal in the solvent vapor with Vapor Wash Cyclone, this will reduce meal entering into solvent vapor condensing system.
---
Miscella Evaporation: Miscella is temporarily stored in Miscella Tank and then pumped to the 1st-Stage Evaporator. Heat source of 1st-Stage Evaporator is the secondary steam coming from Desolventizer. So energy is significantly saved. Miscella from 1st-Stage Evaporator makes heat exchange with crude oil from Oil Stripper. Thus temperature of Miscella entering into 2nd-Stage Evaporator is increased and temperature of crude oil is lowed. The Miscella is then pumped to the 2nd-Stage Evaporator. Heat source of 2nd-Stage Evaporator is indirect steam. Subsequently the Miscella is pumped to the Oil Stripper.
---
Solvent Condensing System: Solvent condensing system is closely connected with evaporation system. All solvent vapor from Extractor, un-condensed vent gas, free gas from Combined Solvent-water Separator, free gas from Underground Solvent Tanks and free gas from Miscella Tank finally enters into the Vent Condenser, where the gas is cooled by low temperature water and thus most of the solvent gas is recovered. Vent gas is let out of the workshop by Fan. Waste water condensed from direct steam is discharged from Solvent-water Separator. If there is still some solvent in the waste water, boil the waste water to meet requirements in stipulated in National Standard.