Project Name: Vegetable Oil Plant
Production Capacity: 100 ton per day (equipped with 4TPH Steam Boiler which using biomass pellet or coal)
Factory Location: Taldykorgan city, Almaty region, Kazakhstan
Oilseeds to be processed: Sunflower seeds and Soybean
Production Process: Oil seeds storage, screening, stone removal, crushing, softening, flaking, steaming and cooking, oil pressing and filtering etc.

This is a complete sunflower oil processing factory built in Kazakhstan. The production output is 100 ton/day. It is designed to process both sunflower seeds and soybean at the same time. (Related Oil Mill Project: 10TPD Sunflower Oil Pressing and Refining Plant in Moldova)
Photo Display: Sunflower Oil Factory in Kazakhstan
What's the Cost of Setting Up the Sunflower Oil Factory?
The setup cost of this sunflower oil mill plant is around $500,000, which includes the equipment of 100ton/h oil production line, 4 ton/h steam boiler system, and installation and commissioning fee. Actually, each project is customized depends on the clients' specific situation and needs, which meas the cost depends on many differen factors.
Capacity
Process Design
Processing Technology
Machine Quality
Other Factors
Video: Sunflower Oil Production Plant in Kazakhstan Under Construction
If you are planning to start your own sunflower oil making business and feel interested to get a customized project plan with detailed business plan and quotation list, welcome to get in touch with us!

Vegetable Oil Production in Kazakhstan
As a main grain producer of the world, Kazakhstan is improving the oilseeds production rapidly in recent years, especially sunflower seeds. About 60% of the area cultivated under oil crops are sunflower.
2018 Sunflower Oil Production by Country (1000 MT)
1. Ukraine
6,235
2. Russian Federation
4,750
3. EU-27
3,718
4. Argentina
1,400
5. Turkey
935
6. China
717
7. South Africa
285
8. Kazakhstan
245
9. Serbia
225
10. United States
202
About 135 000 tons of vegetable oil is required annually in this country, amount to 9kg per inhabitant. Most Kazakh vegetable oil factory work for the domestic market, but it still can't meet the increasing demand. Sunflower oil dominates the local edible oil market. About 70% of the edible oil needs in Kazakhstan are supplied by domestic production of sunflower oil. Other 30% of the domestic consumer demand is supported by importing from Russian and other countries. The monthly production of crude sunflower seed oil has reach to about 12,200 tons in 2018, and production of refined sunflower oil has amounted to 8,500 tons. (Related Project: 150 ton/day Sunflower Oil Manufacturing Plant in Russia)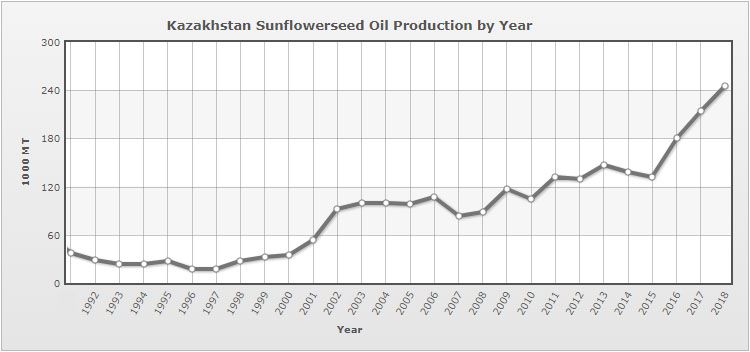 Kazakhstan Sunflower Seed Oil Production by Year
The vegetable oilseed processing industry of Kazakhstan has developed rapidly. There are about 303 vegetable oil processing companies and the annual output is up to 190 000 tonnes.
The edible oil consumption demand is growing rapidly year by year in Kazakhstan, and the demand exceeds domestic supply. As the major edible oil in the country, sunflower oil manufacturing plant is becoming a hot project to invest in.
New Opportunities of Establishing Sunflower Oil Factory in Kazakhstan
| Market Year | Sunflower Seed Oil Production (1000 MT) | Growth Rate |
| --- | --- | --- |
| 2016 | 180 | 36.36 % |
| 2017 | 214 | 18.89 % |
| 2018 | 245 | 14.49 % |
Here let's talk about the factors which promote the development of sunflower oil production industry and offers new opportunities of starting sunflower oil production plant:
New Seeds are developed to Double Yields: New types of sunflower seed hybrids are used to double the sunflower yield.
The area under sunflower is expanding: With the support of local policies, more and more farmers began to plant sunflowers. Aktobe for example, the area planted with sunflowers has increased fivefold in the past four years, from 5000 hectares to about 24000 hectares.
Considerable Benefit: The competitive oilseed prices offered by local farmers have also added to appeal of setting up sunflower oil factories.
Technical Process of Sunflower Oil Manufacturing Factory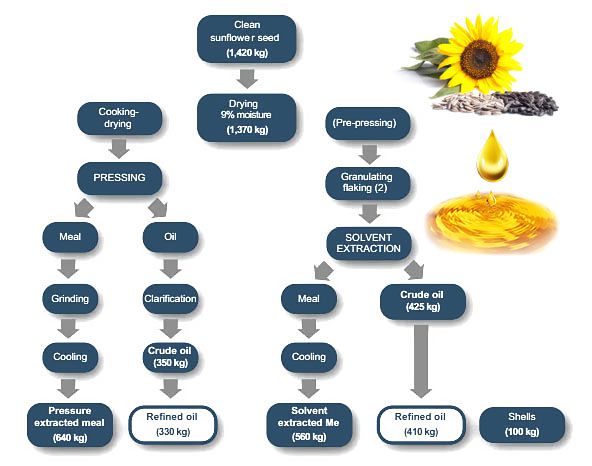 Sunflower Oil Manufacturing Process
The following are the industrial processes which take place during large scale fully automatic sunflower oil extraction factory. Read more about
how dose sunflower seed processed into oil?
Sunflower seeds contain impurities dust and metal traces. For the
sunflower oil processing
to take place metal traces are removed by passing the seeds over magnets. Impurities are also removed by use of cleaning sieves and destoners. After the impurities are removed the outer covering are then removed for pure seeds to be obtained. (Related Equipment:
Sunflower Seed Dehuller
)
The second process is the grading process. The seeds are ground to provide a larger surface area for them to be pressed. Hammer mills are usually used during the grinding process in order to produce a fine particle of course meals. The meals are then heated for the oil extraction process to occur.
The crushed and heated meals are then put into a screw type
sunflower oil pressing machine
. While inside pressure is increased progressively from 60kps to 950kps and 206kps increased to 850kpsas the heated meal goes through a slotted barrel. As pressure is increased oil is squeezed out via the slots.
Solvent Extraction of Sunflower Seed Cake
Normally not all the oil is squeezed out in the pressing process. To achieve high yields solvent extraction process is carried out. Highly volatile hydrocarbon solvent(hexane) is used to extract sunflower oil remained in sunflower seed oil cake. The resulting solvent is then distilled to separate the hydrocarbon from the oil.
More than 95% of the solvent in the extracted oil evaporates because of its volatile nature. A stripping column is usually used to remove any traces of the solvent. The oil is boiled whereby the solvent evaporates and pure oil collected after condensation.
Refining the Sunflower Oil
Refining is usually the last process of edible oil plant and it involves the removal of colour, bitterness, and odor. At a temperature of 40-80 degrees and an alkaline substance such as sodium carbonate added. Degumming of the oil is done by heating at temperatures of between 85-95 degrees. This process precipitates most of the phosphates in the oil. Centrifugation process is done to remove the gums. To obtain pure oil eligible for cooking it is passed over heated carbon to remove pigmentation substances. Winterization is usually done to remove waxes so as to prevent solidification of the oil when in refrigerators.