Start Your Own Sunflower Oil Business
Each of the appealing yellow flower head is composed of about 1000s of seeds surrounded by the big petals and it is the presence of these seeds in the sunflower that accounts for sunflower oil industry. Sunflower oil is golden in color, clear and transparent, and has a fragrant smell. It is an important edible oil. It contains a large amount of essential fatty acids such as linoleic acid, which can promote the regeneration and growth of human cells, protect skin health, and reduce the accumulation of cholesterol in the blood. It is a high-grade nutrient oil.
Set Up Small Sunflower Oil Production Line (1-20ton/day)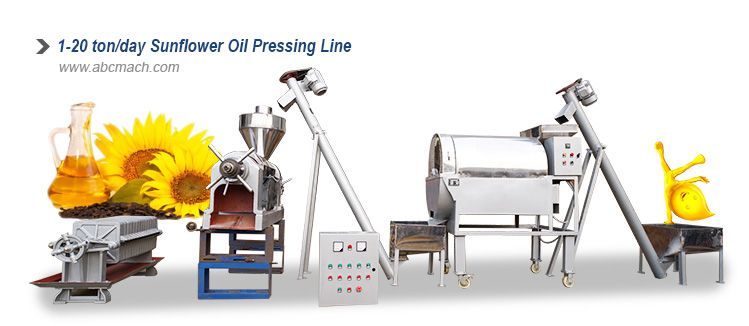 Small Scale Sunflower Seed Oil Production Line - mini oil mill
Production Output: 1-20ton/day
Main Equipment: Cleaning/screening machine, seeds cooker, oil expeller, oil filter press and conveyors.
This sunflower oil manufacturing unit is effective, automated and affordable which makes it ideal choice for small scale sunflower oil factory. It is capable of continuous cooking oil processing plant.
Sunflower Seed Oil Press Machine


Sunflower Oil Press Machine Details
Sunflower oil press is the key equipment of this sunflower oil production line. It is screw type oil expeller that involves a mechanical process of crushing the seeds against a metal head using a giant screw that is the key to continuous squeezing of the oil out of the sunflower seed. Read more about sunflower cooking oil refinery setup >>
Should Sunflower Seeds be Shelled before Oil Pressing?
In recent years, the most popular processing method of edible sunflower oil is mechanical oil pressing and cold pressing. Many customers are always wondering should the sunflower seed be shelled before oil extraction process. Actually, this is decided by the request of customers.
Make Oil without Shelling
For small scale sunflower oil production line with capacity less than 20T/D, the seeds can be expelled in oil press with shell. This process is very common in small scale oil extraction workshop or family oil milling business. Surely, the shelling process can be included for small scale production line if the customer request.
For industrial scale edible oil mill plant with daily capacity more than 20 tons, sunflower seed dehulling machine is necessary. The main process of fully scale sunflower oil processing plant is shelling, pre-pressing, solvent extraction, oil refining and oil filling. (Extract oil after dehulling can reduce the wax content of final oil.)
Complete Sunflower Oil Processing Steps
Undertake 1~100ton/day Sunflower Oil Production Line with Cusotmized Business Plan
Complete Sunflower Oil Manfuacturing Process
: Cleaning of seeds, de-hulling, oil pressing, solvent extraction and crude oil refining.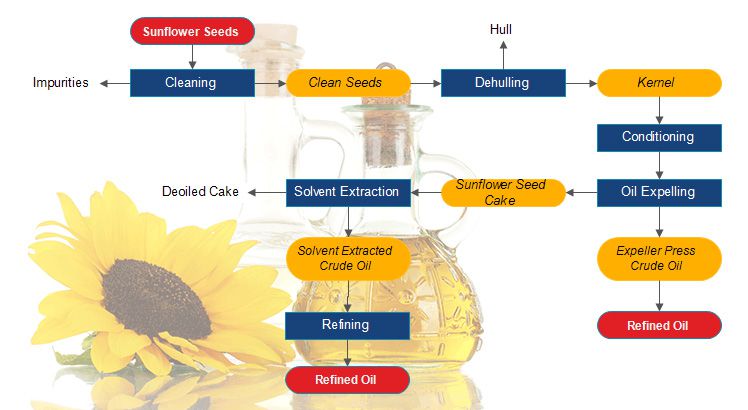 Sunflower Oil Production Flow Chart
| Oil Content of Sunflower Seeds (with shell) | Oil Content of Seed Kernel | Protein Content of Seed Kernel | The Shell Content | Wax Content of Seed Shell |
| --- | --- | --- | --- | --- |
| 35%~54% | 50%~70% | 21%~31% | Around 22% | 0.4%~10.7% |
Sunflower Oil Mill Projects [Photo Display]
Here are some vegetable seed oil production plant we built before for our clients. You can take the factory layout for reference. You are also welcome to contact us for project details, equipment list & price, production cost and operation tips.

Sunflower Oil Production Line in Moldova

Equipment Details of the Sunflower Seed Oil Plant
The above photos are about an edible oil production line established for one of our clients in Moldova. It is designed and built for processing sunflower seeds. It is a complete oil production project including 10ton/d oil pressing machine and 3ton/d oil refining machine.
Sunflower Oil Manufacturing Factory Video
Sunflower Oil Manufacturing Cost
The cost of setting up a sunflower seed oil factory is closely related with many factors such as oil mill capacity, process design, equipment selection, factory layout, automation degree of the production line.
Here we can give your some references on equipment cost of sunflower cooking oil production line: The cost of 5ton/day oil pressing line is about $5500. The cost of 1ton/day oil refinery plant is about $19800. For 1ton/day sunflower oil dewaxing machine, the price is about $13000. For large scale produciton line, the cost range of different project design could be tens of thousands of dollar. So if you want to know more about the cost of commercial scale oil mill, please feel free to contact us!
Market of Sunflower Oil Industry
The TOP producers of sunflower oil includes Ukraine, Russian, Argentina, Turkey, China, South Africa, Serbia, Kazakhstan, United States, Myanmar, Moldova, Pakistan, and India.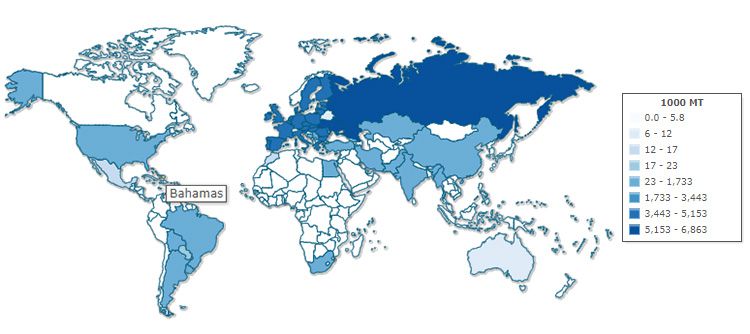 Global Sunflower OIl Production Market
Sunflower oil production accounts for about 80% of the sunflower crop and this paves the way for huge International market dealing with the production process. According to the IRUE National center of marketing and price study's reports, Russian Federation is the leading manufacturer of sunflower oil contributing to 22.4% of the total production with just 21.8% consumption which favors active export of the oil produced to abroad. While Argentina is the leading exporter with a good share of about 35% in International sunflower oil production market.
Ukraine with a share of 18.4% in the International market of production and insignificant consumption also makes its place amongst the most significant exporters of sunflower oil. While, the story takes the opposite turn in Turkey and European Union(EU), where internal consumption of sunflower oil is far more than the production, thereby giving rise to the need of huge imports. Although EU's share in production is 36.5%, its excess consumption of 41.8% makes it fall into the category of importers. (Read more: 150ton/day Sunflower Oil Manufacturing Plant Established in Russia >>)
Wide Application of Sunflower Oil Production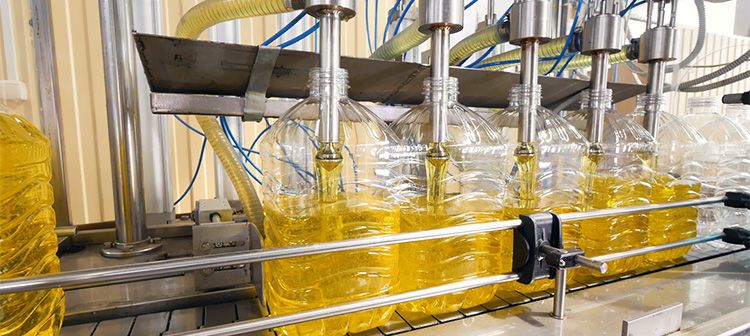 Sunflower Oil Production (seeds pretreatment, oil extraction & refinery, to oil filling)
Cooking Oil: When it comes to edible purpose, sunflower seed oil is known for its premium characteristics such as light color, bland flavor, rich unsaturated fatty acids, low linoleic acid and high smoke point. From improving heart's well-being and maintaining the glow of the skin from within to boosting energy and strengthening the immune system, the goodness of sunflower oil has provisions to take good care of overall health and reduce the risks of deadly diseases such as cancer and asthma.
Industrial Use: It is can also be used in production of paints, soaps and detergents, adhesives and plastics, fabric softeners, diesel fuel and so on.
Anytime you feel interested in starting sunflower oil production business or want more details of sunflower oil extraction & refinery, please feel free to contact us, we will serve you with sincerity and patience!

Please we want find supplier for sunflower oil refined line,2 ton per one hour. Its possible to sent us offer for that.
Hi, Do you have crude sunflower oil already? do you make it yourself or buy from outside? As for 2ton per hour, pls advise how many hours do you want to process per day, so we could design and quote for you accordingly.
I would like to acquire a small machine for deodorizing my oil and my beeswax by vacuum injection for low production.Do you manufacture such devices? If yes at which price please?
Hi, What kind of oil are you refining, and what's the processing capacity per day?
As for your request, I would like to clarify the following things
1. deodorizing
With vacuum, heating and steam stripping, the odor could be removed.
2. Dewaxing
With chilling and filtering, the wax could be removed
Pls kindly advise what process do you need, so we could design and suggest for you accordingly.
Dear Sirs, we are now doing food and oil processing in Azerbaijan. There are 2 OIL factories for eligible /vegetable oil processing in industrial zone of Baku. We are interested in your OIL DEWAXING line for sunflower oil processing. The required capacity is 30 tons/hour, please submit your quote for a complete turnkey line.
Hi dear, thank you very much for your enquiry to our products. As for your request, could you kindly confirm the capacity of the dewaxing line 30T/hrs.
according to your calculation, the total amount will be 720T/D, is it correct...? Besides, is your raw material crude or refined sunflower oil, where did you get it, produce yourself or buy from outside? Why just dewaxing section…?