Expeller Pressed Castor Oil
Hot Sale castor oil extraction machines and oil processing plant supplied by BEST seed oil extraction machine manufacturer and supplier. Large selection, competitive price!}
How to Extract Castor Oil?
The extraction of oil form the castor seeds is done in a similar manner with that of other oil seeds. Below is the best business plan for mini and small scale seed oil mill.

If you are planning for setting up a small castor oil factory with small land space, small investment and high oil yield, the above machine set should be your best choice. The quantity of each processing equipment shown in the above picture varifies according to production output, feel free to send an inquiry and tell us your capacity needs and then we can offer the detailed equipment list, layout design and best price.
This small castor seed oil production line adopts mechanical oil pressing technology (screw pressing). It connects a series of processing equipment to realize continuous oil extraction which can largely saving labor cost in production. It can process a wide range of oil seeds including castor seeds, sunflower seeds, peanuts, cotton seeds, sesame seeds, soybeans, etc.
Small Castor Oil Extraction and Refinery Plant
We offer two types of castor seed oil press: common oil expeller press and integrated oil press with filter press. Integrated oil press is designed for 1-5 ton per day mini oil production, while common oil expeller is suitbale for both mini and small scale oil production with capacity under 20 tons per day.
(Contact us to get the small scale edible oil refinery machinery price >.)
Large Castor Oil Extraction and Refinery Plant
If you are planning for starting a large scale castor oil processing plant, then you can take the following photos for reference. The left photo shows the oil pressing workshop and the right photo shows the oil refining workshop.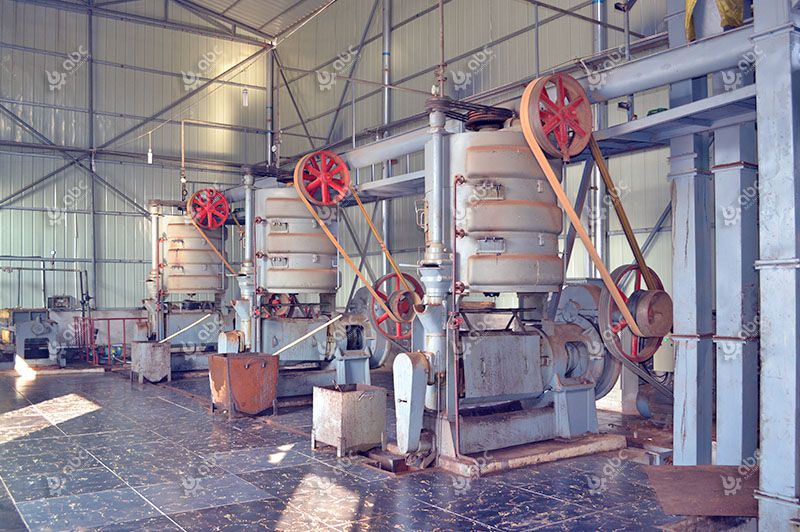 Large Castor Oil Mill Plant - Turnkey Business Plan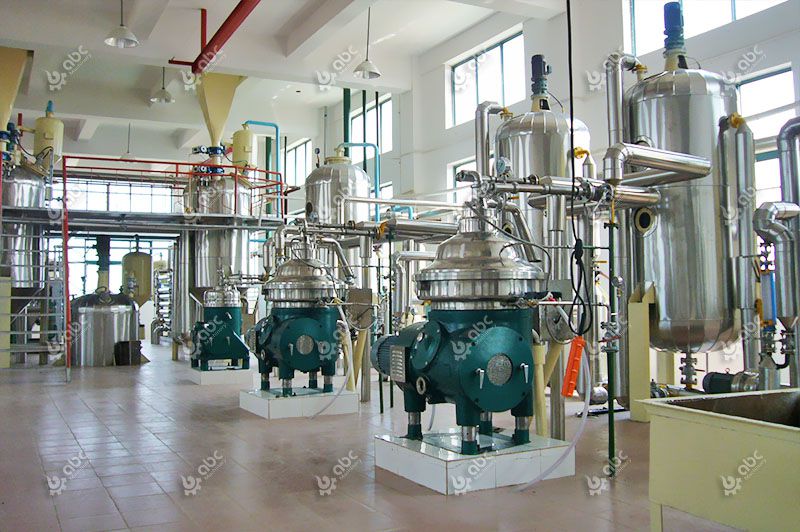 Large Castor Oil Refinery Plant

Firstly, the ripe castor seeds are set aside to dry up. Then, when they start to split open, the seeds are then gathered. The seeds are dehulled after harvesting. Dehulling can be done by hand or by the use of peeling / hulling machine. The dehulled seeds are cleaned, cooked and dried before the oil is completely extracted. The cooking is done in order to coagulate the protein, which is necessary to allow efficient extraction, and to effectively press it.
The initial stage of oil extraction is done through pre-pressing. This is normally done using a high pressure, which uses continuous screw press with the help of a seed oil press machine. The extracted castor oil is filtered. The material which is ejected from the press is called the castor cake. This contains around 8-10% of castor oil. It is also mashed into a coarse meal, and is prepared for the solvent extraction with the use of heptane in order to extract the entire oil.

Castor seed must be hulled after harvesting by laboriously using the hand, or automatically by using a shelling machine. Castor oil extraction process is a very important key for the success of complete castor oil extraction plant. Just feel free to inquiry for customized oil milling plant and cost. There is alway many detailed information and photos of successful castor oil mill projects if you are interested!

Filtration and Purification of Castor Oil
Once the oil has been taken out from the seed, it is essential to also remove the impurities found in the oil. The filtration system of the oil is made to get rid of particulates, water, acids, and dissolved gases. The tool usually used for this stage is a filter press.
Refining the Castor Oil
The filtered castor oil, which is known as the crude or unrefined oil, is passed on to the oil refinery. Here are the steps to finally refine the unrefined oil:
Firstly, the oil is allowed to set before degumming it. This is done to remove phospholipids from the oil.
Next is the neutralization process. This is done to remove free fatty acids from the oil.
Then, bleaching is done in order to get rid of coloring materials, phospholipids, and oxidation products.
Lastly, the oil passes the deodorization stage. This step allows the removal of odor from the castor oil.
Castor Oil Extraction Market
The major castor oil producing countries includes India, Mozambique, China, Brazil, Ethiopia, Myanmar, Paraguay, Viet Nam, South Africa and Angola.


Castor Bean(Ricinus communis)
Castor oil is considered as one of the most useful plant oils ever discovered all over the world. It has been used in food, pharmaceutical, and other industries in order to produce certain products. Aside from that, castor oil is the main source of useful oleochemicals. This type of oil can help provide comprehensive resources in connection to castor plant, castor bean, castor derivatives, and other castor-based oleochemicals.
Castor seed is grown commercially on plantations. However, it is can also be harvested from wild plants. The average annual growth rate of castor oil production is about 4.9% in Inida from 2007 to 2018. In Mozambique, the average annual growth rate is about 3.0%. The increase in global castor oil extraction is driven by the population growth and production of personal care and medical care and goods. And these driven factors are expected to continue promoting the castor oil extraction industry in the long term.

ABC Machinery is leading oil mill machienry company in China. We are experienced in turnkey edible oil extraction plant including castor oil processing. If you want to get detailed information about our plant oil extraction machines, don't hesitate to tell us your plan and requirements. We will give you the reply to your inquiry as fast as we get your email. Just remember that ABC Machinery is always at your service!
I am interested but my main product is coconut oil and castor. pls see if you have the machine.
Thanks for your inquiry.
Please advise if the coconut is small sized copra flakes or what is the size of the coconut? Could you please send me some pictures of your raw material?
What is the capacity(kg/hr)?
Please help to advise your company information if convenient.
My coconut oil raw material is fine grated dried coconut not copra flakes. I will also require a coconut machine that can squeeze the milk from the grated wet coconut.
Thanks for your response, our machine is suitable for pressing coconut oil from the small sized dried coconut. Pictures as below, we do not have machine that could extract milk. Please tell me what is your capacity(KG/HR) of the oil extraction machine? Do you also need the cooker and then oil filter?
I need a small oil press good quality for extracting oil from roasted castor beans.
Recommendations?
Kindly send a quotation plus CIF charges to Mombasa in Kenya
We can offer the oil press for the castor beans, but I need you to offer the capacity you need for me, then I can recommend you the suitable machines.

One that can produce 5-10 litres in an hour and Can fit on a table top. I dont have much space.

According to your request, our small automatic oil press is suitable for you. The price of this type is USD260.00 EXW. The shipping cost from our factory to your place by Express is USD270.00. So total cost will be USD530.00. The voltage of this machine is 200-240v, 50Hz,1phase, pls check the details in email attachment and see whether it is suitable for you.