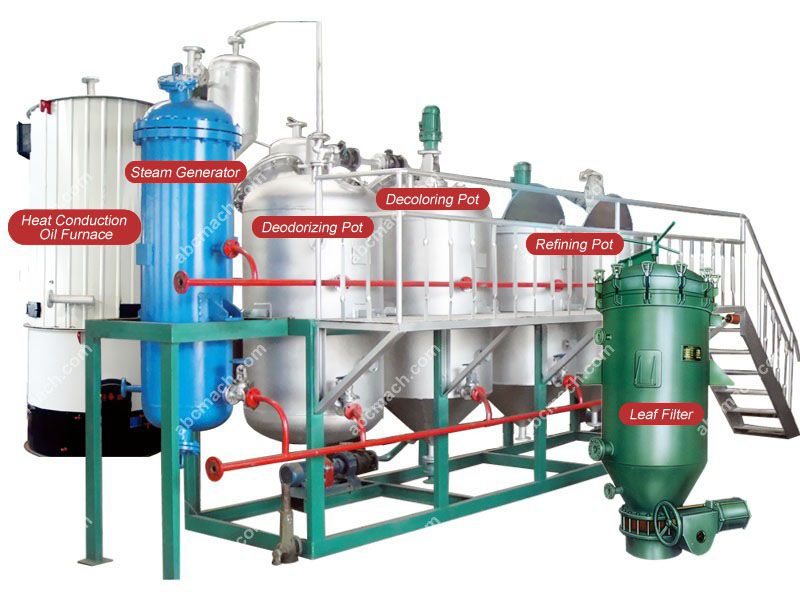 As the demand for edible oil quantity and quality keep growing, more and more businessman are interested in setting up small and medium sized oil factory. In fact, most small oil refinery has to face with the shortcomings such as shabby equipment, poor technology process, low quality of refined oil. However, the investment of constructing advanced factory is too big to afford. To solve this problem, ABC Machinery developed a new kind of 1~30TPD small edible oil refinery machine set (capacity 1~30 ton per day).
Yes! I am Interested!
Ask for Price
Details:
| | |
| --- | --- |
| Capacity (Ton/Day) | 1Ton, 2Ton, 5Ton, 10Ton, 15Ton, 20Ton, 30Ton |
| Application | Process almost all kinds of crude oil for edible purpose: vegetable oil, palm oil, castor oil, sunflower oil, rice bran oil, soybean oil, canola oil, cottonseed oil, mustard oil, groundnut oil, etc. |
| Machine Cost | $21,000~$115,000 (the exact price is based on capacity and other requirements of each equipment) |
Click here to see more about our oil refining projects around the world: Cooking Oil Refinery Projects >>
Features of Our Small Oil Refining Machine Set
Small occupation of land: Combined many single equipment together.
Low Cost: This small oil refining unit is designed with steam generator. So there is no need to buy steam boiler.
Low Investment: No need of special workshop. This small vegetable oil refinery plant is suitable to be used indoor and outdoor.
Easy Operation: After receiving the equipment, you just need to get ready of the electric, water and other necessary materials for oil refining such as coal or firewood, caustic soda and white clay. Then, you can start your oil production.
Wide Application: can process various kinds of crude oil, including all kinds of vegetable oil, seeds oil and palm oil. It is the best choice for small refinery of cooking oil and salad oil.
Equipment Included in The Small Edible Oil Refinery Plant
Heat Conduction Oil Furnace: 1 set (Produce enough heat for the refining sections, temperature≥240℃)
Steam Generator: 1 set (Produce steam for the deodorization process)
Refining Pot: 2sets (Remove the gum, phosphoric acid etc.)
Decolorizing Pot: 1set (Made of stainless steel, be used to remove the color from neutralized oil)
Deodorizing Pot: 1 set (Remove the solvent, smell, water from decolorized oil)
Other Auxiliary Equipment: Hot water Tank, Bleaching earth Tank, Air compressor, pumps, filters, Valves, Electricity Control Cabinet, etc.
Edible Oil Refining Video: How the small scale oil refinery works?
The following video is about a small scale edible oil plant set up in India, which includes both oil pressing machine and oil refining machine. This factory is built for processing mustard seeds. View the video below to see how the small edible oil refining unit works.
Small Scale Oil Filling Machine (Optional)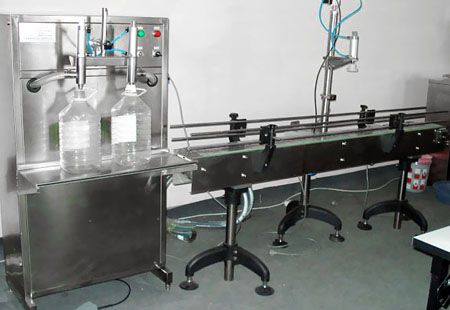 If the refined oil is planned to be sold with your own package, this small scale semi-automatic oil bottling or filling machine is your best choice. This small bottling machine is a preferred solution to fill highly sticky liquids, such as edible oil, lubricating oil into small or medium-sized barrel. It is suitable for 0.5L~5L packages.
Our company is interested in equipment for refining , deodorization of sunflower oil ! performance of 15-20 mt per day !
You already have the oil press plant to get crude sunflower oil? Could you please share with us some pictures for reference? Will check how to connect the two workshop for you.
If I send you a sample of sunflower / soyabean seeds can you tell the % of oil I am able to extract per x amount of kgs of either soya/sunflower seeds?
Of course we can do the test for you. Sunflowerseed is normall oilseed. The oil residule in cake is 6%--9%.
I need to understand the output quality of oil. Is it better for me to send you seeds, then you can extract and send me the output sample Or is it better I send you a sample of oil that I desire to obtain and you can confirm if your plant can give me the particular sample I will send?
Understand. You can tell me your requirement about the final product. Inform us the specs then our engineer will check we can do that or not. If we confirmed we can do then we can sign it in the contract. Becuase the oil is forbiden to posted. Before we have several customers posted by UPS/FEDEX etc. But all failed. Kept by custom government.
The Purpose of Crude Oil Refining
Oil is the necessity for human being living. Edible oil is one of the main nutrients in food. Oil is also the main origin material for food industry and light industry. Some oil products play an important role in some industries like national defend, metallurgy, textile, medicine. Normal vegetable or animal oil not through refining called gross oil are got through extraction, leaching, water solvent or smelting. gross oil have many kinds of foreign matters, like silt residue: sand, cake residue; glue‐soluble impurities like phospholipid, protein, oil‐soluble impurities like free fatty acid, pigment, aflatoxin, gossypol ,moisture. Due to the above impurities ,the oil is easy to rancidity, so poor quality and low use value. So, it's necessary to remove off these foreign matters according to their different properties and using requirements. So ,that's the purpose
of oil refining.
Preparation Before Crude Oil Refining
The operation conditions are different according to different kinds of crude oil, the following operating instructions are only for reference.
Crude Oil Test: Determine the acid value and color. If conditions permitting, do a small sample experiment in the laboratory.
Connect with the cooling water
Prepare white clay, alkaline (NaoH) and coal.
Turn on the power of the refining machine.
Check whether vacuum pump, air compressor, filter press and heat pump are normal.
After changing the conduction oil, heat for 5 hours in 98 ℃. If no water vapor overflow from the elevated tank, then slowly heat to 280 ℃.