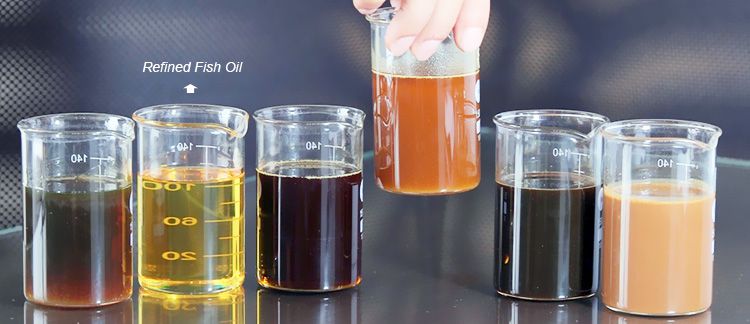 Refined Fish Oil Production Business
Project Name: Fish Oil Refinery Plant
Processing Capacity: 3ton/day Production Line
Factory Location: Bangladesh
Refining Process (chemical refining): Hydration degumming, neutralization, decolorization, deodorization.
Special Features: Fish oil is easy to crystallize due to the low freezing point of animal fat. So heating coil is added at the bottom of the refined pot.
Fish Oil Refinery Plant [Project Report & Photo Display]
This is one of our fish oil processing project designed for refining crude fish oil produced from fish meal and feed production plant. The raw material is the mixture of fish oil and water. The refined fish oil is edible. View the following photos to learn more about this fish oil refinery company. (Related Project: 50ton/day Fish Oil Extraction Machine in Pakistan)
Whenever you want to know more about fish oil production methods, fish oil refining process, or related equipments, welcome to send us an inquiry! We can help you on fish oil extraction and refinery step by step for FREE!
Here is another Fish Oil Refining Project established in Philippines for Reference: 5TPD Sardine Fish Oil Refinery. It is designed and built for fish oil deep processing to make fish oil capsules.

Global Fish Oil Production Market and Prospect
Overall, the outlook for the global fish meal and fish oil extaction market is very promising. Indeed, the statistical consensus predicts healthy sectoral growth until the middle of the next decade at least. Much of the growth will be driven by the popularity of Omega 3 fatty acids and the expansion of the aquaculture sector to incorporate emerging markets.
Fish Oil Market Profile

Fish Oil and Fish Meal Industry
Over the course of the next 7 years, the value of the global fish oil market is projected to grow to $5.42billion. Much of the forecast growth is expected to occur on the back of the burgeoning demand for Omega 3 fatty acids. Indeed, the compound annual growth rate (CAGR) of the offshoot global fish oil Omega 3 market is forecast in some quarters to reach 9.1%. In the event that such confident predictions come to fruition, the value of the Omega 3 market alone would exceed $3 billion by 2024.
Global Fish Oil Production by Country (five-year average)
Peru
30%
Europe
27%
Chile
18%
Asia
11%
USA
8%
Morocco
3%
Canada
1%
Ecudador
1%
Mexico
1%
How the Nutraceutical Industry is Driving Demand? In many established economies the demographic shift toward aging populations is serving to focus renewed attention on health-care issues. Moreover, intergenerational lifestyle factors, such as diet, which likewise are associated with ill-health, only intensify the societal spotlight on health-care as a whole. Somewhat intuitively, this emergent and determinedly health-conscious climate has proved to be a boon for the nutraceutical industry, which produces dieting supplements and functional foods. Indeed, over the next 5 years, the nutraceutical sector is forecast to experience a CAGR of 7.5%. Pertinently, one of the fastest-growing niches within the nutraceutical sector is for Omega 3 products. Consequently, the parallel implications for the overall fish oil extraction market are evidently positive.
The Prospect of Starting Fish Oil Processing Business


Fish Oil Refinery Process
The somewhat fractured nature of fish oil's corporate landscape encourages leading players such as Omega Protein Corporation and GC Rieber to concentrate on acquisition and product diversification. As a consequence, in order to remain competitive, both technical improvement and research and development are strongly prioritized within the fish oil processing industry. This boundary-pushing strategy is expected to create new opportunities for the industry within the health-care sector in the near future.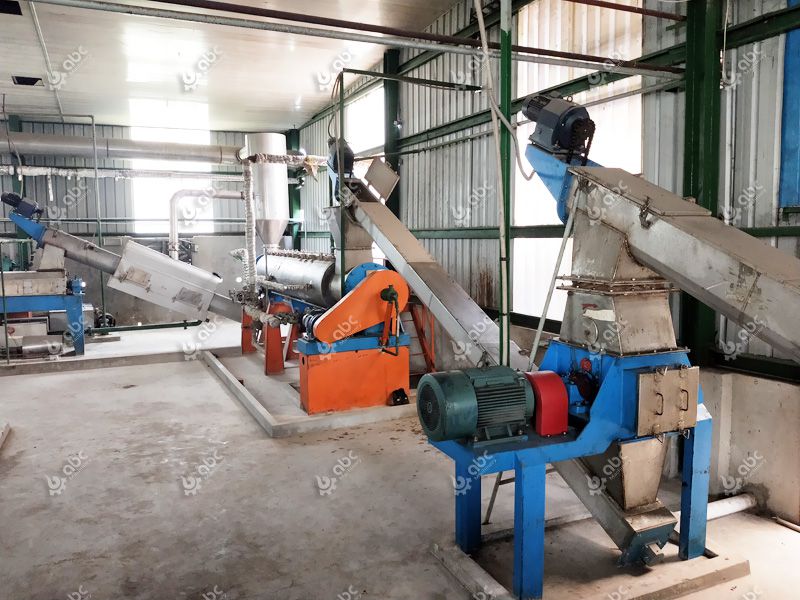 Fish Meal Factory for Feed Processing

Read more about fish feed extruder machine and fish feed production plant setup >>
On the back of evolving dietary preferences, the growing popularity of margarine and hydrogenated vegetable oils is expected to increase the demand for fish oil. As, indeed, is the anticipated growth in the market for protective coatings and lubricants. Moreover, it is predicted that increased demand from the cosmetic manufacturing industry will also stimulate future growth.
Although the market outlook is largely positive there are, nevertheless, some factors which may serve to inhibit growth. In many circles, the aggregate effect of fish oil's ever-widening demand-supply gap and its high price is considered as the single most ominous inhibitory factor. Elsewhere, red meat's unchallenged dietary predominance in the United States and Mexico is expected to act as a brake on fish oil demand in those markets. Moreover, there is an emerging push-back against the use of fish oil for aquafeeds. On this front, advocacy groups are campaigning for the development of fish-free fish oil. Although difficult to predict, if the nascent movement gains popular traction over the longer term, it could have significant implications for the market in conventional fish oil.