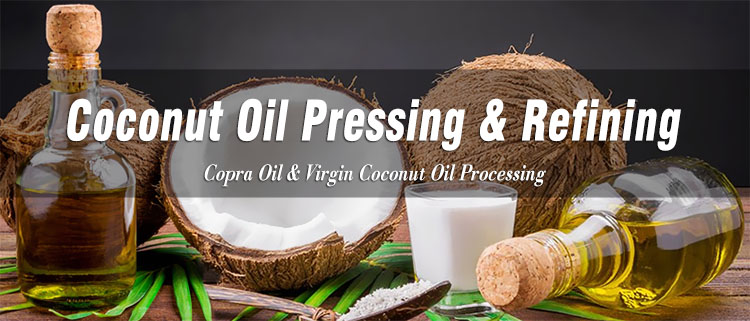 ABC Machinery is a popular equipment manufacturer and supplier among vegetable oil production sector, well known for quality and services, distributing coconut oil pressing machine including screw oil pressing machine, integrated oil expeller with filter and refining machine at competitive price. Besides, we also distributes turnkey project solutions for complete coconut oil production plant. We can help you establishing efficient and customized edible oil pressing and refning factory and guide you step by step to the succeed of your oil making business.
Start A Small Coconut Oil Pressing Business
The following equipment combination is just for reference. The equipment list might be different for different business plan. It depends on your processing raw material, required capacity, production cost budgetand other detailed information. So don't hesitate to get in touch with us to get a customized business plan and project cost list.


Small Scale Coconut Oil Pressing Plant
Features of the Small Coconut Oil Processing Plant
Wide application for a great range of plant seeds;
Semi- continuous oil pressing process: Can avoid the unstable material feeding caused by manual process, making the better and safer working situation;
Low cost, fewer land space, but with the complete function of oil processing to get higher oil yield;
Need fewer labor than single oil pressing machine, with considerable design, it only needs 2~3 persons to running the whole line;
Easier to install and commissioning;
You are kindly advised to contact us if you got interested in coconut oil extraction, refining, and filtration. Our oil pressing machines for sale are capable of processing numbers of vegetable plant and oil seeds for biodiesel or cooking uses. This machinery can not only pressing virgin coconut oil, but also can extract oil from dired copra, groundnut, sunflower seeds and other oil-bearing materials.

Complete Coconut Oil Pressing & Refining Machine
The process of coconut oil production is not complicated. There two traditional processing method of coconut oil: dry processing (make oil from copra) and we processing (make oil from fresh coconut).
Copra Oil Pressing Process
The followings are some photos about a 20 TPD oil pressing and 10 TPD refining plant we built before in the Philippines. Feel free to contact us for further discussion and get detailed information about our coconut oil pressing projects.
20 ton/day Copra Oil Pressing and 10 ton/day Refining Plant Set Up in the Philippines

The dry processing method refers to making oil from desiccated coconut which is commonly called copra. The coconut is firstly be cut to pieces and died to remove the moisture. You can remove the body from inside the shell using a knife and then divide the copra into 'A inch pieces but do not remove the testa on the coconut meat. Let the copra thoroughly dry so that all moisture from the meat is gone.
Crus​hing: Copra is big, strong and tough, unlike soya beans which break easily when moisture is low. So hammer crushing machine is needed in copra oil processing plant, and twice crushing is suggested to improve the production output.

Copra Flaking: The purpose of flaking is to reduce residual oil rate.

Copra Oil Pressing: It generally still contains small amount of big particles after crushing. So pre-pressing is suggested to reduce the oil content below 40%, and the copra can also be softened. This way can achieve the minimum power consumption, the highest oil yield, the most smooth continuous working mode, and the best oil cake quality with the lowest residual oil. If the oil content of coconut is 65% and oil residual is 3%, the oil yield can be 98%.

Oil Filter ​Press: Oil filter press is used for purifing the expelled coconut oil. It utilizes a fine-mesh filtering cloth. The oil under the pressure goes through the filtrating cloth, gets out from the faucet beneath the filtrating cloth.
Virgin Coconut Oil Pressing Process
The wet processing uses to make virgin coconut oil (VCO) by mechanical methods at room temperature or low temperature (cold pressing), without chemical refining. No preservatives and chemical solvents are needed to keep the oil fresh and stable.

This kind of processing method reduces the loss of VE, polyphenol and other nutrients. The final oil has a light coconut flavor, has better performance than ordinary copra oil, and therefore more expensive.

Screw Oil Pressing Mahcine for Coconut / Copra
Our YZS coconut oil pressing machine is a screw type mechanical expeller press featured of easy operation and high efficient. You may use the machine to process both copra and virgin coconut. It is also suitable for making oil from other seeds or nuts, e.g. peanut, sesame seeds, soybean, etc.
This is a common use screw type oil pressing machines which is designed for expelling oil from oil seeds and nuts. The oil pressing process is mechanical. Oil press is the key machinery for any oil processing unit and plant. Choose the most suitable modes of oil press machine based on your needs on oil production capacity. Besides the normal screw oil pressing machine as the left picture shows, an antomatic and multifunction oil press machine which is equipted with vaccum filter is also designed and manufactured lately.
Coconut Oil Refining Process and Equipment
The strong coconut flavor indicates that the refining process is not good, because if the coconut flavor is too strong, Taste can appear to resist retrograde in long-term use. Good refined coconut oil will not be particularly fragrant.
Physical refining is the best choice for coconut oil processing.
Referring to the comparison of physical refining and chemical refining, there is not much different from other oils such as soybean oil and rapeseed oil. The main advantage of physical refining machine is that it avoids environmental pollution caused by the discharge of soap feet and acidolytic wastewater in chemical refining plant.
The main characteristics of coconut oil refining process is:
Coconut oil does not require strict degumming, because its gum content is very low.
Coconut oil is highly saponifiable. If the alkali refining is not controlled properly, will easily cause the additional loss of neutral oil and increase the refining consumption.
In the decolorization process, the thermal sensitive pigments must be completely removed.
Global Coconut Oil Production by Country
The Philippines is the world's largest supplier of coconut oil, followed by Indonesia, India, Viet Nam, Mexico, Sir Lanka, Papua New Guinea, Thailand, Malaysia.
| Rank | Country | 2018 Production (1000 MT) |
| --- | --- | --- |
| 1 | Philippines | 1,730.00 |
| 2 | Indonesia | 890.00 |
| 3 | India | 460.00 |
| 4 | Viet Nam | 180.00 |
| 5 | Mexico | 137.00 |
| 6 | Sri Lanka | 44.00 |
| 7 | Papua New Guinea | 42.00 |
| 8 | Thailand | 31.00 |
| 9 | Malaysia | 25.00 |
| 10 | Côte D'ivoire | 20.00 |
What are the Benefits of Coconut Oil?
Coconut oil composition includes coconut oil, lauric, oleic, octanoic, palmitic, stearic and other essential fatty acids, as well as vitamin E.
Coconut oil is produced by cold-pressing from virgin coconut or dried coconut pulp. The oil has a low melting point of about 24 degrees, and in a cool place becomes almost dense solid. A distinctive feature of unrefined coconut oil is its aroma - the smell of fresh coconut without impurities of other odors.
In South-East Asia this oil has been traditionally been used as a means to care for the face and body skin, hair. In cooking it is used to add flavor, in special dietary programs, as this oil is not processed into fat. It has a wide range of medicinal properties.
Coconut is a perfect means of restoring the moisture balance, nourishing the hair with nutrients and smoothing the skin. As a perfect nutrition for the face, it softens and deeply moisturizes the skin, smoothens fine lines. In pure form, unrefined coconut oil is used for the hair only. It is recommended to use 10% on the face and 20% on body - 20% jointly with almond and other base oils.
Traditionally, coconut oil is also used for massage. Useful substances included in it heals not only the body but also the soul as coconut flavor helps to relax and get rid of stress. At home spa procedures, coconut oil is used for manicure and pedicure treatments, because it deeply moisturizes and nourishes the skin, making them soft and smooth. Sunbathing is also unthinkable without this oil. By creating a protective barrier on the skin, it makes it possible to acquire stable and even tan without the damage to health.
This oil has foaming properties, therefore it is used in soap, and bath preparations. It also possesses anti fungal and antibacterial properties, used to treat burns, wounds and skin rashes.
Hi i'm from mindanao part of philippines and i would like to ask the price of coconut oil pressing machine and coconut oil refining machine. how much it would cost me to start a small scale coconut oil refinery. we have actually a land of almost 100 hectares full of coconut trees and plan to maximize our business.
Thanks for your attention to our oil mill machine.

Based on 100 hectares we can get 100--150 tons copra. Different place the production is different. If you an inform the capacity according to the production of last year. it will be better. So we calculate the capacity based on 150tons. Then 150/300=0.5tons per 8 hours. Use our smallest oil press machine YZS-85 with capacity: 60kg/hour is ok. Pls confirm the above capacity is ok or you have more details requirement.

Hi, I am interested on your coconut oil processing machines. Please send me info about this, the pricing, support etc. I have a small coconut plantation and want to create my own oil processing plant in our area.
Glad to hear that you wanna create your own oil mill plant in your area. Coconut is one of the most healthy oil. Now it becoming more popular. Regarding to the oil press machine: Could you please inform the capacity(kg/h) you need? Or the plantation size? Then i can advise you the suitable machine type. Looking forward to your reply.
Please send me the prices of both large and small scale machines for extraction of coconut oil. Thanks
Thanks for your attetnion to our product. What is the capacity you need? Price will be sent after got your reply. Take care.
I need a coconutoil extractor that will be used to extract d oil.
Thanks for your attention to our coconut oil extractor. Could you please inform the capacity(kg/h) you prefer to? Then advise you the suitable oil press machine. Also normally the coconut copra size is a little big. So we need one crusher to crush them into small pieces. Then the copra can be touched with oil press machine more totaly. The oil yield also is be improved.

Looking forward to your confirmation about the capacity.
Dear sirs. We are a cocoa company in Brazil and we are looking for a expeller press for cocoa nibs. Do you have a machine suitable for us (500 kg/h)? Please let us know.
Thanks for your enquiry to our products.
As for 500kg/h, we suggest the model ZX-130 oil press.
Pls see the quotation below:
Model: ZX-130 Oil press
Capacity: 10~12TPD
Power: 18.5 kw
Packing dimensions (mm): 2050*590*830
Weight: 830kg
Spare parts: round rings 1set; press screw 1set; case bar 1set; cake outlet ring 1pc; cone 1pc
Delivery: 25~30 days after receiving down payment
Valid : One month
Hello, we need to process 1 tonne per hour of fresh wet coconut flesh (not dried). I have a few questions:
1. Does the expeller press have a hopper with vertical screw to feed the crushed coconut into the expeller ?
2. Would you recommend to have a second press step with another expeller to recover more liquid from the flesh ?
As for your request, pls see my comments below:
1. The press doesn't have a hopper, but we could equip one on the top if you need.
2. Yes, it would be better to have a second press step with another expeller to recover more liquid from the flesh
Dear Sir, We are interested in buying a complete production line fro the production of virgin coconut oil productivity 10-20MT/day.
Dear Sir, Is your raw material dry copra or coconut fruit, couldyou send us some raw material photos?
Hi, I am a manufacturer of virgin coconut oil which has an estimated input capacity of 15MT/Day. I would like to inquire about your cold press expeller machine. Kindly answer the inquiries below:
a. May I ask if you have any cold press machines that are used in extracting virgin coconut oil? If yes, kindly give us your technical output data. If not, you may provide the technical data of other vegetable oils that were cold press.
b. Do you have any local distributors in the Philippines or in Asia?
c. May I ask what kind of food products do your asian clients if any, use to extract oil from your cold press machines?
Thanks for your enquiry to our products.
As for your request, pls see my notes below:
a. As for raw material coconut, First we use coconut grinder to crush the material and juice extractor to extract coconut milk, then use separator to separate coconut oil from water.
The processing flowchart and technical is different from other vegetable oil cold pressing.
Since you've a 15MT/D plant already, could you kindly advise what's your current process flowchart for VCO...?
b. Not so far, we sell our products abroad directly, to save customers' cost.
c. Usually, flaxseed, grapeseed and tea seed is using cold press machines, because hot press will demage the nutritions inside the seed.
Dear Sir / Madam, I am from Indonesia. I need complete set of copra oil processing machines from copra cutter machine until copra oil refining machines with production capacity 10 Ton Copra Per Day.Can You send me Quotation with detail specifications and pictures for all these machines I need.
Hi, Thanks for your enquiry to our products. As for your capacity, we suggest that you could start from 10TPD pressing plant+ 5TPD refinery plant.
However, there's two choice for pressing plant.
Choice 1. Complete equipments with big scale oil expeller.
The process flowchart includes Cleaning-> Dedusting-> Magnetic selecting-> Crushing-> Cooking-> Pressing-> Filtering.
Choice 2. Simple single equipments with small scale oil expeller
The process flowchart includes Cleaning-> Magnetic selecting-> Crushing-> Pressing-> Filtering
Btw,as for choice 1, it may need steam boiler for the cooking and pressing equipments.
pls confirm you could have boiler from local, or want me to get it for you from China also.