5T Maize Flour Milling Machine
If you are planning to buy a small scale and highly efficient maize processing machinery, this mini assembly set of maize flour machine would be a TOP choice. It is very suitable for small scale maize flour milling business since it is very easy to install and operate it. Welcome to contact us to get the latest price!
Mini Maize Flour Machine for Sales
Capacity: 5 tons per day
Equipment: Cleaning Machine, Maize Peeling Machine, Flour Milling Machine
Products: Maize Flour: 75%~80%; Maize Germ & Maize Bran & Fodder Flour: 20%~25%;
Factory Space Required: 8*2*4 meter (L*W*H)

Why Should Buy Our Small Maize Flour Milling Assembly Unit
Our new type small scale flour mill machinery for maize is a fully automatic flour production line that has many features and attracts many customers. It can produce high quality maize flour and maize grits. Every year, we will export dozens of sets to North America, Africa, Europe, etc. (Read more: Small Scale Maize Milling Machines in South Africa >>)
Small Size and Easy Operation
It takes up very small space and is very easy to operate it, only one person can start maize flour production.
Compact Design and Automatic Process
The whole maize flour production line has scientific design and it achieves automatic maize flour production.
Compared to large maize flour mill machinery, it is cheap. And it is more efficient compared to other small scale maize milling equipment provided by other flour mill manufacturers. (Related news: Cost of Setting up a Maize Mill in Uganda >>)
How Moisture Content Affects Maize Processing?
The moisture content of maize will have a great influence on the processing quality and efficiency of maize milling plant, and the main influencing factor is the toughness of maize cortex and the binding force of cortex and endosperm. These factors will affect the processing difficulty of the corn processor to some extent. So, how much water content of maize is more suitable for maize flour machine to process? (Read more: Maize Processing Plant Cost >>)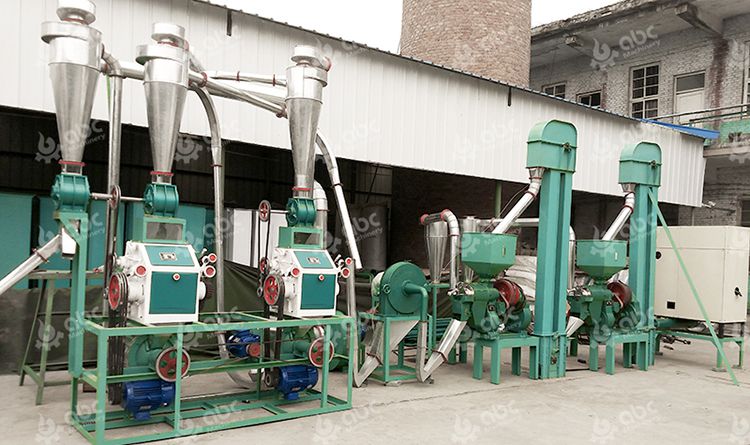 Generally, the appropriate moisture content for maize flour processing is 16%-17% and the taste will be very good. If the moisture content of maize is higher than 18%, the efficiency of peeling and degerminating by grain milling machine will be very high, but the taste will be affected to a certain extent.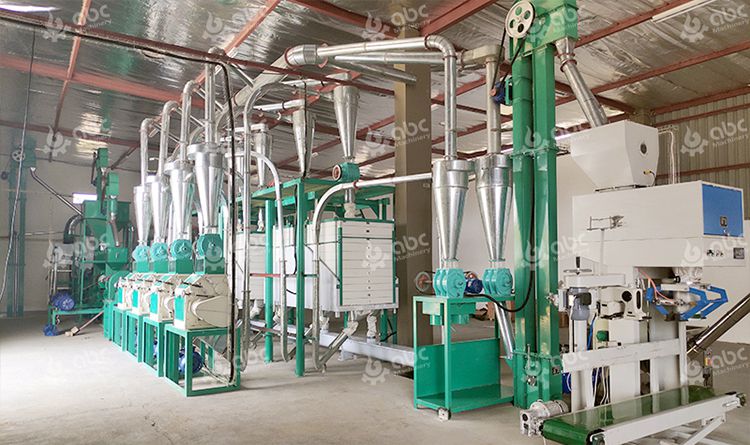 If the moisture of maize is too low, the processing difficulty of maize flour machine will be very large, and it is easy to cause the bad effect of peeling and degerminating. Therefore, the appropriate moisture content is very important for the processing of maize flour. Adjusting the appropriate moisture content not only will be more conducive to protect maize processing equipment, but also the taste of processed products will be better.

Efficient Maize Flour Milling Equipment for Sales
5tons/24hrs small maize flour/grits milling machine – factory price flour mill machine for maize flour making: buy maize flour machine from professional grain flour processing equipment manufacturer or supplier at factory price, get FREE technical instruction of maize flour production process and business plan to set up maize flour milling project in Kyrgyzstan, Pakistan, Bangladesh, Uzbekistan, Saudi Arabia, etc., at low cost.
ABC Machinery is a professional grain processing equipment manufacturer that integrates engineering design, research, development, manufacturing, sales and installation services. We provides customized plan for your maize processing business, from small scale to large scale. If you are interested in buying maize flour milling machine, please contact us to get the full catalogue and price list!
Worldwide Maize Consumption in 2019/2020 (in million bushels)
Unit States
12, 295
China
10,984
EU
3,248
Brazil
2,598
Mexico
1,752
India
1,142
Egypt
657