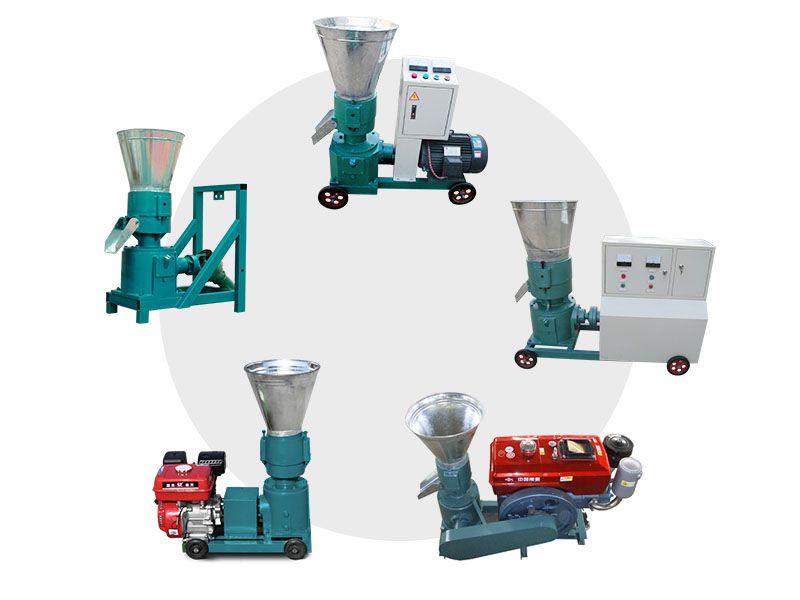 Target User: Farmer, individuals, family / households, rural breeding, small farms (warren, fowl-run, hennery, horse ranch, vaccary), etc. And can also be applied to fertilizer production (biological fertilizer, organic fertilizer, compound fertilizer).
Pellet Feed Diameter: 2.5~12mm
Raw Materials: Suitable for processing all kinds of mash feed and feed materials including roughages, dry forages and green forages. ( eg. corn, straw, grass, cottonseed shell, peanut shell, coffee husks, all kinds of oil cake and meal… …)
Features: reasonable structure design, small occupation, low noise, easy to operate, high output, low energy consumption.
You can select different size and of the pellet die to produce feed pellets with different diameter. Besides, the compression ratio of each pellet die is designed according to your specific raw materials.
Yes! I am Interested!
Ask for Price
Details:


Start a Small Poultry / Cattle Feed Line
Our small pellet feed machines are exported over the world including Europe, America, Southeast Asia, Asia and other countries. The feed pellets made by our equipment are featured of smooth surface, sufficient internal maturation, which not only help improve the digestion and absorption of nutrients, but also can kill common pathogenic microorganisms and parasites.
A-type Feed Machine
Model
Power (Hp)
Output (kg/h)
Weight (kg)
Package Size (mm)
ZLSP 120A
8Hp
60-100
120/140
900x500x730
ZLSP 150A
8Hp
90-120
180/220
1000x500x750
ZLSP 200A
15Hp
200-300
210/240
1460x750x900
ZLSP 230A
22Hp
300-400
280/310
1560x850x1000
ZLSP 260A
33Hp
400-600
330/360
1200x500x1070
ZLSP 300A
55Hp
600-800
410/450
1220x600x1000
B-type Feed Machine
Model
Power
Output (kg/h)
Weight (kg)
Package Size (mm)
ZLSP 120B
3kw
60-100
80/100
750x320x680
ZLSP 150B
4kw
90-120
95/110
800x450x700
ZLSP 200B
7.5kw
200-300
200/230
1650x820x1200
ZLSP 230B
11kw
300-400
290/320
1050x480x930
ZLSP 260B
15kw
400-600
320/360
1180x540x1000
ZLSP 300B
22kw
600-800
350/380
1240x540x950
C-type Feed Machine
Model
Power
Output (kg/h)
Weight (kg)
Package Size (mm)
ZLSP 150C
4kw
90-120
105/125
1000x480x780
ZLSP 200C
7.5kw
200-300
210/230
1050x550x830
ZLSP 230C
11kw
300-400
290/320
1200x560x950
ZLSP 260C
15kw
400-600
340/370
1240x580x1000
ZLSP 300C
22kw
600-800
420/465
1300x620x1100
Q-type Feed Machine
Model
Power (Hp)
Output (kg/h)
Weight (kg)
Package Size (mm)
ZLSP 120Q
7.5Hp
60-100
120/140
900x500x730
ZLSP 150Q
10Hp
60-120
180/220
1000x500x750
P-type Feed Machine
Model
Power (Hp)
Output (kg/h)
Weight (kg)
Package Size (mm)
ZLSP 150P
≥8Hp
90-120
105/125
900x540x1020
ZLSP 200P
≥15Hp
200-300
210/230
1000x540x1020
ZLSP 230P
≥22Hp
300-400
290/320
1000x540x1020
ZLSP 260P
≥33Hp
400-600
340/370
1050x540x900
ZLSP 300P
≥55Hp
600-800
425/465
1100x540x1000
This series of flat die type feed machine are suitable for raising almost all kinds of animals including chicken, ducks, horse, cattle, sheep, rabbits, fish, and laboratory animals.
Small scale production of animal feed pellets is definitely a good investment project to turn waste into treasure. If you feel interested in getting the detailed price list or quotaion, don't hesitate to contact us!
Pellet feed machines are used to create pelletized animal feed products from compressing and shaping of fodder materials. They are widely used to make small scale cattle and poultry feed pellets.


Small Cattle Feed Machine Unit
(the equipment color can be customized as you need)
A cattle / poutlry feed pellet machine maybe cost you a lot, therefore, requires a lot of care to maintain it performs as intended for its life span. One of the most important things to ensure a pellet feed machine will sustain its life is the way you operate it. So, how do you operate a pellet feed machine in the best way to maintain its life?
Before using the machine, you need to read and fully understand the operation requirements of the system. To start using it, the first thing is to check the operations manual. Then, you need apply a proper amount of lubricant to the running area. Before starting it, you need to make sure the circuit is fully working and does the troubleshooting when required, and that is only when you can operate it.
---
If you are interested in our equipment and need more details and a quotation list, don't hesitate to contact us ! You can get a quick reply in one business day! We are here to help you!