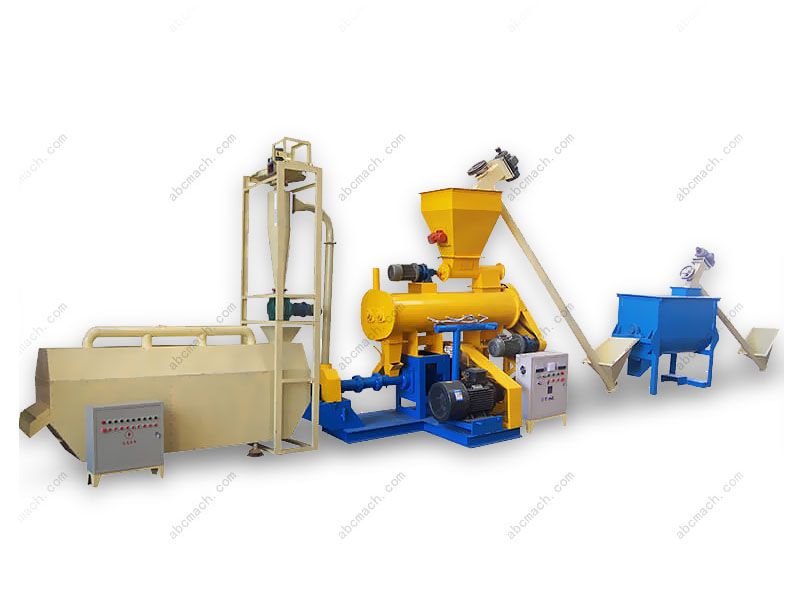 Feed extruder machine is the essential equipment in fish / pet food production line. There are two types of fish / pet food processing extruder: wet-type and dry-type. Wet type extruder is designed with a boiler which can produce steam throughout.
widely used to produce all types of feed for aquatic fish (catfish, crabs and eel, etc), crustaceans of different kinds including.
Can also poduces food for other home pet animals such as dogs and cats.
Our wet fish and pet food processing extruder machine can
make floating feed, sinking feed and slow sinking feed.
Without any doubt, these feed extruders are crucial for most fish farms.
Yes! I am Interested!
Ask for Price
Details: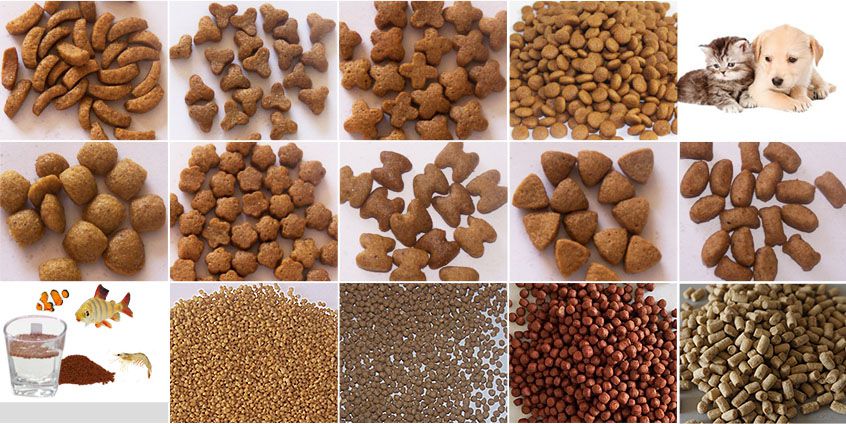 Extruded Feed Products
| Model | Capcity | Screw Diameter | Main Power | Power of Conditioner | Package Size (mm) | Weight |
| --- | --- | --- | --- | --- | --- | --- |
| BEMW60 | 180-200 kg /h | 60 mm | 15 kw | 0.75 kw | 1600*1150*900 | 540 kg |
| BEMW70 | 300-400 kg /h | 70 mm | 18.5 kw | 1.1 kw | 2000*1600*1200 | 860 kg |
| BEMW80 | 500-600 kg /h | 80 mm | 22 kw | 1.5 kw | 2300*1600*1500 | 1148 kg |
| BEMW90 | 500-600 kg /h | 90 mm | 37 kw | 2.2 kw | 2600*1800*1500 | 2000 kg |
| BEMW120 | 700-800 kg /h | 120 mm | 55 kw | 2.2 kw | 3200*1950*1500 | 2100 kg |
| BEMW135 | 1000-1200 kg/h | 135 mm | 75 kw | 3 kw | 4000*1980*1500 | 2250 kg |
| BEMW160 | 2000-2500 kg/h | 155 mm | 90 kw | 4 kw | - | 4400 kg |
| BEMW200 | 3000-4000 kg/h | 195 mm | 132 kw | 5.5 kw | - | 5100 kg |
The Classification of Fish & Pet Food Processing Extruder
There are the dry types and the wet types. Each with its own unique features:
The wet type is designed with a conditioner which needs to be used with a steam boiler, while the dry type doesn't. In this regard, the dry extruder is cheap and easy to operate.
The wet type makes smoother feed pellets than the dry type. The feed produced by the wet type is of higher quality, it undergoes an extensive curing process in the conditioner.
The wet type is good for operation at a larger scale because its capacity is much more than the dry type.
Why Choose Wet Type Feed Extruder with Conditioner?

Structure Diagram of Wet Type Extruder
Jacketed screw sleeve can withstand high steam temperatures. The screw undergoes cooling using water. The temperature is therefore controlled. The conditioner is crucial for starch gelatinization by hot steam and mechanical shear/mixing. The materials stay inside the conditioner for a time over 180s.
How to Start A Floating Fish Feed Production Plant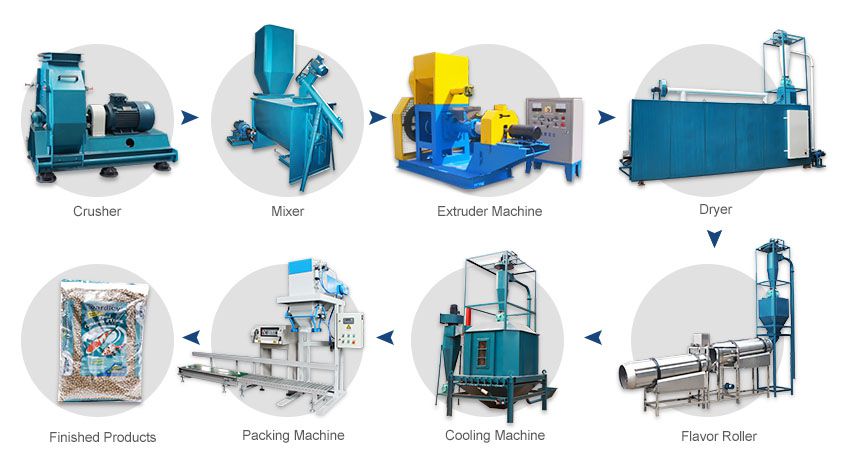 The followings listed som common use raw mateirals included in fish food ingredients. If you are willing to get more advice on fish feed extrusion, you are welcome to contact us!
Fish / Pet Food Processing Flow
The followings are the general process flow of expanded fish or pet feed production line.


Complete Feed Extrusion Production Line Flow Chart
Grinding Process: First of all, the fodder materials should be crushed to required size by using hammer mill, crusher or grinder.
Mixing Process: To improve the quality of the fish feed and the efficiency of the pellet extruding process, the raw materials should be thoroughly mixed. To ensure such capability in the material mixing, we offer two categories of mixers. These feed mixers are the double shaft mixer and the ribbon type feed mixer. The latter is useful for powder related matters while the former is the best in both mixings of granular, blocky and powder related materials. The machines also have customized spraying cubicle for liquid additions.
Pellets Extruding Process: We have two types of feed extruder machine: the wet-type and the dry type. The wet-type one is relatively expensive because it is equipped with steam boiler and its productivity is generally higher than the dry-type one. The dry-type one is cheap and it is the best choice for small scale aquatic /pet food production.
Pellets Drying: If you choose dry type feed extrusion machine, belt dryer is suggested. After extruded from the extruder, the feed pellets will be send to the perforated plate belt or wire mesh belt and then go through the chamber of the drying machine and be dried o optimum moisture content. If you select wet type extruder, gas type dryer is recommended.
Packaging Process: Our automated weighing and packaging machines ensure a proper packing for easy transport, display, and storage. With automatic options, it is featured of high efficient and low labor cost.
Components Used to Making Fish / Pet Food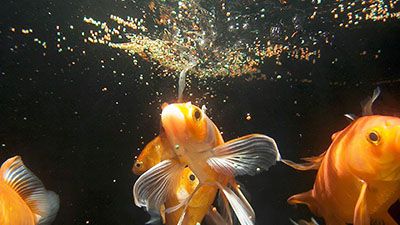 For calcium, it is highly included in bone powder. Calcium is important for bone development in young fish. Proteins, vitamins (B6, B1, B2) and certain enzymes (in small amounts)from rice dust. Mustard cake is rich in proteins, essential for growth. Use Forty percent of the cake when making the feed pellets. Remember not to add more than twenty percent of the dry cake. The chaff from wheat is high in fibre and other potential nutrients such as selenium.
For extra vitamins A and E, proteins, fats, and carbohydrates, whole grain maize will do the job. Fish powder is nutritious and it is easy for the fish to digest. It contains up to sixty percent proteins. Feed catfish to innards, they are high on protein content Use cotton seeds they are high on proteins, over fifty percent, they act as adjuvants to the final feed.
Advantages of Using Extruded Fish / Pet Food
Extruded feed ensures the nutritional balance of fish and pet.
Low energy consumption and high efficient. During the extrusion process, through special mechanism, the water and steam are injected directly into the extruding chamber. It can greatly improve the feed quality and production output.
The machines are accurate and quick when cutting the pellets: The cutting knives is removable and with good elasticity, and it can be regulated in six directions.
Suitable for various animals: the extruding mode is designed to match different animals and formulas.
Long lifespan: The extruding die and screw bolts are made of vacuum quench treatment with high processing precision.
Humanization design and easy operation.