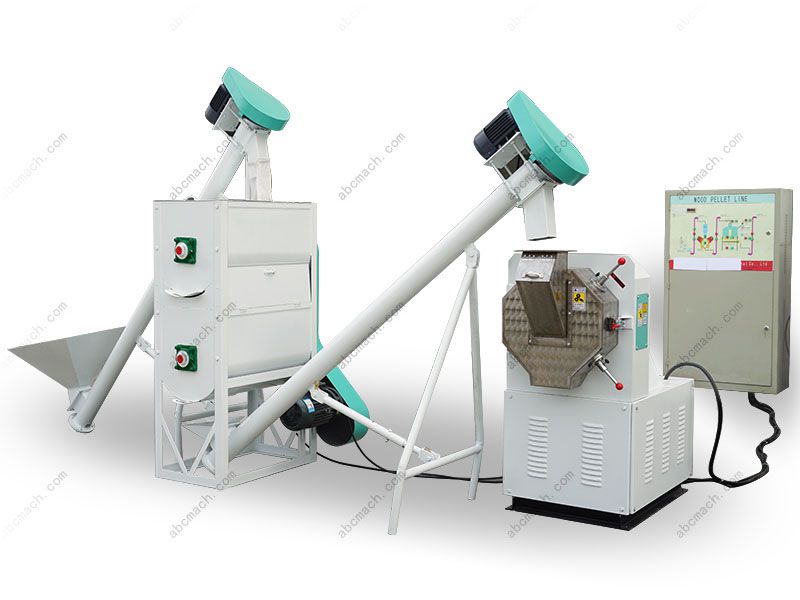 Main Power
: 22KW
Production Capacity
: 600~1000kg/h
Diameter of Pellet Die
: φ250mm
Diameter of Pellets
: φ1.5~φ8mm
Included Equipment
: Screw conveyor, mixing machine, and ring die animal feed pellet machine
Target Use
: This unit is
suitable for individuals, farmers, and small and medium sized farm such as poultry farm and cattle farm.
Yes! I am Interested!
Ask for Price
Details:
For each client, we design the pellet die compression ratio according to their specific raw materials and situations, so that to ensure they obtain the best technical and economic benefits.
Video of Animal Feed Pellets Making Process
View the video below to see homw this feed machine unit works. Feel free to send us an inquiry if you have any questions about our equipment, we are always glad to serve you!
Main Parameters of the Machine
BPM 250 Animal Feed Pellet Production Unit
Capacity
600~1000kg per hour
Power of Pellet Machine
22KW
Power of Mixing Machine
2.2KW
Power of Conveyor
0.75KW
Diameter of Produced Feed Pellets
φ1.5~φ8mm
Diameter of Pellet Die
φ250mm
This mini animal feed production unit is one of our hot sale products in latest years. This unit is simple in structure, integrating the process of conveying, mixing and feed pelletizing.
The pellet machine in this production unit adopts SPB strong belt driving system, which has ideal transmission efficiency, smooth rotation, high output, low noise, no oil leakage pollution, and lower maintenance cost.
The ring die feed machine included in this small unit can be used for making feed pellets with different diameters by simply changing the pellet die. Pellets diameter ranges from 1.5mm to 12mm. You can choose the most suitable size according to your needs.
Classes of Animal Feed by Composition and Usage
Animal feeds are usually grouped into eight categories. This organization is done based on their composition as well as the method in which they are used to create diets. The assignment to a category of a feed is done arbitrarily. In addition to that, the purpose of a particular feed in usual feeding activity also contributes to its categorization. As an example, some types of bran contain in excess of 20% protein and 18% fibre. Despite this composition, they are classified as forages. That's because this is how they are normally used. Here are the classes of feeds based on composition and use.

Dry Forages and Roughages
The types of feeds which fall under this category include straw, hay and the aerial section of fodder. The aerial section of stover also falls into this category. To qualify as dry forages and roughages, it usually does not have heads or husks. Other feeds which have more than 18% crude fibre and hulls also fall into this category of feeds.
Any roughage and forages which are cut and cured are also placed in this category. Due to having a high content of fibre, forages and roughages usually have low energy per unit weight. As such, feed such as rice bran, pods and seed coats are placed in this category.
Green Forages, Range Plants and Pasture
All types of feed which is consumed while not cut falls into this category. This includes the feed which cures on the stem. Furthermore, feeds that are cut and then fed fresh are also placed in this category.
Ensiled forages such as alfalfa, maize and grass fall into this category. However, ensiled tubers, grain, fish and roots do not.
Feeds which have a protein content that's lower than 20% and less than 18% crude fibre on a dry basis are included in this category of feeds. Examples of such types are grain, fish and mill by-products.
Dry basis products with more than 20% of protein that are derived from animals are categorized in this class of feeds. This includes gluten, ensiled products and oil meals.
Mineral supplements
Vitamin supplements
Additives
Other feed supplements such as antibiotics, flavours, medicants, hormones and colouring materials are placed in this category.

Feeds are categorized into these classes so as to make selection and application much easier. It is important to note that some short feed names have been used in this report. They may be indicated with or without the species, genus or variety.