Offer Turnkey Cattle Feed and Poultry Feed Pellet Manufacturing Solutions
Project Capacity Range: 1~1000,000 tonns / year
The Goal of Our Solution: to produce the most qualified feed pellets with minimum cost and energy consumption.
How to Build a Cattle & Poultry Feed Pellet Plant
The production process of feed mill generally includes raw material receiving and storage, cleaning, crushing, dosing & mixing (batching), pelletizing, cooling, pellets crushing, screening & grading, packaging, and storage. In some cases when the clients have special requirements for the feed pellet production plant, also need to equipped with equipment of liquid adding, curing, spraying, extrusion, drying and so on.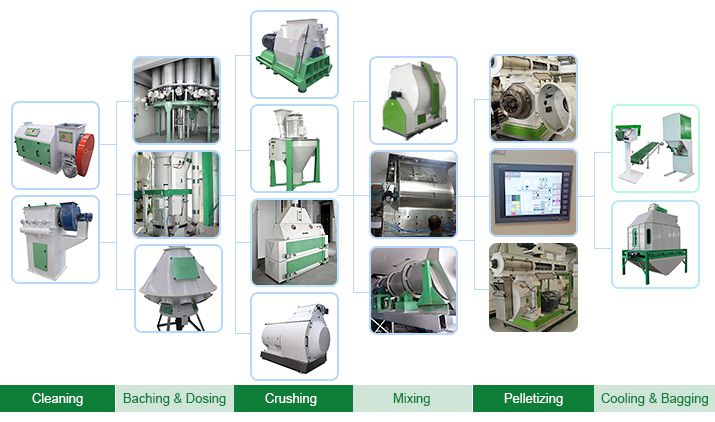 Cleaning Equipment: Mainly used to remove impurities in feed materials, especially large, medium and iron impurities to protect the equipment and workers.
Crushing Equipment: Mainly used to crush the feed materials to meet the size requirements.
Batching Equipment: Mainly used for dosing of each kind of raw materials. Includes manual batching type and automatic batching type.
Mixing Equipment: Mix the feed materials thoroughly.
Pellet Mill: Make the powder feed into feed pellets. There are two types - flat die type and ring die type. And feed factory mainly adopts ring die pellet mill.
Cooling Machine: The temperature of feed after pelletizing is generally 80~90℃, and the moisture content around 16%, so cooling is necessary in both cattle feed pellet plant and poultry feed pellet plant.
Pellets Crusher / Breaker / Bucker : Break the pellets into small particles.
Screening & Grading: separate the remnant powder from the feed pellets, so as to ensure the quality of finished fodder product.
Packaging / Bagging Machine: It can be divided to automatic packaging machine and manual packing machine.
Dust Removing Equipment: Remove dust and protect the environment.
Conveying Machine: Distribution of feed materials, semi-finished products and final feed products.
Other Feed Processing Equipment
In some cases, some other equipment may be also needed in the animal feed pellet plant, listed as below:
Extrusion Machine: Mainly used to make aquatic feed with different density, such as floating fish feed, slow sinking fish feed and sinking fish feed. It can also be used for gelatinizing of starch composition and destroy the the anti-nutrient factor in soybean.
Curing Equipment: Make the feed materials to be heated to improve the curing degree, so that to improve the stability of pellet feed in water.
Liquid Adding Equipment: Adding oil or other liquid materials.
Others: Equipment for spraying, drying … …
Our feed pellet plants and equipment only produce to meet the strictest and severe sanitation standards to ensure the fodder and that will lead to the production of safer animal food. To keep up the first-class operation and top nudge economic functioning of a local plant it is important to provide our clients with all the necessary tools for their activity and development through:
Our aim is to be part of the most exclusive and efficient feed pellet plant manufacturers and to take our clients along for a ride through high-quality services of animal feed production.