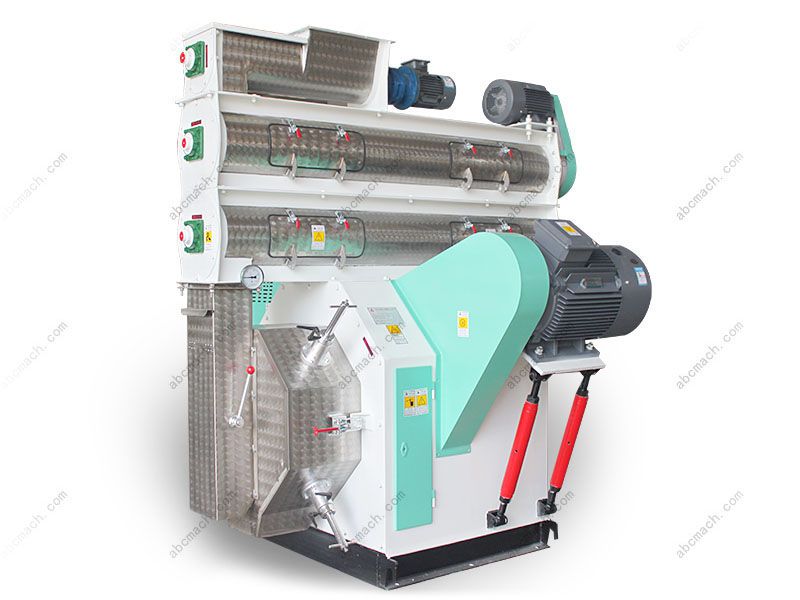 Production Output: 1~15 ton/h
Target User: Individuals, feed processing factory or feed mill, farm, hennery.
Application: Making animal feed pellets for various kinds of poultry and livestock, including chicken, duck, rabbits, cattle, horse and sheep, etc.
All the important parts are made of stainless steel, especially the parts that come in contact with the fodder materials, including feeder, conditioner, paddles and liners in pelletizing chamber.
Get more details of our animal feed pellets making machine below! Don't hesitate to send us an inquiry if you are interested to get a detailed quotation. We are alwasy here to serve you!
Yes! I am Interested!
Ask for Price
Details:
Model
BPM 25C
BPM32B
BPM35B
BPM40B
BPM45B
Power
(Main Motor)
22kw
37 kw
30x2 kw
45x2 kw
55x2 kw
Output
1-2 t/h
2-5 t/h
3-7 t/h
4-10 t/h
6-15 t/h
Conditioner Power
(Single Layer)
1.1
2.2
2.2
4
4
Feeder Power
(Variable Frequency Motor)
0.75 kw
0.75 kw
0.75 kw
1.5 kw
1.5 kw
Inner Diameter of Ring Die
250mm
320mm
350mm
400mm
450mm
Highlights of Our Ring Die Feed Machine
The feeder of our ring die type feed pellet making machine is equipped with original imported inverter controller, feeding evenly and accurately.

The conditioner is all made of stainless steel to ensure it will not deteriorate in the steam environment for a long time. It is also designed with an inspection door which is provided for easy cleaning and maintenance. During the conditioning process, the feed and steam are in full contact and the feed has a higher curing degree, which is conducive to the production of high-quality animal feed pellets.

The feed port is designed with a deflector which can control the flow direction of the materials (into the pelletizing chamber or discharged directly from the bottom). It is convenient to avoid the materials of wrong ratio go into the pelletizing system.

The transmission belt is made of high-strength SPB V-belt, featured of stable and reliable transmission and low noise.

The ring die is also made of 100% stainless steel, making it more durable. There is a variety of aperture for your choice (φ1.5mm~φ12mm), and compression ratio is customized designed based on your specific raw materials.
Quick-release hoop ring die design, which is more convenient to replace and also highly improves the production efficiency.
One-piece spindle for easy disassembly and good mechanical performance.


External Scraper (left) and Internal Scraper (right)
Scraper: There are 1 external scraper and 2 internal scraper. (The external one is used to cut the feed pellets and the pellets length is adjustable; the internal scraper is used for mixing and deflecting)

Reasonable lubrication system design (spindle, press roller): The oil filling hole is specially designed to achieve refueling without stopping the machine.
About Package and Shipment
Before packing the animal feed pellet making machines we will do thorough inspection to the machines and spare part. Our inspection will with photo and video records and send to you when it is done. It's convenient for loading and unloading our machinery with pallet. And the Machinery is covered with extra plastic film, preventing the humidity during the shipping.
Factors affecting the Animal Feed Pellet Production
For the feed pellets manufacturing process, conditioning is important. There are several factors which can affect the quality of the animal feed making production. Out of many factors, its quality chiefly relies on the below discussed three factors.


Fodder Materials
Raw Material's Properties
There is huge number of constituents within the animal feed, because of which the feed's properties are diverse as well as the effects placed on the feed are also diverse. Based on the structure of the main body, the properties of material are separated into starch types, protein types, fat types, fiber types, thermal types, etc.
The Size and Uniformity of the Fodder Materials
You can note that the similar kind of powdery materials might differ because of huge number of constituents of the feed, the particle's size and its uniformity. Because of the requirement that the central portion of every particle is softened, the instant when the smaller size granule has attained the requirement, the huge size particle would not yet have met the requirement. When the variance between particle sizes is bigger, there is bigger variance of grinding effect.
Humidity of Fodder Materials
Out of many other compounds, water is considered as an essential factor primarily affecting the adjustment's quality. It is also possible that the material possesses high moisture content. On the other hand, possibilities are there that material's quality is improved as compared to the quality of the low water content. Below the influence of vapour microorganisms may use warm water present within their surroundings as a medium. This is mainly because of reduced resistance to warm and moist environment inside a microbiological level. The clotting of microbial cell protein is hence capable to boost the speed of the microbial expiry.

---
If you have any questions about chicken feed pellets making machine or want to need a customized small to medium scale animal feed pellet processing business plan, send us your inquiry and we will do our best to help you!