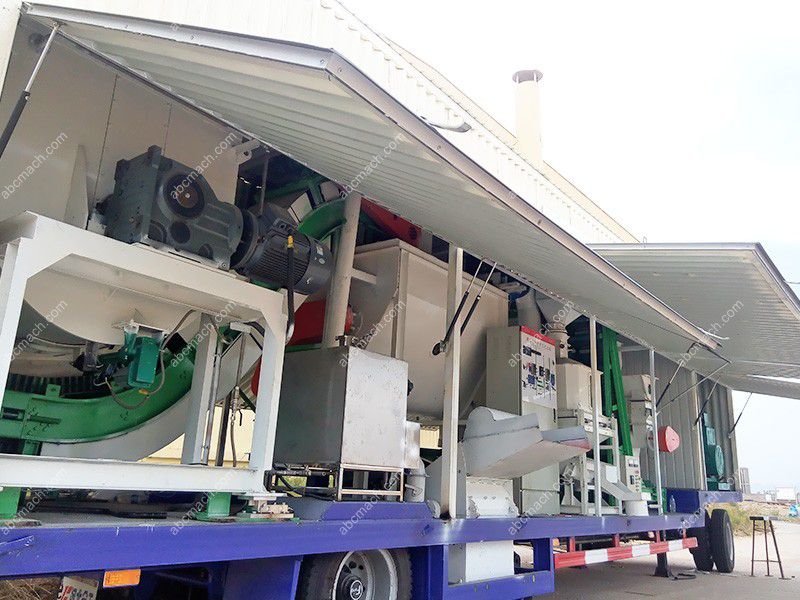 Production Output: 800kg ~ 1000kg per hour
Dimension: 1200*250*410 mm
Weight: 18.6 ton
Processing Range: All kinds of livestock feed materials, especially forage like straw, hay, crop stalk, grass, etc.
Suitable areas for the use of this cattle feed plant include remote areas with no access to electricity, animal feed processing areas on farms and ranches, pasturing areas. It can be used to process all kinds of forage, grass, hay, straw, etc.
Yes! I am Interested!
Ask for Price
Details:
This cattle feed plant is portable and it comprises equipment for mixing, crushing and producing pellets, in addition to other supporting machines.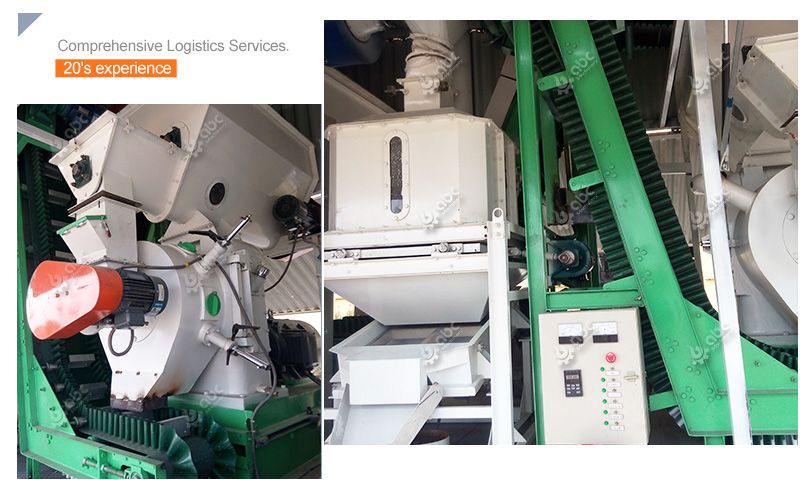 Features of the Mini Animal Feed Plant
Placed on a lorry, this mobile production line's structure is quite dense, moves very easily, can operate automatically and has low energy consumption levels. It weighs 18.6 tons and has the capacity to produce 800 to 1000kg of cattle feed per hour.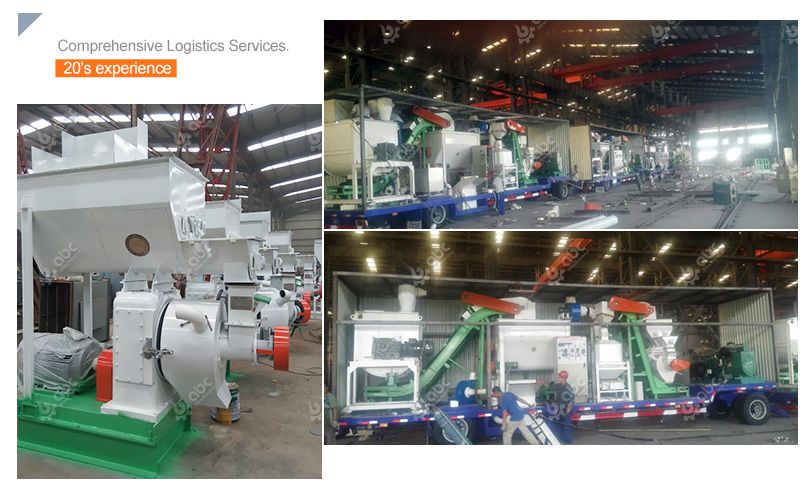 Its function is very similar to a feed processing workstation, only that it can be moved around using a vehicle or tractor. Therefore, it is highly suitable for feed production sites whose location changes frequently. This cattle feed processing plant took many years of research to develop, and was successfully completed and introduced to the market in 2013. Since then, its popularity and usability continues to grow.

A reliable feed pellet plant needs a cooling section that is essential in ensuring that the moisture content retained in a pellet feed is favorable for the storage after it's cooled.
The moisture content on a pellet feed can be influenced not only by the method used to control moisture in it and the entire cooling process, but also a number of factors that come in to play. Therefore, having an utmost pellets cooling equipment and the best wind net is invaluable in the process of feed cooling.
How to Choose the Right Cooler?
The flow type cooler has been in use since the 1990s and today, it's still used in the feed plants. When the counter flow is colder among the particles, temperature is retained at 30C to 50C. Then its precipitation is raised beyond 3.5%. The grain is then cooled without cracking its surface. In the end, the final product has a smooth appearance and perfect for not only sale but also transportation and storage.
The machine produces a form of relative flow since it produces the cooling which produces a corresponding material flow. There is the outside cold air which comes in from the bottom of the vertical section and goes through the grain layer, making the cold particles to begin coming into contact. The result also generates hot wind which also comes into contact with the hot particles. Pellets cooling happens as a result of the wind direction versus the material flow direction. In the event there is contact between the cold particles and hot temperatures generated, particles would deform.
How to Control the Temperature?
Controlling the fodder raw material moisture has always been important if moisture in pellets should meet the set quality index. Since corn makes up the highest percentage of the feed, but again has high water standard level thus needs regulation.
It is advisable for factories to check raw material water content the same way they monitor the main nutritional indicators in raw materials. Various methods of processing the grain are available for raw materials with more than the standard level moisture. Strict control of moisture content in constituent raw materials should be adhered to ensure the final product is of high quality and safe for storage.

How to Control the Quality of Steam?
When building a complete production line of poultry or livestock feed or start a full scale feed processing factory, a steam generating system is needed.
The final product's quality is lowered by among other things, the quality of the steam and the added weight, though this is highly overlooked. Animal feed pellets, though suitable for dry saturated steam, they ought not to have condensation water. Always, vapor pressure should be at 0.2-0.4 mpa, with steam pressure stable and pressure fluctuation of below 0.15mpa.
The boiler room and the main workshop should be close to each other, and have buffer sub-cylinders to prevent condensation from entering the conditioning system. Also, have the main workshop steam and water separator near the granulating machine.