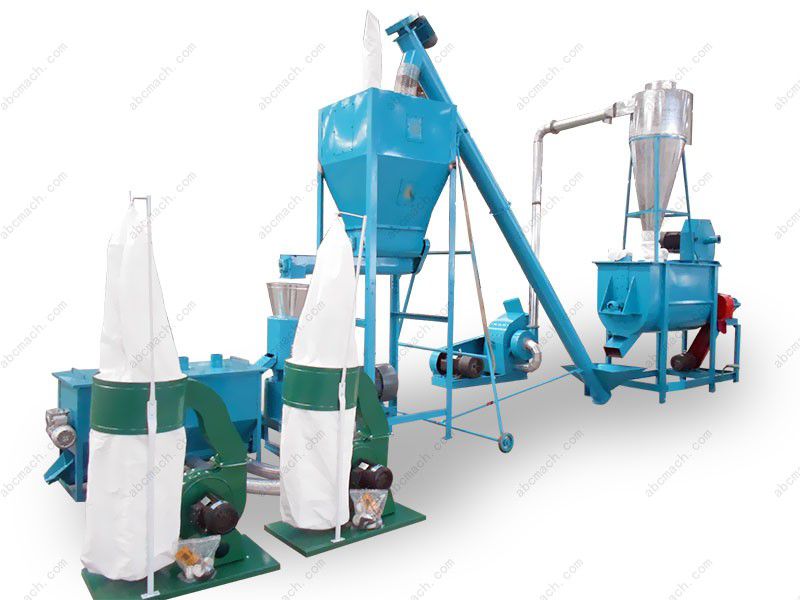 Production Output: 800-1100kg/h
Raw Mateirals: almost all kinds of fodder materials can be processed in the small animal feed pellet line, included oil cake and meal, grain, grass, wheat bran, bone meal, supplement of microelement and vitamins.
Size of Final Feed Pellets: 2~8mm
Application: It is suitable for making both complete feed and concentrated feed of poultry and cattle and other livestock and animals.
Target User: Individuals, Businessmen, small farmer, small feed factory and all start-up.
Main Equipment Included: storage silo with feeding system, hammer mill, grain grinding machine, horizontal mixing machine, screw conveyor, pellet mill, pellets cooler.
Process Flow: Raw materials feeding → Crushing → Grinding → Pelletizing → Pellets Cooling
 
Yes! I am Interested!
Ask for Price
Details: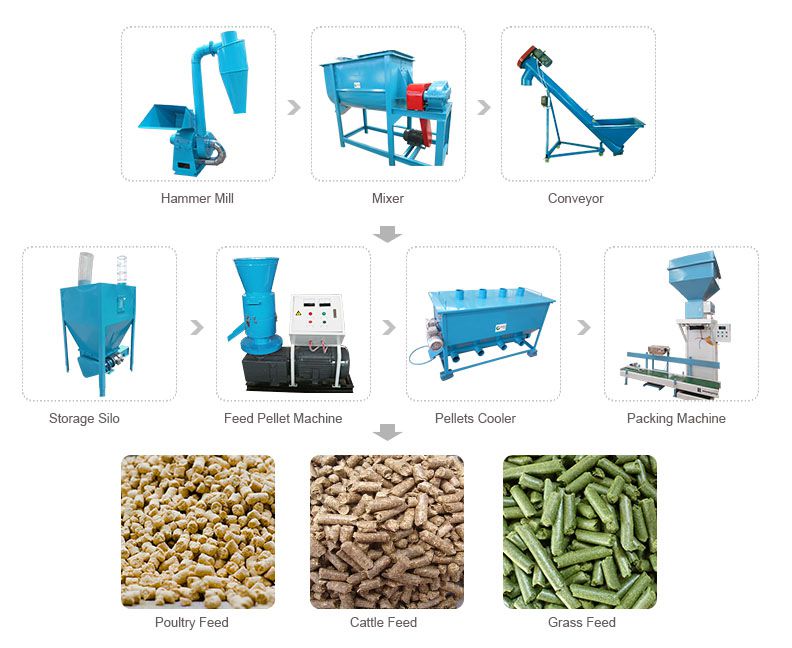 Main Equipment in Small Production of Animal Feed Pellets
Small poultry feed mill machines used for 800~1000kg/h mini animal feed pellet line. Suitable for making boith complete feed and concentrated feed of poultry, cattle, livestock and animals.
---
This feed mill plant unit are widely applied to small to medium scale production of animal feed pellets. It can produce 800~1100kg pellet feed per hour. The manufactured pellet feed is suitable for raising cattle, horse, rabbit, sheep, pig, chicken, geese, duck, fish (sinking fish feed) and so on.
Firstly, the raw materials will go through crushing and grinding process, and them will be processed into powder and then mixed completely. Then, through the feed pellet mill machine (ZLSP Series), the mixed feed mash will be made into pellets. After cooling process, the feed pellets can be packed directly.
Features of the Animal Feed Mill Machine Unit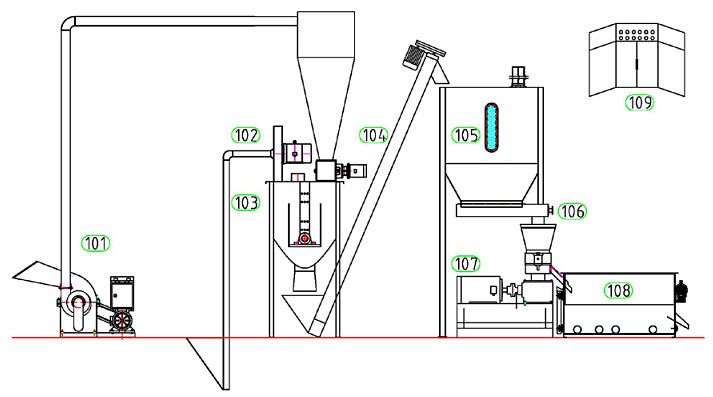 Flow Chart of the Small Animal Feed Plant
101 Hammer Mill / Crusher 106 Screw Feeder 102 Grain Grinding Machine 107 Pellet Mill
103 Horizontal Mixing Machine 108 Pellet Cooling Machine 104 Screw Conveyor 109 Electric Control Cabinet 105 Temporary Storage Silo

If you have any questions on starting s small poultry feed mill or will like to know the cost details of setting up a medium scale animal feed pellet line,
please feel free to contact us!
Due to its compact structure design, it costs less and require small area and has low requirements on workshop conditions.
It is very easy to install. After simple connection, all the equipments can be used directly. No need to pay for civil engineering or welding.
It is capable of continuous production.
Low production cost. One or two operater is enough for the whole animal feed pellet line.
Cattle / Poultry Feed Pellet Mill Plant – Main Equipment
Adopts TPF series hammer mill, which is suitable for oil meal, fresh and dry grass, leaves, peanut shells, stalks, straw, rice husks, etc. After crushing, the size of raw materials can reach 3~5mm.
Working Principle: During the crushing process, there are a group of high speed rotating blades in the chamber of the hammer mill, which can repeat beating the raw materials to crack the feed materials into small particles. Then, the particles will go through a mesh screen and go to the next process - grinding, while those cannot get through the screen will continue to be beaten and crushed.
This small poultry feed pellet plant adopts 9FQ series grinding machine. It can deal with all kinds of grain such as beans, wheat, corn, broomcorn, oil meal and cake. It is widely applied to small to medium animal feed production.
9HWP Vertical Mixing Machine is adopted in the mini animal feed pellet line. Mixing is the key process in poultry and cattle feed production to guarantee the final feed quality. In the mixing process, the feed materials will be mixed according to the proportion.
This small animal feed line uses ZLSP 300 or ZLSP 400 type feed mill machine which is one of our hot sale flat die pellet mill. The main shaft bearings and roller adopt sealing design so that to prevent oil leaking. The service life of the bearings is also prolonged and saves your maintaining cost and time.

To ensure the production efficiency, three-roller design is adopted. The pellet die is made of alloy steel and through forging process and vacuum heat treatment, which greatly improves the abrasion performance. The last but not the least, the pellet die is processed by full-automatic CNC drilling machine with higher processing accuracy.
The temperature of pellets extruded from the feed mill is generally around 70~85℃. LQS series cooler is used to cool the pellets to room temperature to meet the storage requirement, or they will result in mildew.
---
To get detailed parameter and latest price list, you are welcome to get in touch with us! We will always be glad to serve you!