This is a small maize milling plant manufactured for one of our client in Uganda. The capacity of the corn flour production line is 20 ton per day. This client was planning to start a small maize flour manufacturing business. The size of his workshop is 1650mmX600mmX650mm. (Related Project: 60TPD Maize Flour Milling Plant Set Up in Zambia)


Main Equiments Included in the Maize Flour Milling Plant
Technical Parameters of the Maize Milling Plant
Prodution capacity
: process rice 20 ton per hour.
Products
: Rice Flour: (70 mesh); Maize Bran & Feed Flour
Extraction Rate
: Maize fine flour: 95%; Maize germ & maize bran & feed flour: 20-25%
Workshop Size
: 16.5*6*6.5 (meter)
---
View the following photos took before shipping. If you are interested in getting more about set up a small size maize flour making factory, feel free to contact us!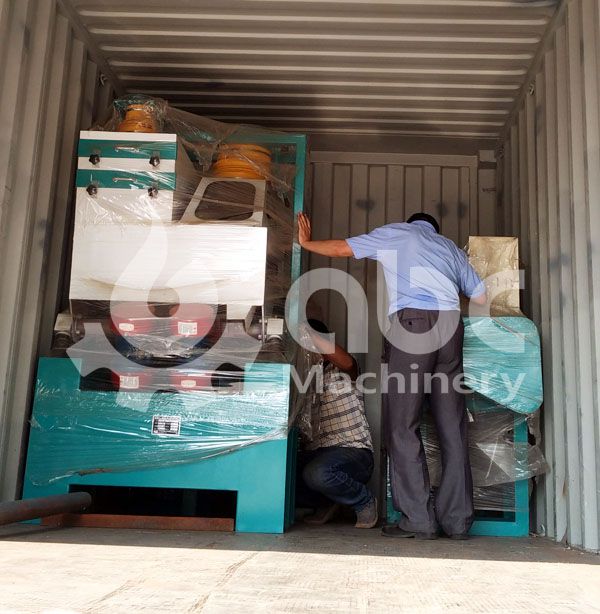 Cleaning Equipment In Container

Start A Small Maize Milling Plant
This 20TPD particular maize processing equipment designed for home use and generally small business scale, has become highly preferred by small scale business people. Most clients are referring to the small capacity flour mill that has aced the rural setting, because it consumes less energy, requires less output and its production quality is higher. (Related Product: 10TPD Maize Flour Milling Machinery)
Advantages of the Mini Maize Flour Mill Plant
Compared to the large flour mills, it is cheaper in terms of set up costs, purchasing and installation, not to forget its affordability that does not leave out consumer preference and
taste. These costs however, vary depending on the tax laws of the Inhibiting country, the small flour mill capacity and origin of the manufacturing country. The flour, which is the final product, is cheaper to the consumer. This is due to the low cost of operation which comes about as a result of technological improvement of the mill, which increases the mills capacity at a somewhat minimal expense.
Due to its small size, it is easier to transport when necessary, install, cheaper to purchase compared to larger mills and easier to maintain due to its limited breakdowns.
Since the rural market cares less about quality, the most preferred aspect is quantity and availability. In this case, the small capacity mill is specifically meant for the rural setting. This is due to the fact that it has a combined feeding and crushing feature. It is inefficient for bonding flour hence very different when it comes to production capacity, compared to the large flour mill.To conclude, our small maize milling plant has been very favorable to domestic operations and small scale productions. It only needs very little manpower, approximately one or two people, for its operation. This is enough to cater for the needs of the local society.
---
Our small maize milling unit or production line is definitely a stepping stone for flour business people who are just starting out and are looking to buy large flour mills in future. They also get funded by some financial institutions.