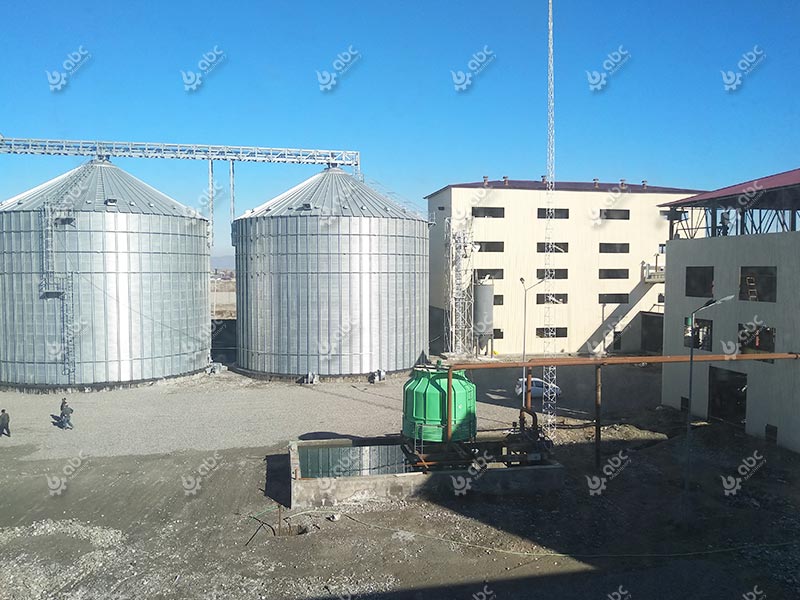 Production Capacity Range:
7~100 TONS PER DAY
Raw Materials:
Soybean (Low Temperature Soya Meal)
Final Product:
Soy Protein Isolate
Main Production Process:
Soybeans Pretreatment Process, Soybean Meal Extraction Process, Soy Protein Isolate Extraction Process;
Main Equipment:
Soya Huller, Soya Flaker, Chain Extractor, Low Temperature Desolventizer, Wax Recovery, Extraction Tank, Centrifuge Neutralization Tank, Spray Dryer, Water Treatment, Boiler, etc.
Key Features of ABC Machinery as your soybean protein isolate manufacturing facility solution supplier:
Rich and practical experience for over ten years
Professional overseas installation team
Customized business plan and cost analysis
High quality soy protein isolate making equipment
Yes! I am Interested!
Ask for Price
Details:
As a professional supplier and manufacturer of soybean protein isolation production line and equipment, ABC Machinery is committed to providing customers with excellent service experience. We not only provide you with high-quality equipment, but also offer a full range of pre-sales, on-sales and after-sales service. ABC Machinery is always committed to providing customers with one-stop quality solutions to help you achieve greater success in the soybean protein field.
Pre-sales: Customized Business Plan & Cost Analysis
On-sales: Factory Layout Design & Equipment Manufacturing
After-sales: On-site Installation & Commissioning, Operation Guide & Technical Training, etc.
Full-process Integrated Production Line Solution

Features of Isolated Soybean Protein Production Process Designed by ABC Machinery
Stainless steel is used for the part contacting with materials
Reaction tank adopts unique stirring structure to prevent stratification.
The ratio of water, lye and acid is controlled by computer.
Unique sterilization process to prevent protein denaturation.
Drying tower adopts high-pressure hot air furnace to reduce operating costs.
Unique air filtration ensures clean air and prevents bacteria from exceeding the standard.
Adopt automatic control in important parts to improve the stability of the production process.
The whole system adopts monitoring to prevent material leakage during production.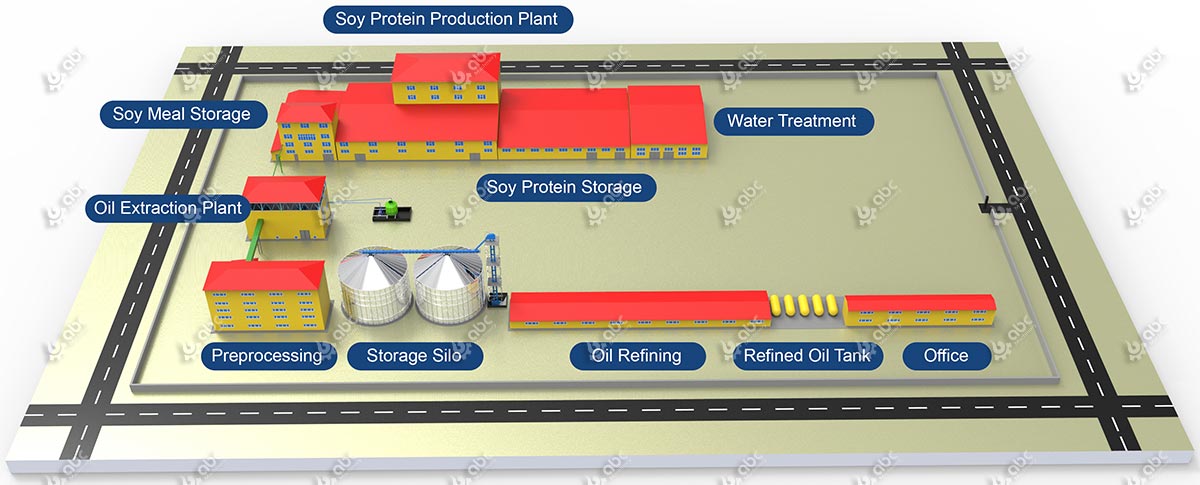 Soya Protein Extraction Production Process Layout
Characteristics of ABC Machinery's Low-temperature Soybean Meal Processing Technology
Continuous and mechanized operation of all process equipment. While ensuring advanced process indicators, the process is simplified, reducing equipment investment and lowering the rate of malfunctions and maintenance costs. It maximizes space utilization to save land and optimally utilizes gravity to conserve energy.
Contemporary international standards extraction machine and low-temperature desolventizing machine with rational structure and reliable operation.
Designed specially energy-saving technology for negative-pressure evaporation can greatly reduce steam consumption.
Enclosed fully and the negative-pressure evaporation operation system prevents lipid oxidation. By achieving the separation of crude oil and solvent at relatively low temperatures, it ensures the quality of extracted crude oil and enhances refining efficiency, leading to a noticeable reduction in energy consumption.
Appropriate selection and proportioning of the condensing system machine effectively improve condensation efficiency.

Low Temperature Soybean Meal Index
| | |
| --- | --- |
| Protein Content | ≥53% (by dry base) |
| Moisture of Soybean Meal | ≤10% |
| Residual Oil | ≤0.5% |
| Content of Soluble Meal | ≤500PPM |
| NSI | ≥82% |
| The Skin in the Finished Low Temperature Soybean Meal | ≤1.5% |
| Powder Degree (60 mesh screen) | ≤ 3% |
Economic and Technical Indicators
| | |
| --- | --- |
| The Thickness of Embryo Slices | 0.25 - 0.30MM |
| Moisture | 9.5 - 10.5% |
| Temperature | 55 degrees. |
| The Rate of Desquamation and the Rate of Degerms | > 95% |
| Solvent Consumption | 3.5 kg/ ton material |
| Nitrogen Solubility Index | > 82% |
| Fat | < 1% |


To start soy protein isolate business, it is extremely important to gain a firm understanding of the soy protein isolate processing procedure. Next, we'll cover the soy protein isolate production process, showing how raw soybeans can be transformed into a premium protein product. (Read More: 100TPD Soy Protein Isolate Plant in Uzbekistan>>)
Soybean Protein Isolate Main Production Process
Isolated soya bean protein prodution has strict requirements, so every step needs to be carefully designed and checked to ensure the quality of soya protein powder. The following is a detailed introduction to the manufacturing process of soybean protein isolate.
Soybeans Pretreatment Process

Soybean Isolate Protein Pretreatment Processing
Cleaning (Screening & Selection): Screening iron impurities, large impurities, stalks, and stones and selecting perfect soy beans.
Conditioning: Adopt low-temperature drying tower and fluidized bed to rapid drying can not only ensure the peeling rate, increase the protein content, but also ensure the invariance of soybean protein.
Peeling: Use a dehulling machine and a kernel separating screen to remove the skin of soy beans to increase the protein content of soybean meal.
Softening: Improve plasticity of soybean raw materials, make embryo rolled by the flaking machine thin and not broken, thereby improving the extraction effect.
Flaking: Use hydraulic compact roll billet mill to better destroy cell structure of the oil to ensure that the rolled billet is thin and uniform, tough and small in powder.
Soybean Meal Extraction Process

Process Low-temperature Soy-Bean Meal for Soya Protein Powder
Soybean Meal Extraction: Soybean protein extraction equipment adopts advanced drag chain extraction machine, stainless steel grille, frequency conversion control of feeding and discharging, automatic control of feeding liquid level, stable production, low residual oil and low solubility.
Low Temperature Desolvation: Adopts digestion and absorption of world advanced technology:

A+B tank desolventization process

. Through this technology, low-temperature soybean meal has a high

NSI

(nitrogen solute index), uniform and complete sheet shape, complete desolventization effect, and energy saving.
Miscella Evaporation: The evaporation system uses negative pressure evaporation, adopts 1 st evaporation, energy saving, jet heat exchanger, oil-oil heat exchanger, fully utilizes waste heat such as the secondary steam of evaporation separator, jet pump exhaust gas and crude oil, which is advanced and energy-saving.
Solvent Recovery Cycle: Recover most of the solvent gas, recycle after water separation, and tail gas containing trace solvent enters tail gas recovery system.
Tail Gas Recovery: This system can effectively intercept difficult-to-condensate solvent gases, and the scientific and advanced condensing system configuration ensures good dissolution consumption process indicators.
Soy Protein Isolate Extraction Process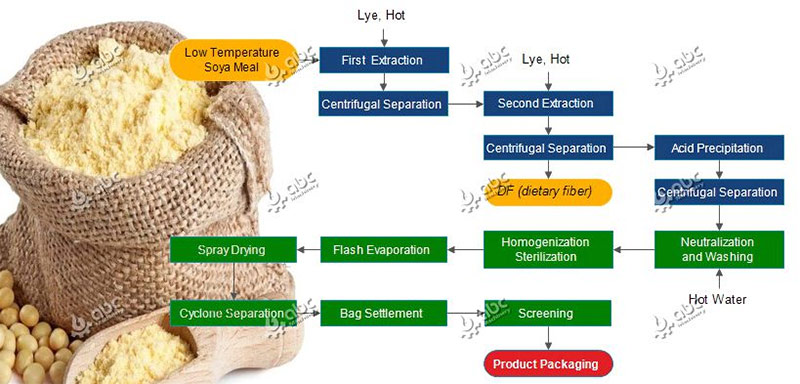 How to Isolate Soya Bean Protein Powder
Dissolve and Extract: Utilizing the solubility properties of soybean protein, the low-temperature defatted soybean meal is soaked in a mild alkaline aqueous solution (NaOH) to extract soluble proteins and low molecular weight sugar. Subsequently, an ultracentrifuge is employed to separate insoluble fibers and solid residues.
Acid Precipitation: A certain amount of hydrochloric acid solution is added to dissolved protein solution to adjust its PH and precipitated protein gel is separated by using a centrifuge.
Neutralization, Homogenization, Sterilization and Spray drying: Separated protein undergoes homogenization, sterilization, vacuum flashing, and pressurization, followed by spray drying to obtain powdered soy protein isolate product.
If you wish to delve deeper into the soya been protein isolation processing or if you have any questions, please do not hesitate to reach out to us at your convenience.
With its many benefits, soy is a complete protein. Soya protein purification is a highly purified protein extracted from low-temperature defatted soybean meal through a series of processing steps. With a protein content of over 90%, soya bean protein isolate contains nearly 20 essential amino acids necessary for the human body. It is nutritionally rich and cholesterol-free, making it one of the few plant-based alternatives to animal protein.
Why Choose Low-temperature Soybean Meal?
Choosing low-temperature soybean meal as the raw material for isolated soy protein allows for better preservation of the nutritional components in soy beans, ensuring that the isolated soybean protein concentrate has higher nutritional value and functionality. It also helps to reduce the structural and functional damage to protein making, thereby improving the quality and functional properties of the protein isolate. Additionally, selecting low-temperature soybean meal effectively minimizes the risk of non-enzymatic reactions, leading to a higher quality isolated soy protein. Moreover, low-temperature soybean meal typically exhibits better extractability and solubility, contributing to improved manufacturing efficiency and reduced consumption of resources and energy. ABC machinery adopts advanced low-temperature soybean meal extraction processing technology to ensure the isolation of high purity soybean protein powder.
How to Start Soy-bean Protein Isolate Plant?
Building a soy protein isolate processing plant is a complex task that requires not only a lot of human and material resources, but also a full understanding of the protein manufacturing technology as well as the protein production equipment. Here are some factors to consider:(Read More: Soy Protein Isolate Price>>)
Choosing right location: A suitable location for the plant will not only make it easier to obtain fresh soy beans but will also reduce transportation time and costs.
Obtaining necessary permits and approvals: Work with the local government and relevant authorities to obtain the necessary permits and approvals to ensure that your soybean processing plant will operate legally.
Design and planning: Inviting professionals to design the soya bean protein processing and plant layout can improve efficiency and staff safety, and to ensure that soys are stored safely and are not contaminated.
Buy equipment and install: Selecting a reliable supplier to buy suitable soya bean protein making equipment can ensure that the quality and performance of the equipment meets the production requirements, and cooperate with the supplier for installation and commissioning of the isolated soy protein powder equipment.
ABC Machinery is a professional manufacturer and supplier in China, offering you complete soybean protein isolate extraction equipment and turnkey soybean isolate protein plant layout design at low cost. With more than 10 years of practical experience and a professional overseas installation team, we can ensure the whole project installation and commissioning with high quality. Welcome to contact us for the latest price list of Soybean Isolate Protein Production Business.
Get In Touch
24/7 Support
We receive enquiries in English, Español (Spanish), Русский язык (Russian), Français (French) and العربية (Arabic) . Our professional team will reply to you within one business day. Please feel free to contact us!