More solutions to grain processing have sprung up to deal with the changes and challenges brought along with the rapid development of the world economy and the acceleration of the grain circulation. Among all the solutions, the small scale flour mills with low investment are becoming increasingly embraced by the numerous villages. With the newest design concept of being small and efficient, the totally brand-new machinery manufactured is fully qualitative for the current market volume and value.
10 ton/d wheat Flour Mill Machine
Featured in low investment and high efficiency,M6FTY-10 series flour mill machine small scale unit is a complete set of equipment whose production is of high quality, stability and constancy. As shown in the figure below, the production line consists of combined grain cleaning machine, destoner, wheat washer, flour milling machine, round sieve, fans, airlock, and so on. This machinery unit enables wheat sieving, threshing, destining, washing, grinding as well as flour sieving.

M6FTY-10 Flour Mill Details
Equipped with fan for raw material elevating, this plant saves manpower. With round sieve which is easy to replace for flour purification and clarification and 2 sets of wheat milling machines for separating grind bran and wheat core, the flour quality and extraction rate could be guaranteed to the most extent.
| Capacity | 400-500kg/h wheat |
| --- | --- |
| Extraction rate | About 76% |
| Quality standard | GB1355 |
| Power | 27.15kw |
| Workshop | 10*5*4.5m |

This small scale wheat flour milling unit is able to process 10T wheat per day. Together with combined cleaning machine, screenroom, dampening machine, purifier, this flour production line could work smoothly and stably. The cleaning machine is mainly used for clearing straw, dust, stones and other impurities. The screenroom is made up of one sifter, one scourer, two destoners and one dampening machine. And lastly, the purifier comprises two sets of M6FY-35 style wheat grinder, three reel-separator sets and one air filter set.
Features of 10T Wheat Flour Mill Machine Set
Compact structure and elegant appearance.
High duration with 25 years of service time.
Easy installation and operation, no special skills and tools are required.
Low investment and highly-qualitative production.
20-30 ton/d Wheat Flour Mill Machine
The 20-30ton/d wheat flour mill machine mainly comprises cleaning sieve, wheat threshing machine, destoner and washing machine, magnetic selector, flour milling machine, highly-efficient plansifter, bran brusher, flour elevator, fans, airlocks and so on. This set of equipment enables wheat bolting, threshing, stoning, milling and flour sieving. The wheat cleaning part adopts the technology of 1 time sieving, 1 time threshing, 1 time of stoning, 1 time of magnetic selecting and 1 time of washing. While flour milling part adopts the technology of 4 times of bran milling, 1 time of core milling, 1 time of bran brushing and grading outside sieve.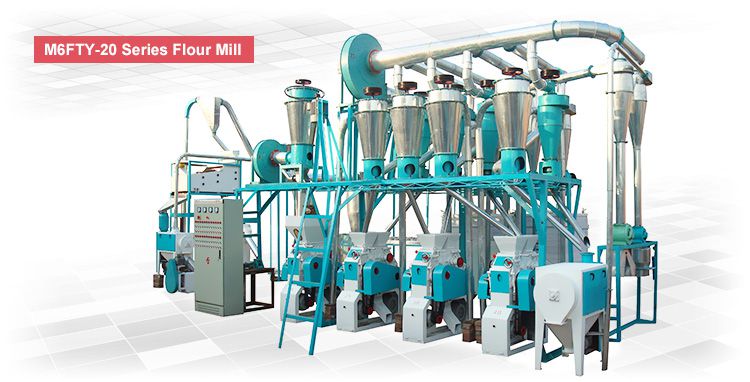 M6FTY-20 Flour Mill Details
The figure above shows the whole plant which is easy to install, operate and maintain. With limited space occupied, this plant could work at the best level. The plant is compact in structure, easy to install and maintain. Besides, with smaller size, it is of lower power consumption and higher efficiency. (Industrial Project: 160TPD wheat flour plant in New Zealand)
| Capacity | 20TPD, 30TPD |
| --- | --- |
| Flour extraction rate | 80-85% |
| Quality standard | GB1355 |
| Power | About 60kw |
| Workshop requirements | 16m*5m*4.5m |

Move on right now to start your own flour milling business if you are interested in grain processing industry. Feel no hesitation to contact us if you are willing to get more details or the latest promotion price of our machinery. As a flour mill machine manufacturer with decades of experience, we assure you will have the least trouble in starting and running your business with our help.