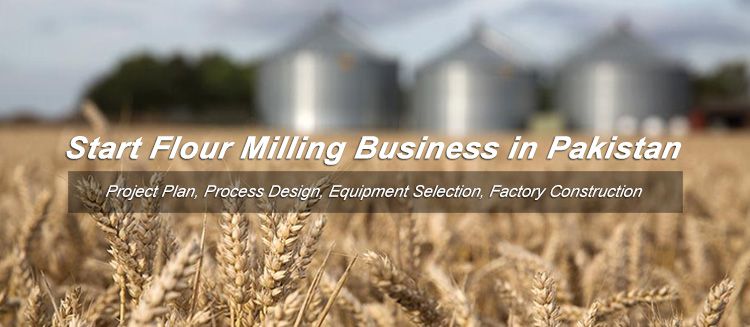 Setup a Wheat Flour Milling Factory in Pakistan
Pakistan's arable land and water are its main natural resources. Pakistan has been growing wheat since ancient times, producing about 23.6 million metric tons of wheat a year. Wheat is mainly grown in Punjab. Pakistan is the Eighth largest wheat producer in the world. (Related Post: Wheat Flour Mill Business Plan)
Flour Mill Machinery Functions, Process and Types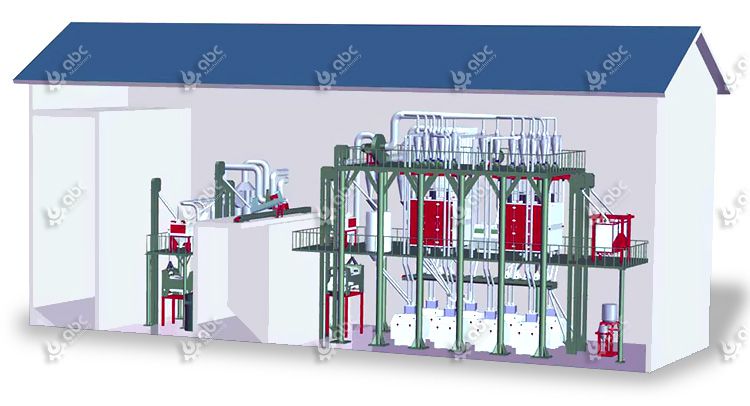 Complete Wheat Flour Mill Plant Layout Design
Flour Milling Machine is to mill the wheat into wheat flour according to different quality standards and USES by standard flour milling process. Modern flour mill plant production process is shown in the following figure. (Related Equipment: Flour Mill Machine for Small Business >>)
Flour Mill Equipment and Models
ABC Machinery is a leading Flour Mill Manufacturer and Supplier. Our flour mill machinery has high yield, excellent quality, low power consumption, low noise and other outstanding advantages. We provide one-stop service for the design, equipment, installation, commissioning of Complete Flour Milling Plant Project.

Our Factory
The Cleaning Equipment in Flour Mill Plant Mainly Includes, Vibrating Sifter, Rotary Sifter, Destoner, etc.
The Milling Equipment in Flour Mill Plant Mainly Includes Pneumatic Mill, High Pan Sifter, Purifier, Bran Finisher, etc.
The Packaging Machine in Flour Mill Plant is Mainly Quantitative Packing Machine
Automatic Wheat Flour Mill Plant in Pakistan - 10~30TPD


Small Scale Automatic Wheat Flour Mill Plant in Pakistan
10~30TPD small automatic flour mill plant is designed for small scale flour milling production. It is not only suitable to process wheat, but also other grains, such as corn/maize. The compact design, small size, low noise, high efficiency and automatic operation make these small flour mill plants available to start flour milling business with lower cost. (Related Post: Fully Automatic Flour Mill Plant Cost >>)
10~30 Tons Per Day Flour Mill Plant
| Model | Capacity | Flour Extraction Rate | Power | Factory Size |
| --- | --- | --- | --- | --- |
| M6FTY-10 | 400-500 kg/h | about 76% | 27.15kw | 10*5*4.5m |
| M6FTY-20 | 20 ton/d | about 80-85% | 60kw | 16m*5m*4.5m |
| M6FTY-30 | 30 ton/d | about 80-85% | 60kw | 16m*5m*4.5m |

Mini Flour Mill Machinery for Pakistan
M6FX mini flour mill machinery has many outstanding features. It can lift the wheat and recieve the bran on the ground. The automatic production process reduces labor cost. Mini small size, easy operation and less maintenance make it the Hot Sale of our mini flour mill project.


M6FX Wheat Flour Milling Machine Set for Sale (350kg/h ~ 500kg/h)
Mini Flour Mill Machinery
| Model | Capacity(kg/h) | Power | Weight(kg) | L*W*H(mm) |
| --- | --- | --- | --- | --- |
| M6FX-35 | 300-400 | 7.5+2.2KW(380v,50hz) | 950 | 2000x2200x2200 |
| M6FX-40 | 350-450 | 11+2.2KW(380v,50hz) | 1050 | 2050x2200x2200 |
| M6FX-50 | 500 | 15+2.2KW(380v,50hz) | 1200 | 3650x2200x2200 |
Cost and Price of Wheat Flour Mill Machinery in Pakistan
The cost of complet flour mill plant and the price of single flour mill machine varies from the capacity. The capacity is higher, the price is relatively high. If there are any one of our flour mill machine is suitable for your needs, please contact us to get the detailed FREE quotation!
Opportunity of Flour Mill Industry in Pakistan
Pakistan is the greatest country where wheat is the essential sustenance of all intents and purposes of all people. wheat here is grown on a large scale. The wheat flour industry in Pakistan has reacted to the call of pulverizing to 50% of about 25 million tons of wheat gathered in Pakistan each year. The Pakistani flour industry produces about 180 million mouths of Pakistan, yet it also makes as much as 700,000 tons of flour to move to Afghanistan in several years.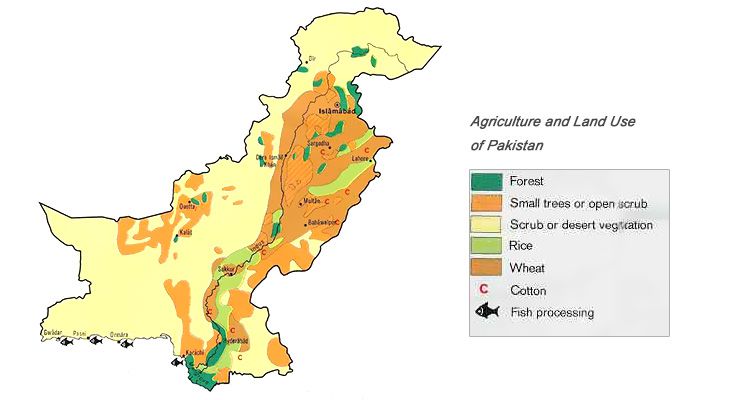 Agriculture and Land Use of Pakistan (Wheat Growing Area)
The handling business was simply known by the name of Pakistan, which was imagined in around 1947, yet it was a human indeed, likewise everything considered right now. Starting at now more than 1,400-grain creation lines are working in Pakistan and taking care of simply close by wheat. Only a few modern offices have squashing gear since private equipment is made with little refining available. There is no prompt remote enthusiasm for the Pakistan fabricating plant division.
Mining properties in Pakistan are commonly dependent upon the sort and nature of wheat flour required in the family unit feature. In the Punjab locale, the streams range between 12 to 18% of the branches by the places of supplication that are made in Tandoor or on plates. In urban zones, included substances are significantly greater and convert 55 to 60 percent of whole wheat grains into wheat flour for getting ready or nan bread. The recognition is isolated into fine powder referenced by mechanical supporters and semolina for a dessert shop. The preparing business in Pakistan is far behind in a couple of years, some of which are recorded underneath
A critical disadvantage of the Pakistani flour plant industry is the nonattendance of rigging for separating wheat and its things. This is also the reason behind the decline in the number of charges in our country. Some colossal owners comprehended the need and began to set up inspectors, anyway so far there have been very few.The Wheat Flask of Pakistan Wheel is presumably the greatest business in Pakistan. No Miller are getting ready workplaces or planning school for handling staff in Pakistan. This is the basic clarification behind the reasonable solidarity of the lake in the preparation industry. It is furthermore a deterrent to the automation of current amassing in Pakistan and the entire wheat processing.
Flour Mill Machine working video