Flour is a powder made from wheat. According to the amount of protein content, flour can be divided into high gluten flour, middle gluten flour, low-gluten flour and flour without gluten. Wheat flour is the most important food ingredients in Oceanic, European, South American, North American, Middle Eastern, North Indian countries. The situation of world wheat flour production is mainly depending on the production of wheat and the demand for the wheat flour. But, how the wheat flour is produced? Actually, the wheat flour production process is not complicated. But, in order to produce high quality wheat flour that can meet all the standards, it is extremely important to have suitable wheat flour mill machinery. (Related Post: Wheat Flour Mill Plant Cost >>)


How to start flour mill factory?
Wheat Flour Mill Machinery & Wheat Flour Producing Process
The wheat flour production process in wheat flour plant can be mainly divided into two parts: Wheat Cleaning Process and Flour Milling Process.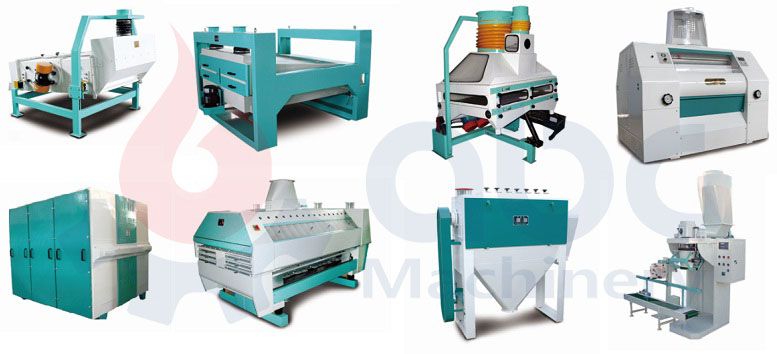 Commercial Automatic Flour Mill Machine for Sale
Wheat Cleaning Principle & Method & Equipment
Wheat → vibrating screen +air separation → magnetic separation → wheat scourer + air separation → rotary sieve classifier + air separation → gravity stoner + air separation → magnetic separation → wheat washer → wheat tempering → wheat scourer +air separation → magnetic separation → clean wheat
| Separation Basis | Separation Methods | Wheat Cleaning Equipment | Impurities Removed |
| --- | --- | --- | --- |
| Grain width and thickness dimensions | Screening Separation | Drum type pre-cleaner, Vibrating Sifter, Plansifter | Large and small Size Impurities |
| Proportion | Density Separation | Detoner | Stones |
| Suspended Velocity | Winnowing | Vertical suction duct, Circulating air separator, Suction separator | Dust, Straw, Bran |
| Grain Length and Shape | Bag Hole Selection | Disc Cleaner, Cylinder Separator, Spiral Seed Separator | Oat, Buckwheat, Grass |
| Magnetism | Magnetic Separation | Magnetic Selector | Iron Metal |
| Hardness | Surface Cleaning | Wheat Scourer, Wheat Brush Machine, Impact Detacher, de-branning Machine | soil lump, coal slag |
The milling process of wheat flour is as follows: crushing the wheat grain, grinding it step by step, scraping the endosperm off the bran, separating the endosperm from the wheat husk and wheat embryo, and grinding the endosperm into flour of certain fineness. The cortex of wheat is relatively tight and soft. (Related Post: Flour Grinding Machine Manufacturers >>)
The wheat cortex is relatively tight and soft due to the tissue structure. Under the same pressure, shear force and cutting force, the particle size is different when it is crushed. Then, screening can be adopted to separate the cortex and endosperm flour that are in different particle sizes, which finally achieving the purpose of removing the bran and retaining the wheat flour.
Main Flour Milling Equipment: Flour Milll, High Square Screen, High Efficiency Single and Double Sieving, Whey Powder Machine, Beat Bran Machine, Brush Bran Machine, Loose Powder Machine

60~150TPD Wheat Flour Mill Machinery Cost
60~150 tpd wheat flour mill machinery is specially designed for small and medium size flour plant. The main structure adopts steel material so as to reduce the factory areas, shorten construction period and further lower the flour mill cost. The complete flour mill plant is composed of vibration sieves, threshing machines, destoners, magnetic selectors, pneumatic mills, plansifters, bran brusher machines and more. As for the cost for the wheat mill machinery, different capacity and different equipment selection have many differences, for detailed cost, please directly contact us.
Complete Wheat Flour Mill Plant Features
Suitable for the small size, medium size wheat flour mill plants
Cost effective wheat milling equipment helps expand the flour production in developing countries, such as Africa, Asia, South America and more.
Assembling all the equipment on a chassis according to the diagram of the wheat flour plant.
Cost saving and Energy saving equipment help reduce the wheat flour producing cost, further increasing the profit of your flour milling business
Offer custom-made plan and solution based on customer's requirements and demands
Producing high quality grade 2 to grade 1 flour that can meet almost all the market standards

Starting flour mill business would be a profitable endeavor, especially in the developing countries. ABC Machinery offers the most cost effective wheat flour mill machinery for customers to lower the cost of flour mill plant setup. If you are interested in it, please contact us directly!