This grain milling machine is based on fluted disc structure design. With the high-speed rotating of moving plates and fixed plates in the chamber of the mill, inside grain seeds can be grinded into powder. This wheat/maize/rice flour making machine is featured with smooth running, simple and solid structure, as well as powerful grinding effect. After grinding, the grinded materials are expelled directly from the chamber of grain mill machine. In case you want different sizes for the ground materials, you can use different meshes on the sieve plates. You can use the grain milling machine for all your milling needs, including making flour from wheat, maize, corn and rice.
Yes! I am Interested!
Ask for Price
Details:
Most customers who have bought the grain milling machinery have used it for grinding wheat, maize, corn, bean, cassava, rice, coconut, sorghum, chickpea, soya, millet, chili, spice and so on. Therefore, if you are in need of a quality and durable small grain milling machine, you do not have to look further.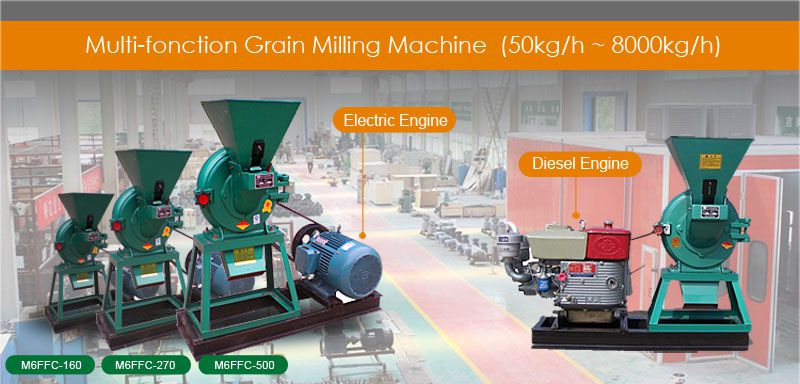 Grain Mill with Electric and Diesel Engine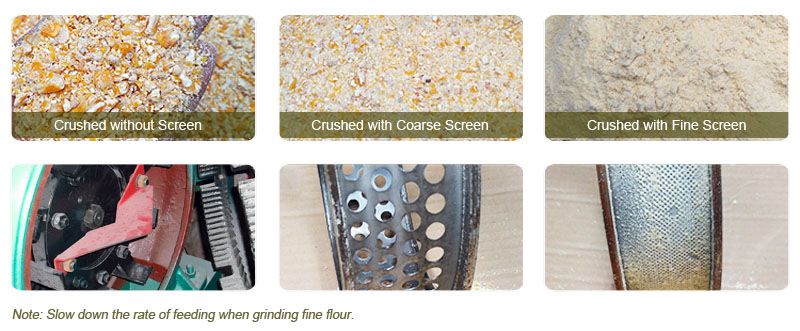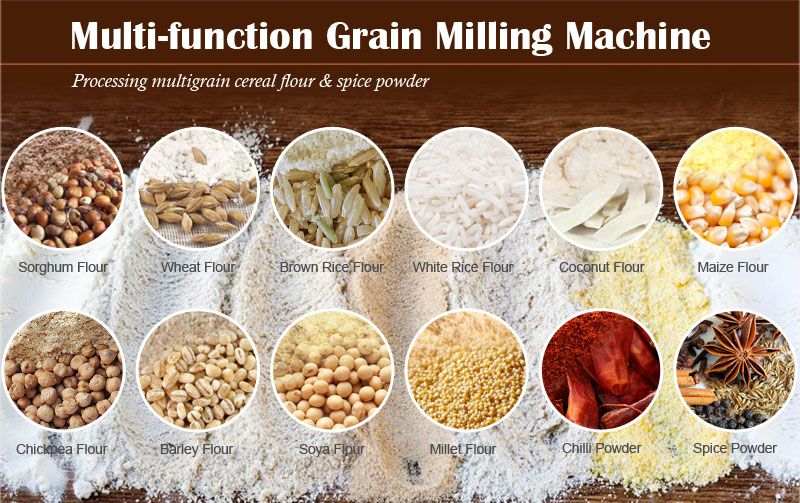 Parameters of M6FFC Series Grain Mill
We also stock other different models as per your needs. I would be glad to get in touch with you so that we can discuss what you exactly need and the product that will just suit that need.
| Model | Power (kw) | Capacity (kg/h) | Weight (kg) |
| --- | --- | --- | --- |
| M6FFC-800 | 55/380v,50hz | 2000-8000 | 1200 |
| M6FFC-500 | 22/380v,50hz | 1000-3000 | 460 |
| M6FFC-360 | 11/380v,50hz | 400-1800 | 168 |
| M6FFC-270 | 7.5/380v,50hz | 250-800 | 98 |
| M6FFC-230 | 2.2/220v,50hz | 150-560 | 68 |
Tips: Our FFC whole grain milling machine can do grind any type of crop. All that is required is to look for a sieve mesh that will suit the cereal grain. We also provide the cyclone to the grinder as per client needs.
Facts of Maize Milling and Processing
Historians say people have cultivated maize for more than 10,000 years. For most of that time, maize was milled using traditional pounding and grinding methods, typically with stone tools. The resulting corn meal was a staple of the indigenous diet long before the arrival of Europeans in the Americas.
Traditional flour milling methods don't break down maize kernels completely. Old-fashioned grinding and pounding methods required manual removal of the tough, fibrous bran, germ, and endosperm parts of the grain.
Modern flour milling machinery is able to remove the tough, fibrous parts of the grain during the grinding process. The result is higher-quality maize meal. The discarded portions can be used as a nutritional supplement for livestock feed.
Two Options for Milling Grain into Flour
Modern grain come in two types: plate grinder and hammer mill.
Plate type of grain grinder pass kernels of maize between two plates made of cast iron or steel. The kernels pass between the plates and are ground to the desired level of fineness. Grooves on the grinding surfaces of the plates serve to move the maize along through the grinder. Plate grinders can make coarse meal or finely ground corn flour.
Hammer mills rely upon the impact of hammer like surfaces to grind grain. Kernels pass through a series of hammers as they proceed through the grinder. In some units the meal and flour drop through a filter to be caught in a bin below while the tough husks are separated. In others, air is guided through the unit to propel cereal flour into the container, leaving the heavy husks behind.
Buy the Best Flour Milling Machinery
Modern grain milling machines are made around the world. ABC Machinery is a foremost manufacturer of first-class flour manufacturing machine. No matter where you are, our modern flour milling machinery can be delivered to you anywhere in the world.
Get In Touch
24/7 Support
We receive enquiries in English, Español (Spanish), Русский язык (Russian), Français (French) and العربية (Arabic) . Our professional team will reply to you within one business day. Please feel free to contact us!