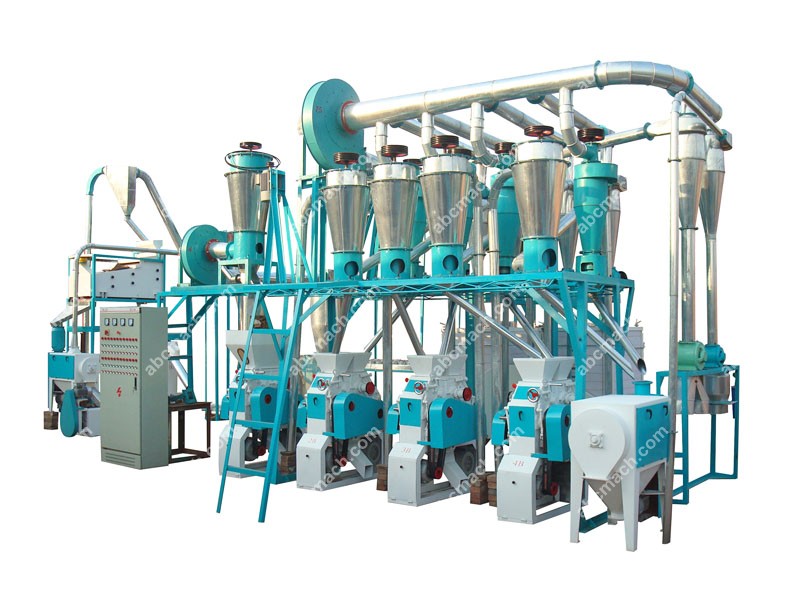 This is an advanced complete wheat / maize milling machine set for small scale flour mill plant, featured of compact structure and nice appearance. The capacity is 20 ton per day. The preprocessing section of this small plant includes 1 sifter, 1 scourer, 1 stoner and 1 damper. The milling section includes 5 sets of flour milling machine, 5 sets of reel separator and 1 square screen. (Related Product: 10 ton flour milling plant)
4 sets of flour milling machine can run continuously and the capacity of the small plant can reach 20~22 ton per day.
Yes! I am Interested!
Ask for Price
Details:
This small flour plant equipment can be installed and adjust by the customer easily with detailed installation instructions which will be delivered with the maize milling machines. If you want onsite guide for installing and commissioning, send us an invited letter and then we can send our technicians to help you. After installing, we can also help train the workers in your factory to help them master the operation technique within the shortest time .Here is a crystal clear guide to kick-off a small scale flour milling business. (Related Post: Flour Mill Business Plan >>)
Parameters of the Small Wheat / Maize Flour Milling Plant
Below is the main parameter of the small flour milling plant for wheat and maize. Feel free to contact for more details if you are interested in our product!
Capacity
20T/D
Extraction rate
85%
Quality standard
GB1351
Power
59.9kw,3 phase,380v,50hz
Covering Area
Wheat flour mill: 18*7*5m
Maize flour mill: 16.5*6*4.5 m

20TPD Maize Flour Milling Plant
The main equipment included in 20 ton per day maize flour milling plant: cleaner, fan, damper, bucket elevator, corn peeler, maize flour milling machine, high efficiency square sifter, crusher, air seal, electronic control panel, hand-held hemming machine, plat form and supports, pipes and accessories, etc.
---
20TPD Wheat Flour Milling Plant
The main equipment included in 20 ton per day wheat flour milling plant: high speed sieve, scourer, wheat washer or dampener, fan, magnetic selector, dust removing machine, vertical scourer, wheat flour milling machine, square screen, reel separator, bran brusher, air lock, terrace and support, mounting accessories, platform scaleand portable sewing machine, etc.
If you're planning to start a small scale grain milling business, then you need to be fully prepared for the project at hand. Although running a successful flour milling business is rewarding, it's full of the fair share of challenges more so if you're doing it for the first time. There is just too much to do before stamping your authority as a renowned miller and rise to the top.There are numerous things that you need to know prior to opening your small flour milling doors.
Tips for Setting Up A Small Flour Milling Plant
Here is a crystal clear guide to kick-off a small scale wheat milling or maize milling business that can help you avoid the hassles for industry beginners.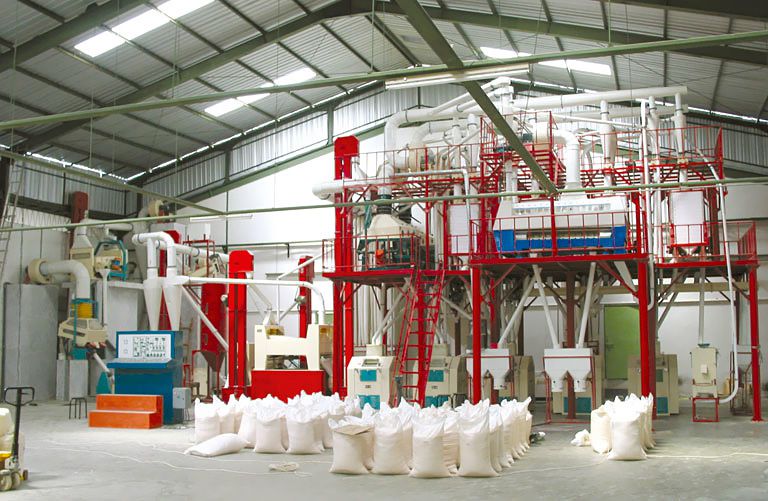 50TPD Maize Flour Milling Project (corn germ separation and maize flour milling)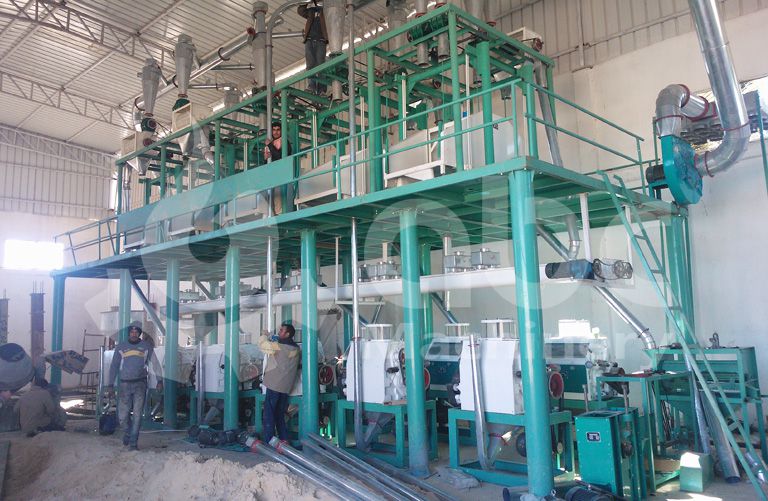 60TPD Wheat Flour Milling Project in Algeria
Factory Location
Deciding an ideal location for a flour milling business is not only important but also a strategic. Needless to say, an optimum location goes a long way in ensuring the business success. Thus, it should be carefully chosen. Some locations enjoy huge advantages over other locations and this can be in terms of taxes benefits, close proximity to the target market, reduced water and electricity expenses, and availability of manpower, affordable labor, and availability of raw material. Additionally, setting up a flour mill in certain location could also attract government subsidy and rebates. Moreover, the factory also needs to be situated so as to conform to the zoning requirements of its location. Ignoring this vital step can result to dismal business performance. Therefore, it's invariably important that you conduct market research to help determine some of the best places to set up a flour mill. If you aren't sure about this, kindly, consult industry experts. Besides, it makes no sense to invest lots of money in a wrong a business location.
Finances Investments
It isn't possible to run a maize / wheat flour milling business without adequate capital investment as well as some cash reserves to keep the business going in its initial stages. Thus, it's highly recommended that you come up with a detailed and itemized budget on how to go about the same. The budget should clearly indicate the amount of money as well as other resources needed to start and run the business for at least some time. There are numerous ways to finance a business startup. This includes personal savings, loans, grants from friends or family members, Sacco's, government loans, as well as welfare societies. Cash is vital as it helps purchase capital investments such as roller mills, aspirators, sifters among other vital flour mill equipment to kick-start the business. Additionally, more facilities are required to help with grains drying and storing the finished products.
Skilled workforce
Flour milling requires some sort of skilled workforce. There is machinery to be operated, maintained and repaired, and this requires skilled technicians. Whereas there are numerous milling machines, every miller is free to choose the ones that suit his need and also hos staff's level of technique. depending on the skills of the staff and technique in use. Dry corn technique is one of the most popular techniques and it involves milling the corn to remove hull and germ. Cooking the corn in lime is an optional technique that can be used.
Milling Routine
Flour milling is a process that involves per-milling, then milling and finally post milling activities. Every milling stage requires completely different skills and expertise. Thus, ensure you have employees with the right skills at every milling stage.
---
Without a doubt, small scale maize milling and wheat milling business is one of the most profitable businesses that anyone can dream of. Many people are not only aching a living out of it but also taking in millions on daily basis. You can also so the same by abiding by being diligent in setting it up and running it. But, so long as you're in an ideal location with enough capital and skilled workforce, be sure to succeed.
Get In Touch
24/7 Support
We receive enquiries in English, Español (Spanish), Русский язык (Russian), Français (French) and العربية (Arabic) . Our professional team will reply to you within one business day. Please feel free to contact us!