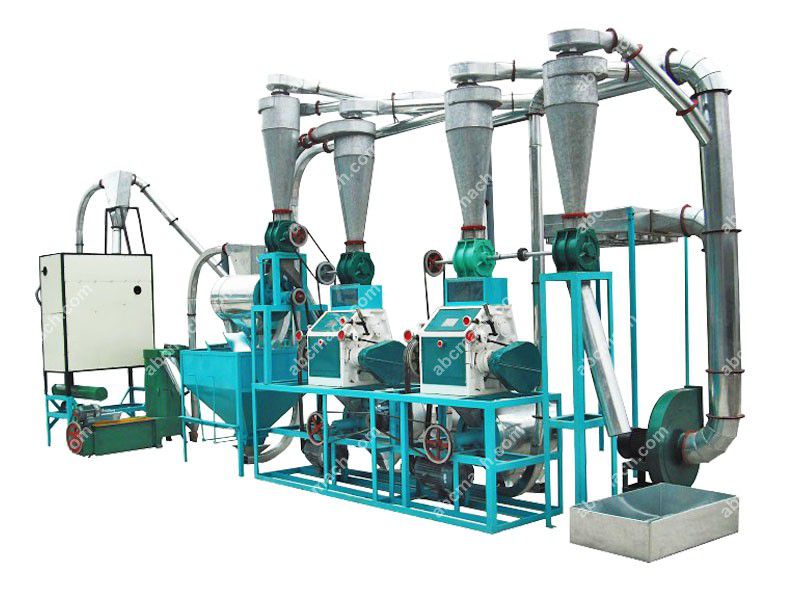 The M6FTY-10 mini maize and wheat flour milling machinery set is the smallest scale of complete flour mill plant. It mainly consists of seeds cleaning equipment, flour grinder, round sieve, fans and airlock. You can produce F1 flour, F2 flour and standard flour as you need.
This small set of wheat /maize flour milling machine is featured of simple and compact structure, small occupation, easy installation, low labor intensity, low investment and power consumption. Adopt fan to elevate raw materials; adopt round sieve to purify produced wheat flour to make it easy to change the sieve; adopt 2 sets of flour milling machinery to flour quality and output rate.
Yes! I am Interested!
Ask for Price
Details:
Capacity
10T/D
Extraction rate
F1 flour :60%
F2 flour 70%
standard flour: 78%
Quality standard
GB1351
Power
26.5kw,3 phase,380v,50hz
Covering Area
6.6*3.8*3.5m
The equipment list of 10 ton wheat flour mill plant is partly different from 10 ton maize flour mil plant. View more details below, or you are also welcomed to get in touch us for more info and latest price
10 Ton per Day Wheat Flour Milling Process
Wheat Sieving → Threshing → Stone Removing → Washing → Grinding → Flour Sieving → Fine Wheat Flour
The main equipment of 10 ton wheat flour milling production includes flour milling machinery, fan, classifying screen, rotoscalper reel, combination equipment of sift, scourer and destoner, destine and wheat washer, sir-lock, platform scale and portable sewing machine.
10 Ton per Day Maize Flour Milling Process
Dehulling & Degerminating → Crushing → Cleaning → Grinding → Flour Sieving → Fine Maize Flour
The main equipment of 10 ton maize flour milling plant includes bucket elevator, combination cleaner, dehulling and degerminating machinery, crusher, majestic drum, roller mill, round sieve, fan, dust catcher, air lock, control panel, supports, pipes and cables, platform scale & portable sewing machine.
ABC Machinery is an experienced and reliable flour milling machine manufacturer and supplier. Feel free to contact us if you need any help on starting your flour processing factory! We are always pleased to help you!
If you to want to start your own wheat for maize flour milling plant and succeed on flour manufacturing business, you need to do a lot of market research and analyze each step.
How to Build a Small Scale Flour Milling Plant?
How your business will operate needs to be in the palm of your hands for a good performance of your business. The following steps are needed for you to succeed in your small scale flour milling business.

Equipment List of 10 Ton per Day Wheat Flour Mill Plant
1. Business Environment
Remember that nothing good comes easier and that you need to critically seat down with a pen and a paper and analyze your business environment. Understand all the challenges that might face your business operation by consulting other business experts and come up with ways on how to tackle them. Study about your small business surroundings, know your customers' likes and dislikes as well as the rules existing on your business environment. Remember without the knowledge on your business environment you can invest a lot of money in your business and finally perform poorly with no returns.
2. Capital requirements
Any grain flour milling business beginners will need money to start their work from scratch. It is advisable for you to count all the money and other items required for you to begin your business. Draw out each item required and state their mandatory requirements in your business. You can raise capital for your business from your
personal savings and in case you need an additional amount you can seek help from a registered money lender near you. You also need to know tools that you need to buy a unit of quality wheat flour milling machinery. You need equipments such as aspirators, roller mills and sifters, these equipments are mandatory required by you and you can decide to buy them by yourself or hire. Other things that you must have are storage items and dryers.
3. Flour milling business operation
Regarding to how your business will operate, you can assign your staff to decide on how to operate the flour milling machine. They need to know different methods to be applied differently and also those that are used by other business experts owing the same type of the business. Such method includes dry corn which is more applicable by others which involves removing the corn germ and hull. There are other methods used such as using lime to heat the corn.
Day to day small scale flour milling plant operation includes before milling, milling and after milling. All stages need different capacities for successful operation; you can decide to hire an expert with relevant skills to make your work easier.
---
Remember that many people have made money through maize and wheat flour processing business with our

small flour milling machinery set

and you only need to understand what it takes, get enough capital and put your ideas into actions.
Get In Touch
24/7 Support
We receive enquiries in English, Español (Spanish), Русский язык (Russian), Français (French) and العربية (Arabic) . Our professional team will reply to you within one business day. Please feel free to contact us!