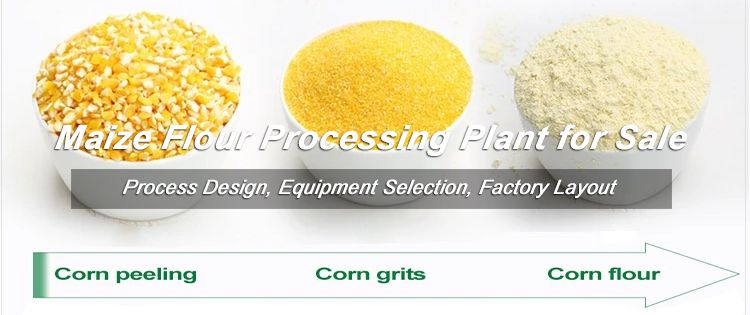 Maize Flour and Maize Grits Processing
The maize flour processing plant designed by ABC Machinery adopts automatic solution plan to lower labor cost, further to lower the production cost. We have a professional team of experienced engineers that focus on designing and debugging to ensure the advanced flour milling. Our maize flour processing plant not only can reduce the energy consumption, but also reduce the impact of impurities, ash, bran and others. In the end, the yield and quality of final produced maize flour and maize grits are up to or beyond the international standards, which ultimately increases the competitiveness in the flour mill business market.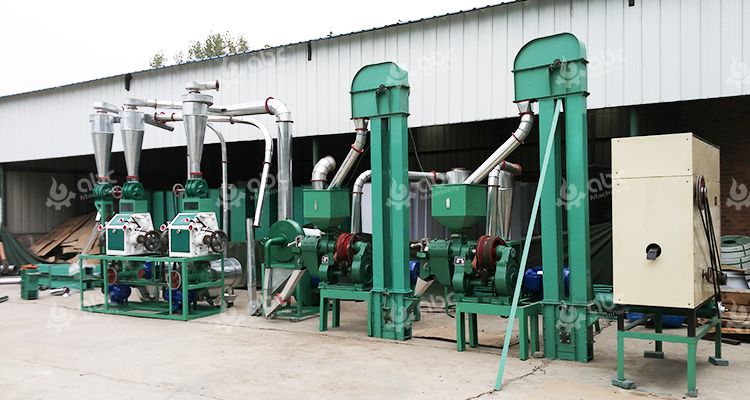 Maize Flour Processing Plant
Maize Flour and Grits Processing Plant for Sales
AKM series complete maize flour processing plant has the characteristics of advanced technology, excellent equipment, strong specificity, reasonable layout, low power consumption, high powder yield and good quality of finished products. The maize flour or maize grits produced by it are widely used in food enterprises, sugar enterprises, beer enterprises, and other industry. Many customer choose it to start their own maize flour processing business due to its outstanding features and reasonable price. (Read more: Cost of Setting up a Maize Mill in Uganda >>)
Product: Maize Flour, Maize Grits and Maize Husks
Maize Flour Fineness: 40~200 mesh (adjustable)
Moisture Content: <14.5%
Maize Flour Processing Plant Technical Parameters
| Model | Capacity | Power | Dimension of Workshp (L*W*H) |
| --- | --- | --- | --- |
| AKM-50 | 20 T/24HRS | 168 KW | 35*5*7 M |
| AKM-100 | 30 T/24HRS | 330 KW | 40*7*10 M |
| AKM-200 | 50 T/24HRS | 660 KW | 50*7*10 M |
ABC Machinery has rich experiences in grain processing plant. We provided customized maize milling business plan to help you set up your own maize flour processing plant with ease. Our core service includes factory layout design, equipment selection and manufacturing, project installation and commissioning. In addition, we also provide technical supports and training for our customers. If you are interested in setting up a complete maize flour processing plant for business purpose, please contact us to get more details about maize flour processing projects, including investment cost, equipment list and more.

Step-by-Step Guide to Starting a Maize Flour Production Business
As the world's population is increasing gradually, the demand for staple food has also increased. Therefore, starting a maize flour production business today can bring you a huge profit. With time, proper guidance and business plan for flour mill, you can expand your local business into global business as well. So here is an easy-to-understand guide for you to start your maize flour processing business today!
Find the Ideal Location for Your Business
The success of any business is highly influenced by the right selection of location for it. Likewise, for the maize flour production business, a suitable location matters a lot. Factors you must consider while looking for a place are:
It has easy access to the power supply.
It is secure to start this business.
It has no transportation issue for receiving raw material and delivering the final product.
Once the location is selected, make sure the building meets your business needs like good storage capacity, a packaging flour area, and enough room for maize flour machine, etc.
Get Your Business Registered
After choosing a location, decide the name of your company and its product. You will need it for getting your business registered in a local administration or government. Getting your maize flour production business registered will make it look more reliable to suppliers and buyers. Also, you will feel secured by knowing that your business is following local rules and regulations.
Look for Reliable Suppliers and Workers
If you are planning to purchase raw material from suppliers for the maize flour processing plant, then make sure that the suppliers are trustworthy so that you do not end up facing fraud or misunderstanding. Workers and operators should also have full training. They should know how to operate machinery without causing it any damage. They should also be mindful of safety precautions for working in the flour industry. Different courses are also available for getting the workers trained according to industry standards.
Buy the Right Maize Flour Production Machine
This is a very important part of starting this business and achieving its goals. Before purchasing maize flour milling machine, first, determine the maximum capacity that you want to achieve. Then look for the reliable flour milling machine suppliers. Make a purchase according to the raw material that you will be using, the amount of investment that you can make, and other similar factors. Your machine's quality will determine the quantity and quality of your end product.

Maize Flour Processing Machine
Market Your Products Strategically
Now comes the final step where you will have to design a winning strategy to market your product and get maximum sales. You will have to decide whether you want to deliver the product directly to the consumers or sell it to wholesalers. This business is the right choice for you if the product has a high demand and low competition.

Maize Flour Processing Machine Onsite Installation
Above is the maize flour processing plant onsite installation video. Every project we will have professional engineers to assist customers to successfully installed all the flour mill machines and help them to solve all the problems in the whole installation process. Up to now, the flour milling project built by ABC Machinery has covered many regions, including Kirghizia, Pakistan, Uzbekstan, Saudi Arabia, Indonesia, Sri Lanka, Egypt, Algeria, New Zealand, etc.. Welcome to contact us to get more details about our maize flour processing plant.