Tips on Lower Wheat Flour Production Cost
The diversity of wheat products in our markets clearly indicates the lucrativeness of the wheat industry. That however doesn't mean that the field wheat flour industry is not competitive. As such optimal results are not always guaranteed to wheat flour plant. So, how can wheat flour milling operators or investors ensure optimal returns? Most of us would out rightly preclude that production of high grade wheat is the only way to achieve the above. The reality is that there are other vital factors that millers have to take into consideration in addition to production of quality wheat flour. (Related Post: How to Start Flour Mill Busines >>)


Wheat Flour Mill Complete Production Line for Sales
One of those key factors is the minimization of operation and production cost of a flour mill, which can be realized by setting up an ideal wheat flour milling plant. Millers have to consider flour milling equipment that can run at maximum capacity and at the same time consume relatively low power considering that that power requirements constitute highest percentages of operational costs in milling operations. They should also consider fully automatic flour mill plant that are low maintenance, easy operation and less labors. (Related Post: Cost of Setting up a Flour Mill >>)
150-300 ton/day Wheat Flour Milling Plant
ABC Machinery will outline a number of those ideal wheat flour milling plant that enables operators minimize their operational costs and as well ensure production of the desired quality of wheat leading to guaranteed optimal result. (Read More: Small Flour Milling Machine>>)
This multistory wheat flour milling plant is an ideal choice for high scale wheat flour production. Its advanced technology facilitates production of diverse flour grades as well as special wheat flours through technical processes that require simple and flexible adjustments to its sophisticated cleaning as well as milling parts.
The wheat flour milling plant, with capacity of 150~300 ton/day, is mainly composed of two sectors, wheat cleaning and flour milling. The detailed flour milling process is as follows.

Wheat Flour Milling Process Flow Chart
It can handle up to 300TPD, has a power consumption of about 1000 KW and requires a 5 story workshop area.
150-300 ton/day Wheat Flour Milling Plant Parameters
Wheat Flour Milling Plant
Technical Data
Capacity
150 ton/day, 180 ton/day, 200 ton/day, 250 ton/day and 300 ton/day
Flour Yield
68-75%
Flour Grade
First Grade, Second Grade and More
Power
1000kw around
Factory Area
60m*7.5m*24.5m (5 storeys)
Main Equipment
Wheat Cleaning Process: 2 sets Magnetic Selector, 1 set High Efficiency Vibration Sieve, 2 sets Threshing Machine, 2 sets Destoners, 1 set Wheat Washer, 2 sets Rotary Sieve Classifier;
Flour Milling Process: 14 sets FSFQ10 Pneumatic Mill, 6 sets FSFG6*24 Plansifter, 4 sets FQFD49*2*3 Purifier, 3 sets FPDW45*2 Bran Brusher Machine;

150-300 ton/day Wheat Flour Milling Factory Features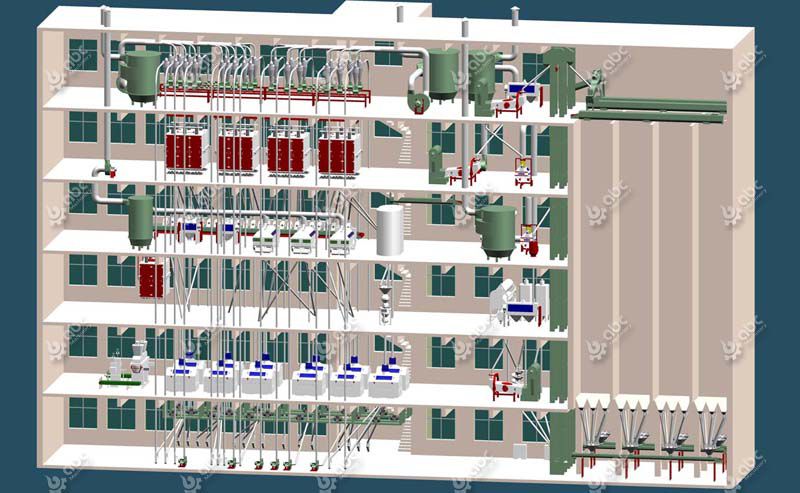 Wheat Flour Milling Plant Layout (200T/D)
Advanced Pneumatic Roller
Using pneumatic mode to process and control roll mill accurately, which has better milling effect than common roll mill
The whole set of wheat grinder is selected by different configurations
This series wheat roller flour milling plant machinery adopts advanced technological process and can be adjusted flexibly.
ABC Machinery provides customers with comprehensive services, including on-site installation, commissioning, after-sales services and more.
If you are planning to start flour milling business, here, we can provide you with complete flour mill plant project for your reference, from small scale to large scale. Any questions, please contact us for detailed information or the latest price quotation!