Kenya is one of the favorite investment destinations for flour milling investors, and the prolific Kenyan agriculture provides a reliable source of raw materials for the agriculture-based flour milling industry. Moreover, Kenya also has the advantage of a geographical gateway, which naturally radiates most of the landlocked country markets in eastern and central Africa, such as Uganda, South Sudan, Rwanda, Burundi, northern Tanzania and eastern Democratic Republic of Congo. So, starting a maize flour processing business in Kenya must be a profitable project.


Factory Price Maize Milling Machine for Sale

Four Tips for Starting a Maize Flour Milling Business in Kenya
Consider the Location of the Maize Milling Machine Plant
First, when you're preparing for this, the first thing to consider is how to choose the right maize mill location. The location of your factory should have two conditions at the same time: one is close to your raw grain purchase land; the second is close to your maize flour sales market. This will save you shipping costs and make it easier for you to sell maize flour.
Consider Business Strategy
Second, you also need to consider business strategy. If you buy from a farmer, then sell the cornmeal at the market. It requires not only a network of corn growers and flour buyers, but well-planned warehouses large enough to store corn and flour. Therefore, buying a corn flour production line to process the flour yourself is the best choice for you to save time and effort.
Consider Raw Material Supply Channels
Third, for maize flour mills, a stable supply of corn should be considered. If you want to run year round, consider having a good relationship with a farmer or corn supplier and you'll get good corn prices.
Consider the Power Situation
Finally, you also need to consider that this maize mill requires power. A complete line of maize mills requires a highly reliable power supply. Even for a short period of time, a power outage can cause serious equipment damage. ​​You should take the circuit situation of the maize flour mill seriously.
Factory Price Commercial Maize Milling Machine For Sale in Kenya
If you want to start a small scale investment business first, you can choose a low cost small maize flour production line. The screening ability of small corn flour processing machinery is very good, and the quality of the processed corn flour is also good. The machinery can process more than 10 tons of corn per day. This processing capacity is sufficient to meet the needs of small maize flour mills. If you want to mass-produce corn, you can buy more lines. Combining such a series of maize flour processing lines can reduce economic losses caused by failures.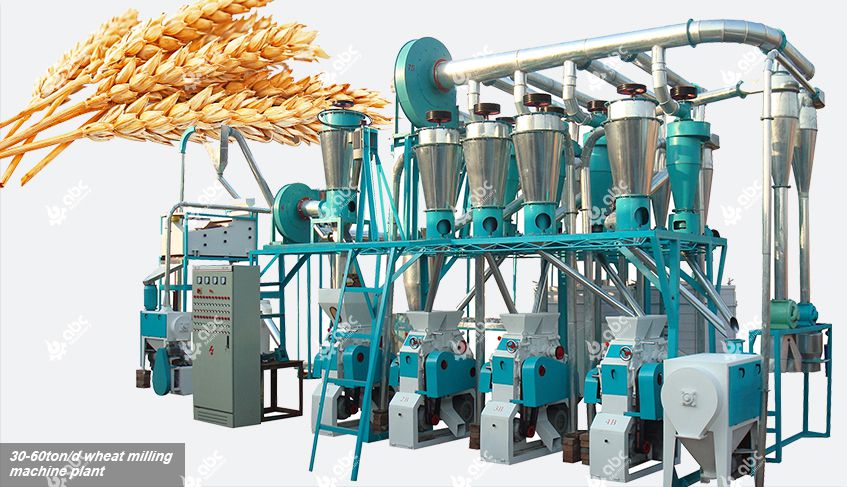 30-60ton/d Wheat Milling Machine Plant
10-25ton Maize Flour Processing Machinery Produced by ABC Machinery
The 10-25 ton flour processing machinery manufactured by ABC Machinery is composed of two sets of flour mill units, which can produce ordinary flour and standard flour, with a daily output of 10 to 15 tons. It is an ideal equipment for individual small flour processing plants. The equipment has small investment, quick effect, convenient operation and maintenance.


25ton Maize Flour Mill Production Line
Features of 10-25 ton maize flour mill complete set of equipment:
The complete set of 10 ton maize flour mill comprehensively optimizes the working structure of each part to ensure and improve various economic indicators of the flour products produced. This type of product is the replacement product of the traditional double small milling equipment. ​​

This machine adopts a reasonable and practical wind-powered powder extraction system, which completes the whole process of feeding, grinding, powder extraction and screening at one time. It has a high degree of automation and reduces the labor intensity of the operator. ​​

The machine is compact in structure, easy to operate, easy to learn and easy to maintain.
Installation and Commissioning Video for Medium Size Flour Milling Machinery
ABC Machinery is a professional manufacturer of all types of wheat/corn mills, our production capacity is from 10 tons to 1000 tons per day. We provide turnkey projects including special design, installation instructions, commissioning and training of workers. Our products are exported to Australia, the United States, Canada, Belgium, Egypt, Algeria, Zambia, Congo, Kenya, Ethiopia, Uganda, Yemen, Tanzania, Tajikistan, Afghanistan, Vietnam, Israel, Mozambique, Kazakhstan and other countries.If you want to start a flour mill production business at a lower cost, do not hesitate to contact us, our team of engineers will customize a turnkey solution for you.