The small and medium-sized grain grinding machine has the advantages of high production efficiency, high automation technology and stable flour quality. When we select the small flour mill for home use, we must select the appropriate flour machinery and equipment according to the market trend of flour, the level of market demand and the characteristics of wheat. Many people are not sure about the production and manufacturing of grain grinding machines, and the improvement of living standards has allowed everyone to eat the flour produced by flour mill machines. Therefore, investing in a small-scale flour processing plant in rural areas can bring great benefits.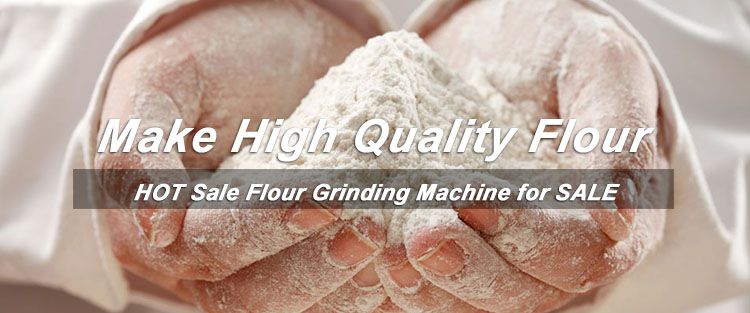 BEST Flour Grinder Machine Manufacturer & Supplier
With years of manufacturing experience, ABC Machinery has been known as the leading manufacturer and supplier of flour machine including small flour grinding machine and complete flour milling projects. With the capability of R&D and production, ABC Machinery sale premium grain processing equipment along with considerate after-sale service. Our flour grinding machines have been honored with the "National Quality Guaranteed Goods" for many times, "National High Quality Well-known Goods" for many times in China Market.

HOT Sale Wheat Flour Grinding Machines
The followings are the TOP 3 Flour Mill Machines in recent years: M6FY grain milling machine, M6FC/M6FX wheat grinding machine, and M6FTY-10 small scale flour mill plant. (Click the picture below to see the details of each machine!)

The Unique Advantages of Small Wheat/maize Flour Grinding Machine
There are different types of flour milling machines in the market. However, not all do excellently like the small flour grinding machine. This is a unique machine with unique features. In the recent times, the small flour plant has gained a lot of popularity due to its features that make it better than its predecessor. It is a preferred choice for many people. It is taking the lead due to its simplicity, size, and design of operation. Its developer did a great job coming up with a top quality upgrade with the best connections. Compared with other earlier grain processing machines, this is a simple machine with the best operation method. It meets the design requirements of quality grain milling. It is highly admired for its low noise and does not affect the immediate environment.
Read more:How To Improve The Flour Processing Quality Of Wheat Milling Machine?>>)


Grinding wheat, maize/corn, and other grain.
Multi-purpose Maize/Wheat Flour Griding Machine
Users praise it for its fine flour production. It meets all the basic requirements of good health. It can perform other functions such as processing of almond, sesame seeds, cucumber, walnut Chinese wolfberry, and wax gourd seed. It can also process high oil content products. It is a better product for users when it comes to creation of higher value for all users.
Flour Grinder Machine Designed for the Modern Times
The small flour grinding machine / grinder is a product for the modern times. It is praised for green food processing. It can give quality results at any time and its results are always consistent. It is greatly admired for its slow proven speed that gives better nutrients. It never changes the taste of flour even if used for boiling, steaming, frying, and baking. Its slow and pleasant results makes sure that it gives rise to nutritious rich flour. The machine can comfortably make wheat into flour after milling. While grinding, it tends to produce a higher noise, but this is understandable for the quality results it offers users. (Flour milling project: 30 tonnes Wheat Flour Processing Plant in Chile)
Run a Small Flour Mill Plant (10~20ton/d)
For the ones who plant to start small scale flour milling business, the following flour grinding unit is suggested. It is small scale complete flour mill plant which includes process of cleaning, sieving, grinding
| Capacity | 20~30ton/day |
| --- | --- |
| Flour extraction rate | 80-85% |
| Power | 60kw |
| Workshop requirements | 1600mm*500mm*450mm |
Working Video of Small Scale Complete Flour Mill Plant
Facts to Consider while running the Small Flour Machine
What should be considered when using the wheat/corn grinding machine to process flour? Purchasing high-quality equipment for processing grain, the first problem we worry about is the quality of the finished flour. Therefore, operators must be familiar with the operating skills and processing procedures of the small flour machine, because operating errors may cause the problem of low flour quality and may also cause damage to the grain grinding machine. So, what are the matters that manufacturers and investors pay attention to when using small flour mill machine to process wheat or corn?
Avoid opening the operating chamber while the small flour grinding machine is running.
Allow the machine to warm for about 2 minutes, before using it.
Always make sure that the machine has no foreign bodies before operating. Check the crushing chamber to be sure.
Its electric current should not be higher than 15 amperes.
Change its flour screen according to the required materials.
If you are looking for flour grinding machine for processing wheat, maize/corn, rice, coconut, gram, yam or other kinds of grain or cereals, please feel free to contact us for more details or latest price of our flour griding machine, we are alway ready for serving you!