The small scale flour milling unit is a perfect appliance for any household or any person who wants to process farm produce in small quantities at a minimal cost. Processing agricultural products in factories can be quite expensive. For this reason, this milling unit is designed specifically to minimize production cost. If you are a small-scale farmer, this appliance will enable you to enjoy end products of maize or wheat. Based on educational studies and experience, nutritionists insist on the importance of using grain mills. Having this appliance in your home indeed completes your kitchen.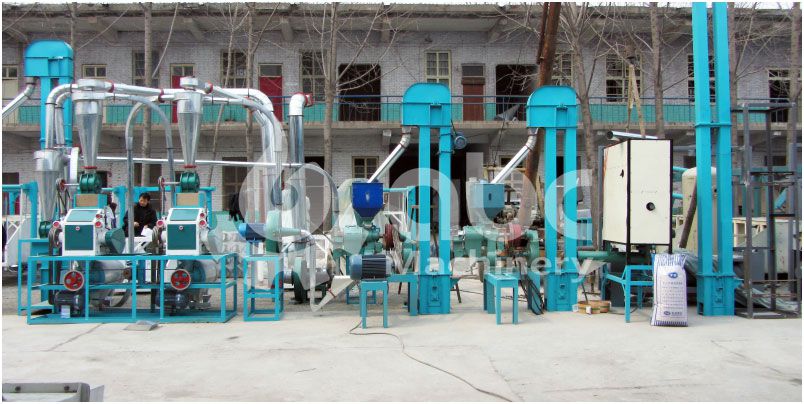 Mini Wheat Flour Milling Plant Unit (Capacity: 10 tonnes per day)
This flour milling machine has all features of the large machines used in factories. Unlike large machines which have separate components, a single grain mill combines all these elements to make one machine. Therefore, if you have a farm in your backyard, you can easily set up this appliance to ground your grains for use when needed.
Benefit from Small Flour Milling Unit
Before the invention of small flour milling unit, farmers were forced to sell their farm produce directly to traders who would take the produce to larger milling corporations. Traders were in a position to exploit farmers who had no access to milling machines. They would do this by buying the products at a very low price. After the products had been processed, only wholesale dealers were able to buy the processed grains and sell them to retailers who would distribute them to the end-consumers. Wheat / maize Flour milling unit has transformed this system entirely. Farmers with this machine can process their products cheaply, sell them and benefit from their farming activities. The community as a whole benefit from farmers who own milling machines. They do not have to go for long distances to find maize or wheat flour. They are readily available to everyone.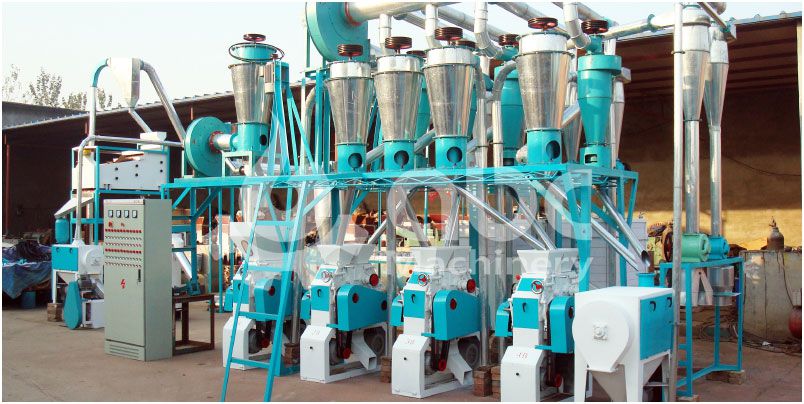 Small Flour Milling Machine Set (Capacity: 20 tonnes per day)
They are economic development catalysts. When raw materials undergo several processes in their processing, the output is usually expensive to consumers. This means that they have to purchase these quantities in a limited amount so as not to put a strain on their budget. Grain mills have reduced the cost of production and therefore consumers can buy maize flour or wheat flour in bulk without straining their pockets.For an economy to thrive, it needs a working population which is healthy. Food security brought by these appliances allows improved productivity from the labor force which later on leads to increased economic growth in the community and a country as a whole.
How to choose small wheat flour mill unit?
For first time buyers, considerations to put in place when purchasing a small scale flour milling machine include; cost of the machine, convenience, floor needed to mill, heat produced in the milling process, power source and the type of milling mechanism.
These machines range from $250 to $ 1000. There are some that cost more than $1000. Purchase a machine that will suit your budget.
There some machines that are hand operated while electricity run other machines. Manual operated machines are much slower than electric operated machines. The advantage with manual operated mills is that they have little heat buildup hence preserving the nutritional value of the grains. The advantage of electric mills is that they are faster, and operate with a press of a button.
Mills use two types of grinding mechanism; burr and impact. Burr uses two plates. One is fixed while the other is rotated. Grain is put between these two plates and is crushed as the plate rotates. Impact uses two flat heads which are made of stainless steel. These heads have a row of teeth that grinds the grains as they drop on it. Impact milling machine makes fine flour and is lighter in weight compared to burr milling machine which is heavier.


Successfuel Projects of Small Flour Mill Factory
Choose a grain flour milling unit that will suit your needs after going through these considerations. We are trusted flour mill machine manufacturer in China. Anytime you interested in our equipment, please contact us in the following form. We are always here to give the best service!
We are intending to buy from you the 5tph milling plant as well as theweighbridge with a board size of 3mx14m.
Grateful if you can put both quotations on one report and showing CIF Dar as Salaam Port for ease of processing.
It is great and pleasant suprise to know we will cooperate soon. we prefer 30% prepayment byT/T, 70% by T/T is paid before loading, is that ok for you?
Pls find the two qutoations in one attached offer.
If there is no problem, pls send us your company name, address, fax No..for us to make the proforma invoice, and then you can go to bank for the payment.
We are from Bangladesh. we have a local machine but need to increase our production capacity. So, we are searching a full automatic wheat flour mill machine for 30 T/P/D capacity. We are requesting you to provide us quotation the machine with picture if available video.
As Leading Chinese Flour Mill Turnkey Project supplier, we've successfully built kinds of Flour Mill Projects all over the world. This July, a 30T/24hrs wheat flour plant is installed in Chili, picture and video is enclosed in email.

For your inquiry, pls pay attention to items below for better quotation.
1.Are you looking for a new configuration or just update part of existing machines?
2.What's your existing capacity per day? Which kind of mill are you using now? Hammer Mill, Roller Mill?
3.What's your finished flour demand? Ours can produce 2-3 kinds flour, wheat bran will be separate out.
4.Are you the user or middle man? As I know, there's many agent in Bangladesh.

Quotation will be sent based on answers above.