Project Name
: Complete Set of Livestock Feed Production Line
Production Output
: 2 ton per hour
Application
: Can be widely applied to make feed for ruminant animals (sheep, goat, cattle, cow, horse, camel...).
Livestock Feed Production Equipment Details
This ruminant animal feed processing line adopts flat die type pellet press. This combination unit of livestock feed production equipment is designed for manufacturing feed pellets for cud chewer and herbivorous animals.
If you feel interested in setting up a similar plant, and need detailed equipment list and price, don't hesitate to contact us!


Animal feed pellets are a balanced combination of various kinds of nutrition, and crucial for the enhanced growth of cattle. Livestock feed pellet machine which converts fodder raw mateirals into standard pellets fit for animal consumption, effectively making the feed easy to digest and palatable as well.
The raw materials for livestock feed pellets include corn, wheat, soybeans, nutshells and other biodegradable materials such as grass, straw, and bagasse (sugarcane dregs). The feed pellets require an additional component of moisture, which is achieved by introducing steam or molasses to the mixture. Given that cattle, buffalos, cows and bulls all have diverse nutrition requirements, feed composition will contrast based on the type of livestock animal. The only constant is that the feed must be rich in energy, protein, and fiber.

Video: The operation of the Feed Production Plant
Facts of Livestock Feed Pellets Production
Varying the temperature and components can ensure a more refined pellet feed, both in terms of quality and nutritional value. Compared to traditional feed, pelletized feed products have more advantages, chief among them nutrient utilization and profitability. It not only reduces food wastage but is also easily stored and transported as well as widely preferred by the animals. (New Product: Mobile Cattle Feed Plant for 800~1000kg/h Moving Production)
Livestock Feed Production Process
Operating the livestock feed production equipment line can be relatively easy, but it is critical to adhere to the information manual as well as safety instructions furnished along with the machine.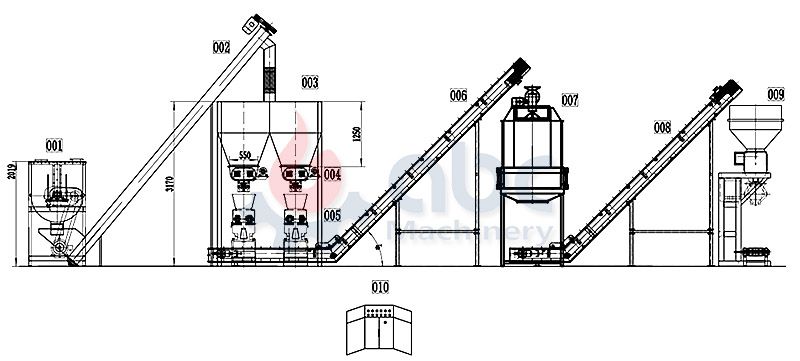 1. Mixing Machine 2. Screw Feeder 3. Storage Silo 4. Feeding Device 5. Pellet Machine
6. Belt Conveyor 7. Pellets Cooler 8. Belt Conveyor 9. Bagging Equipment
Making livestock animal feed pellets require the raw fodder materials first be conditioned, then converted into powdered form and fused to create a mixture. A separate grinder and mixer can be used to accomplish this, with the subsequent mixture served into the feed pellet machine for the molding process to commence. The pellet machine exposes the powder to a variety of elements such as high temperature and pressure as well as steam, resulting in the compression of the powder into pellets. The processed mix is at that point passed through the holes of the die, being cut into the desired length in this extrusion process. An adjustable knife is ideal for this function, with the pellets subsequently put through a cooling process. Once parched, the pellets can be fed to the livestock animals.

Flat Die Feed Pellet Machine Vs Ring Die Feed Pellet Machine
There are two types of feed pellet machine: flat die type and ring die type. While the flat die mill is relatively economical, the ring die mill is more efficiency. The livestock feed pellet machines differ in sizes and you should choose the right type based on your needs. Referring to complete animal feed production plant, some are integrated with grinders and mixers, while others utilize vapor. Steam not only extends die life, but also enhances production rate.
Large-scale production of feed pellet is done using ring die pellet machines while small-scale production utilizes flat die pellet machines. The ring die type machine is used to grind and mix, unlike the flat die mills which simply processes the dry powder into pellets. The ring die type machine is widely applied to production line of massive production of the feed and can produce about 1~15 tons of pellets each hour. (New Product: Ring Die Feed Processing Unit for 600~1000kg/h Production )