Project Name: Small Poultry Feed Production Line

Production Output: 1 ton per hour

Plant Location: Thailand

Application: This feed production line is designed for manufacturing fodder pellets for various poultry animals (Phasianidae and Anatidae) including chicken, turkey, duck, goose, quail, pigeon, etc.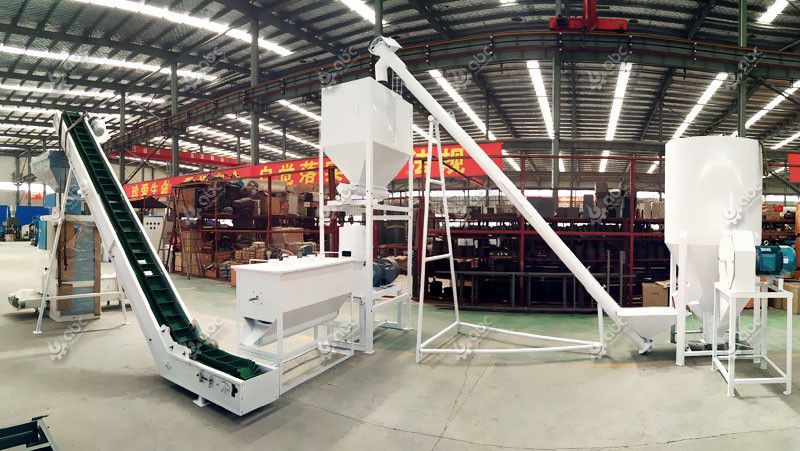 Full View of the Poultry Feed Line
If you are interested in starting your own poultry feed processing business, you can use this project report as a reference, and hope your business plan can proceed smoothly.
Photo Display : Poultry Feed Production Line in Thailand
This small scale poultry feed processing line adopts flat die type pellet press which is featured of high production capacity and low cost. It is the best choice for farmers and initial investment. View the photos below to get a general understanding of the small feed line. You are welcome to send us an inquiry for detailed information and cost list!
(New Product: Ring Die Feed Pellet Processing Unit for 600~1000kg/h production)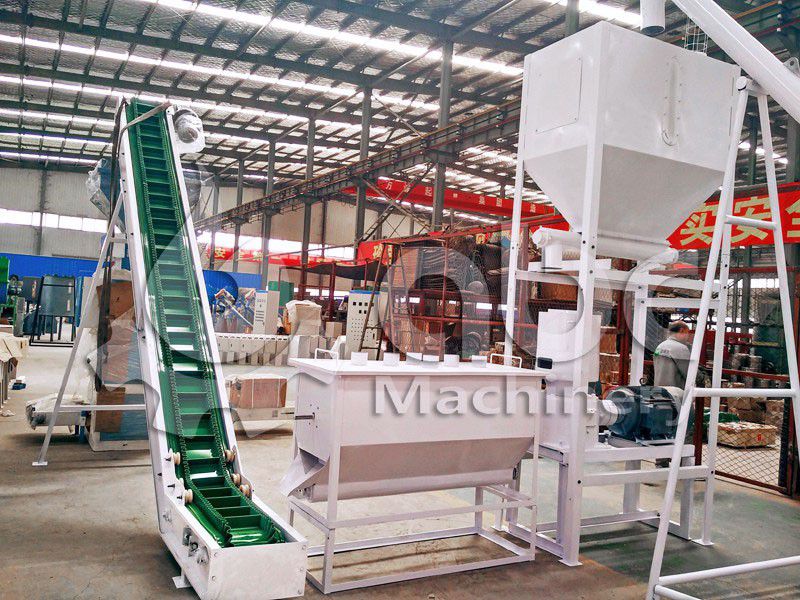 Feed Pellet Machine
and Pellet Coller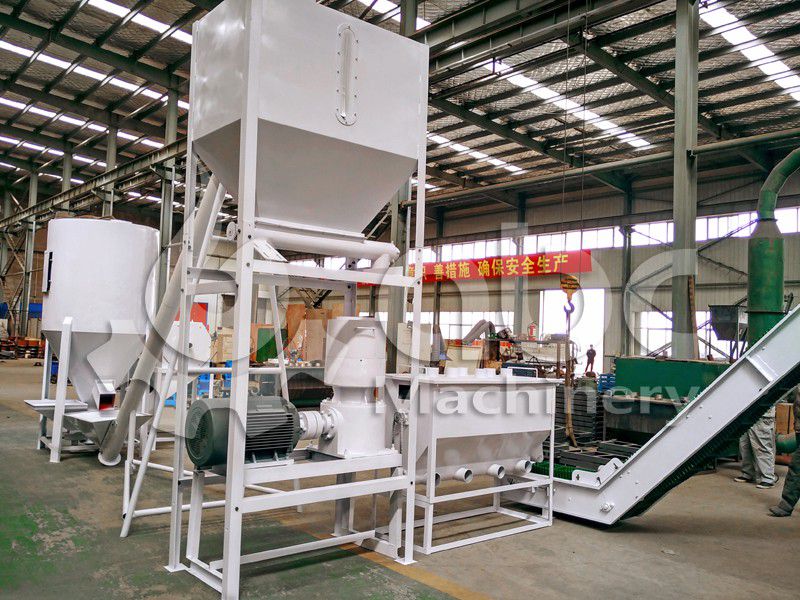 Pelletizing and Cooling Process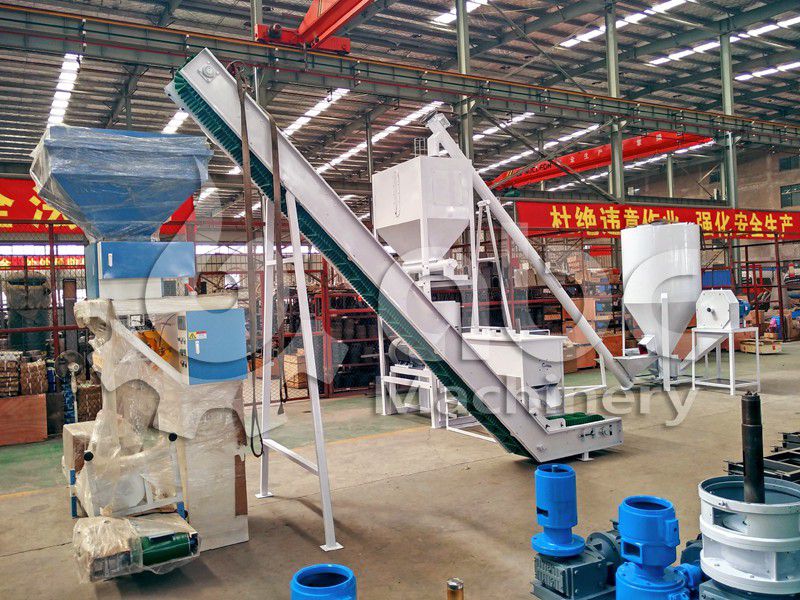 Small Feed Pellet Line
(sideview)
Feed Packaging Machine
Don't hesitate to get in touch with us (info@abcmach.com) if you are interested in our equipments, and you are also welcome to contact us whenever you need help on poultry feed processing or start a Complete Feed Plant.

Start Your Own Poultry Feed Processing Business
Small-scale farmers have made a lot of money from poultry farming and this seems to be the right track to fill out a good living. The reason is that it is cheaper to start and requires a little amount of capital. However, poor quality poultry feeds can lead to stunted growth, diseases, low egg production or even death. The best ways to cut feed production cost and maintain quality is to make chicken feed on the farm. At the same time, producing all varieties of poultry feed at once can be puzzling to unexperienced poultry animal keepers.
Here let's take chicken feed for example. There is a lot of feed in the chicken menu, and the list can be quite overpowering. The following glossary will help you make sense of all chicken feed concepts.
Baby chicks require feed with DCP (Digestive Crude Protein) of 18 to 20 percent. Starter feed is dense in protein and meets the requirements of growing chicks. Young chicks can live on this diet and water comfortably for one and half months of their life before they advance to grower feed. The high concentration of DCP helps baby chicks to develop into wonderful playful pullets. However, the farmer needs to phase out this type of feed once the chicks are six weeks old to avoid feeding excess protein which can cause damage to the liver.


Feed Pellet Crumbles for Chicks
In addition, and to avoid any confusion, there is a type of feed called starter or simply grower feed that chickens can consume from 1-20 weeks of their life. But this, you must consult professional poultry farmers in case of any doubt.

Grower chicken feed is given to chicken that are between one and a half months to 5 months old. This differentiates it from the starter chicken feed.


Small Feed Pellets for Grower Chicken
Growers should consume feed having between 16 to 18 percent protein content and lesser calcium concentration compared to the regular chicken feed. Grower feed supports the growth of young eggs inside the young layers without giving them too many minerals and unnecessary vitamins that are only suitable for fully grown chicken. This makes the young layers grow fast as they prepare to lay high-quality eggs. Once the pullets start laying eggs, it's a sign that you should start providing them with layer chicken feed. (New Product: Mobile Cattle Feed Plant for Sale)
The layer feed has a DCP content similar to that of the grower feed - between 16 to 18 percent. However, it contains extra lime (calcium) and mineral salts that encourage the production of healthy eggshells. It is important to understand that laying chicken that doesn't get sufficient calcium will start using calcium that is stored in their bone tissue to make eggshells. This explains why it is very important to introduce layer feed to chicken around five months old or those that have just started laying eggs. Layer feed should be given to chickens that are only 20 weeks old. Giving this diet to baby chicks will not meet their required special diet. (Related Articles: Make Poultry Feed Pellets from Oil Cake or Meal)


Layer Chicken Feed Pellets
---
Conclusion
Poultry farmers should keep the necessary feed quantities for every stage of the growing chicken. A baby chick needs a minimum of sixty grams daily - give them vegetable and fruit cuttings if they finish their daily rations to ensure that they feed at every point. Egg-laying chicken should be given 130 to 140 grams of feed daily. For pullets, you should give them sixty grams for 2 months and then provide them with a layer diet of 140 grams a day. This will ensure high-quality and happy chicken.

If you are interested in setting up a small or medium scale poultry feed production line at low investment capitals ,build your own poultry feed factory in Philippines, Uzbekistan, Lithuania, Nigeria, Tanzania, etc., at low cost, please fill in the message form below to inform your needs.As the poultry feed production equipment manufacturer integrating production, sales and service, ABC Machinery has a modern equipment production plant and rich installation experience, and can customize poultry feed making machine for you. Investors and farmers can purchase high-quality and low-cost poultry feed processing equipment from ABC Machinery, thereby reducing the cost of the production process.
Planning to have a complete poultry feed mill as a small scale enterprise to complement my poultry farm and also for commercial purposes. -- from Nigeria.
It is no problem. We can provide different output pellet line to match different customer's requirement and budget. But we have to confirm your needs, in order to make design and quotation list for you.
- Please advise which type is your raw mateial ? Different types raw material will be assemble different types fodder pellet machine and material of spare parts.
- How many output per hour is your required ?
- Your raw material type and size? Our fodder pellet machine can pressing various grains, forage, straw, grass and so on. If your raw mateial is more than 3mm and less than 30mm, we need assembel hammer mill for the feed processing line;