Offer 1~40ton/hour Animal Feed Production Machine with Customized Project Plan & All-around After-service!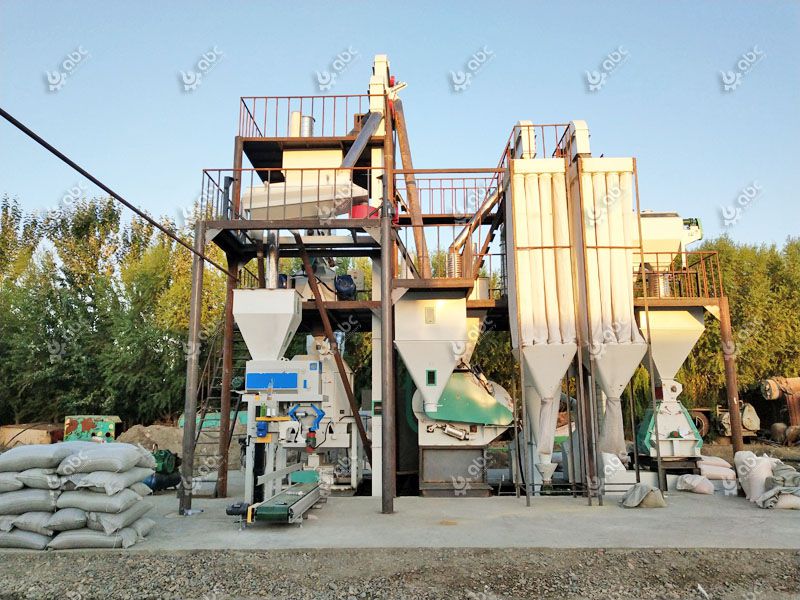 Small Animal Feed Pellet Production Line Setup in Uzbekistan
Animal feed production business is a profitable investment if situated in a strategic location in Uzbekistan. In fact, animal farmers are always searching for formulated feeds essential for the proper growth and nutrition of their animals so as to produce a sufficient amount of products as expected. Each animal has its own nutritional habit and requires special nutrients to enhance faster grow and gain weight. Thus, when setting up animal feed production business in Uzbekistan, you have to know the various feed additives as well as their types, like antibiotics, minerals, vitamins, antioxidants, binders, amino acids, feed acidifies and feed enzymes. Besides, the segmentation can be done depending on livestock, including cattle, poultry, aquatic animals, pig, etc. (Read more about small cattle feed pellet making machine for farmers to make animal feed pellets at home>>)
Setup Small Animal Feed Pellet Production Line in Uzbekistan
Project Name: Small to Medium Animal Feed Pellet Production Line
Feed Mill Location: Uzbekistan
Production Output: 2~4ton/h
Construction Date:Aug. 14th ~ Sep. 17th, 2018
Raw Material: Corn, wheat, rice bran, cottonseed meal, sunflower seed meal, etc.
Main Production Process: Raw materials receiving and cleaning, feed crushing, mixing, pelletizing, pellets cooling and bagging.
Main Equipment: Grain cleaning machinery, hammer mill, feed mixing machine, pellet making machine, counter flow cooler, packaging machine, etc.
So, how to start a small animal feed production line in Uzbekistan? You can take the following animal feed processing project we built in Uzbekistan for reference! View the photos below to know more about the feed pellet processing machines in this project. You are also welome to contact us for details and cost information of this project.

The following photos were taken during the project construction onsite. It is a turnkey project which includes project design, equipment manufacturing, onsite construction & debugging, and operation training. The cost for establishing a 2-5ton/h mash & pelleted feed production plant is about $60,000~$140,000. Just feel free to contact us for Customized Project Plan. You are also welcome to send us your needs, then we can help you ensure the exact cost details for FREE!
Video: Run a Poultry / Cattle Feed Production Plant
Make the BEST Feed Pellet Production Business Plan
Starting your feed pellet processing business in Uzbekistan needs a considerable amount of capital, but before you start, consider these important tips to make the best feed production business plan. (You maybe also interested in start poultry feed business in Nigeria >>)
1. Research the Uzbekistan Animal Feed Market
You must carry out thorough research around your local animal feed market. First, you should identify the needs of animal farmers in your area and then choose a specific category of animal feed that you will trade in. Besides, look at your competitors in your niche and analyze their strengths and mistakes in the business. This will help you prepare a solid strategy to help you in staking up against them as well as being unique.
2. What about a business plan?
In order to succeed in animal feed production market in Uzbekistan, you must create an effective business plan. You have to take into account every aspect of your business such as the business objective and scale of operations, start-up expenses, marketing as well as a financial plan, etc. Since you have already decided about the animal feed category you want to offer, you need to study the food requirements of the animals' group for which you want to produce.
3. Formulation of the Feeds
Each type of animal has a special formula when it comes to feeding formulation hence you must identify the appropriate one for the feeds you intend to produce: if it's not properly produced by mixing raw materials in the precise ratio, you will lose customers because they would not enjoy the expected results after using your feeds. To find out the right formulation of feed, gain some knowledge about the dietary needs of farm animals which you want to manufacture for.
After generating the right feed formulation formula, go for the essential raw materials you require; minerals, common salts, oyster shells, maize, etc. The production procedure is similar to almost all animals but the feed formulation formula varies.
Moreover, animal feed production equipment are needed in your business. These equipment do vary upon the category of animals you specializing in preparing their feeds. Equipment like blenders, conveyors, reservoir, cooker, choppers, and packaging bags will be needed.
4. Animal Feed Pellets Packaging
How will you pack your end products? Getting a packaging idea from your competitors or following how others normally pack their products will be a great idea. The consumer prefers to have packaged size of feeds which are sufficient as well as reasonable: you must try as much as possible to provide all the needed sizes, that is, from small to large. Read more about equipments of complete animal feed plant >>
5. Advertise and Promote your Business
Do proper advertising and promotion of your animal feed production business through the use of effective marketing tactics in all the possible means including online platform and door to door selling.
---
Related Post: Cattle Feed Manufacturing Business Plan and Cost
In a nutshell, make the right choice if you want your business to prosper. How to start an animal feed production business in Uzbekistan will be easy if you follow these tips.