If biomass pellet manufacturing business is something you are looking to get into, then ABC Machinery should be your go-to for purchasing or designing the whole wood pellet processing equipment. We are committed to offering our clients comprehensive support throughout the entire process of their project, starting with the preliminary planning stages and continuing through to installation. Not only will you get a great product, but you'll also save a lot of money. We're the perfect choice for anyone who wants the best of both worlds. (Related post: Wood Pellet Business Plan >>)
5TPH Commercial Wood Pellet Plant Project in South Korean

Factory Site: Gunsan, South Korea
Capacity: 4.5~5TPH
Raw Materials: Offcut or Sawdust of Spruce
Final Product: Wood Pellets
Market Positioning: Provides High Quality Biomass Pellets for Power Plants
Main Equipment: Crusher, Dryer, Ring Die Pellet Mill, Cooling Machine, etc.
This wood pellet plant was designed and built to deal with all the sawdust and offcut or leafover materials of timber mills and make these waste wood into biomass pellet fuel so as to increase profits as well as protect enviornment. With the increasing demands for biomass fuels, more and more timber mills, sawmills, furniture factories and paper factories choose to turn the waste into biomass pellets through commercial wood pellet plant so as to expand its business scope or realize enterprise transformation. The biomass pellet manufacturing industry is expected to bring in a lot of profit in the next few years. (Read more: Biomass Pellet Project Cost >>)

Based on customer's market to provide biomass wood pellets for power plants, the team of ABC Machinery redesigned a special die pore size of wood pellet mill machines. And, the crushing and sieving system designed in this complete wood pellet plant can handle various raw materials, more than 2 kinds of wood. The material bin can achieve the function of batch feeding. The whole wood pellets production line realizes all mechanized operations and saves labor cost, further reducing the operation cost. The special design in the pass of the pelleting machine ensures the smooth and stable pelletizing process.
How Biomass Pellet Plant was Setup?
Below is main onsite installation. As with all of our wood pellet projects, we have arranged for a team of experienced engineers to ensure quick installation and instant problems solving. If you are interested in knowing more about the cost and equipment list, just free to contact us anytime!

Biomass Pellet Plant Project Cost
How much will cost to set up a complete biomass pellet plant project is the most frequently asked questions when talking about wood pellet manufacturing business. Actually, it is really difficult to offer an accurate number since the cost varies from raw materials, pellet mill machinery and pellet production technology, ect. And, the equipment takes up large of the total cost is the determinator for a biomass pellet plant project cost.

The wood pellet plant designed by ABC Machinery generally is about 1~40TPH, and the minimum amount is about 18,000usd, and it is just a reference price, for more exact cost, please check it with your engineers.
Running Test for Biomass Pellet Plant Project in South Africa

New Opportunity to Setup Biomass Pellet Plant in South Korea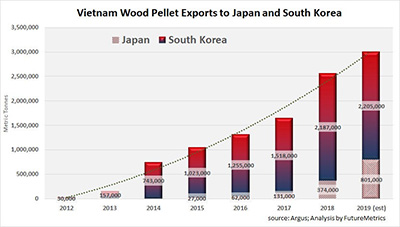 According to the latest news from Yonhap News Agency, the Ministry of Trade, Industry and Energy of South Korea recently held a symposium on the environment-friendly biofuel industry at the Korea Press Center in Jung-gu, Seoul, and decided to expand the use of environment-friendly biofuel, cultivate it into a sunrise industry in the future, and work with the private sector to promote related projects.
In order to stabilize the supply of raw materials for biofuel production, the government will provide support for recycling and utilization of waste materials, and establish a mutually beneficial ecosystem with feedstock suppliers and the biofuel industry. The government will also promote the development of large-scale integrated technologies to ensure the technological competitiveness of environmentally friendly biofuels. Necessary projects will be selected and planned from this year, and a feasibility study will be launched in 2024.
In addition, the South Korean government will begin work next year to provide a legal basis for the use of next-generation biofuels, the report said. In a word, The South Korean government provides comprehensive support for the development of biomass fuels, an attractive proposition for investors interested in the biomass pelletizing industry.