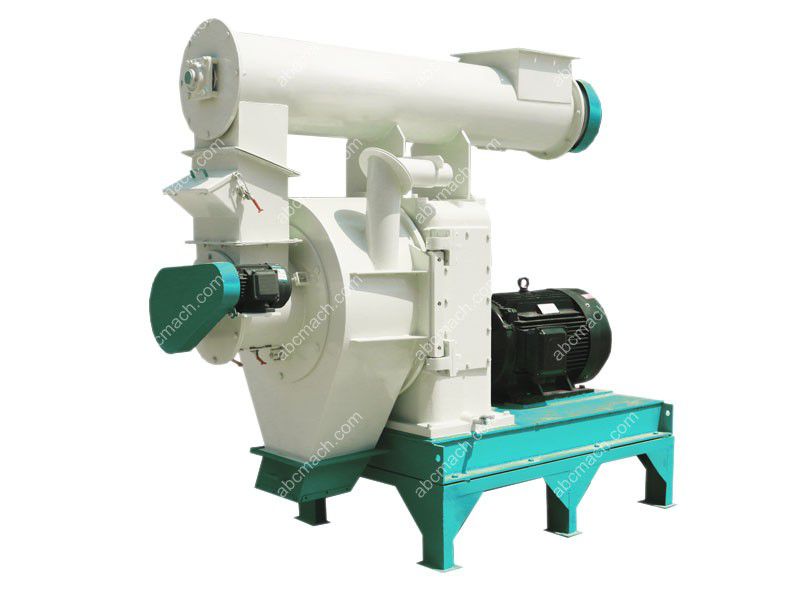 Diameter of Finished Wood Pellets: 6mm, 8mm, 10mm, 12mm.
This type of wood pellet mills for sale is ideal biomass pellet making machine. It is featured of smooth operation, high capacity, low noise, vibration and energy consumption. The average capacity of BPM508 pellet mill for wood pelletizing can reach up to 2Ton/h.
Yes! I am Interested!
Ask for Price
Details:
We are a modern enterprise specialized in the design, manufacture, installation, accessories, and after-sales service of machinery and production lines used in the biomass pellet industry. We have set up many wood pellets lines in China and oversea market, such as Serbia , Bulgaria , England , Australia , Thailand , Indonesia , Vietnam , and other countries.
Model
BPM42
BPM508
Main Motor (kw)
90kw
110kw
Feeding Motor (kw)
1.5kw
1.5kw
Forced-feeding
Motor (kw)
3kw
2.2kw
Capacity (Th/H)
Sawdust: 1.2-1.5T/H
Straw: 2.0-2.5T/H
Sawdust: 1.5-2.0T/H
Straw:2.5-3.5T/H
Weight (kg)
3000kg
3700kg
Packing Size (mm)
1100*2700*2000
1200*2900*2000
Adopt high-precision main drive gear and quick-release hoop type ring die, making the
wood pelletizing
efficiency increased by 20% more than belt drive type pellet mill machine.
The ring die of this industrial
woods pellet mill
is made of special material, adopting finish machining, heat treatment and unique drilling technic, so that to achieve the requirements of making premium wood pellets.
All the driven parts adopts high-quality transmission bearings and seals, so that to ensure the drive efficient, smooth operation and low noise.
Equipped with international advanced compensation type bibby coupling: higher reliability and lower breakdown rate.
Obtained national invention patent.
Added non-stop refueling system and air cooling system.
I'm interested in prices on your sawdust pellet line and machines and specs please, I would like to set up a plant in New Zealand
We have different capacity of wood pellets line to meet with your demands. They can process different kinds of wood and other biomass materials.

In order to offer you the proper proposal of wood pellet line, pls try to answer the following technical questions.
1) Which detailed kinds of wood do you use to make wood pellets? Softwood or hardwood? Pure or mixed wood?
2) How is the common size of your wood materials? Maximum size? Please take some photos of your different size of wood materials, and put a ruler to indicate the size in the photos.
3) How much is the original moisture of your wood materials before processing? Are the moisture of your wood all the same in the year?
4) How many tons of pellets per hour you want to produce? How many hours do you work per day? 8 hours or 16-24 hours?
5) How is the diameter of wood pellets you produce? 6mm or 8mm?
6) Regarding the bagging machine, would you like to use 15-50kg/bag or 1t/bag packing?
7) When will you plan to set up the wood pellet line at your local workshop and start the wood pellets production?
8) What is the final use of these wood pellets? sell in the supermarket or directly put in the boilers,stove,burner,etc?
9) How much is your investment budget on this wood pellets project?

After receive your reply, we will design the wood pellet line to you soon.
My name is Thao from Vietnam. My company specializes in making and trading biomass products. We are interested in your 508 wood pellet mill. We want to buy 3 machines. Could you send me the information of 508 wood pellet mill such as the price, techical specification, detail drawings and designes.
We have exported many units KMPM508 pellet mills in Vietnam this year. Can you confirm whether your raw material is already sawdust which can be pelletized directly? Do you also need control cabinet with the machine?
Our raw material can be pelletized directly. We do not need control cabinet for 508 ring die. When we buy the machine, what is the tools will be together like grease oil pump or anything which help the buyer to operate the machine?
The function of ring die cooling system is used to cool the temperature of pressing chamber when the machine is in working. It can enlarge the lifetime of the ring die. Pls consider it. Yes, with the pellet mill, we can send you the grease oil pump without charge. Other tools are normal one such as wrench, hammer etc.
Please send me information and costs for your pellets machines BPM42 and BPM508. Delivery to Southampton, UK.

Pls refer to attachment for the offer of BPM42 and BPM508 pellet mills to your email. Kindly check whether it meet your demand. All our pellet mills have get CE Certificate from SGS. It needs one 40'container to load these two machines. The shipping cost to Southampton, UK is USD 1300.00. The delivery time is 38 days. If you choose one unit pellet mill, it needs one 20'container to load. The shipping cost to Southampton, UK is USD 850.00.
As one of the earliest batch of teams involved in biomass pelletisation, ABC Machinery has engaged in
manufacturing wood pellet machines
since the beginning of 2003, and has discussed many times with biomass molding professor of Beijing Tsinghua University about the development of pelletizing. Through nearly 8 years of efforts on trial and demonstration, we finally came up with the best pelletizing solutions and launched
BPM series ring die pellet mill
.
Why Buy Wood Pellet Mill for ABC Machinery?
ABC Machinery has the most extensive and comprehensive experiences in manufacturing commercial large scale pellet mill and building biomass pellet production line. We have a professional service team of engineers and technical experts.
Our wood pellet mills have the following advantages when compared to general pellet presses on the market:
Pelletizing Capacity increased by 20%-30% which can reach up to 2.5Ton/h.
Low energy consumption: Thousands of dollars can be saved on electric charge because of our patented transmission technology.
Moisture Requirements expanded from 12-16% to 20%.
Damage Ratio of ring die and pellet roller: no crack risk of ring die, the service life of pellet roller is increased by 100% and the overall damage ratio of the biomass pellets mill is reduced by 40%.
Granule Molding Ratio of the First Run: more than 95%.
Send up an email if you need details of our wood pellet mill. Sincerely at your service!