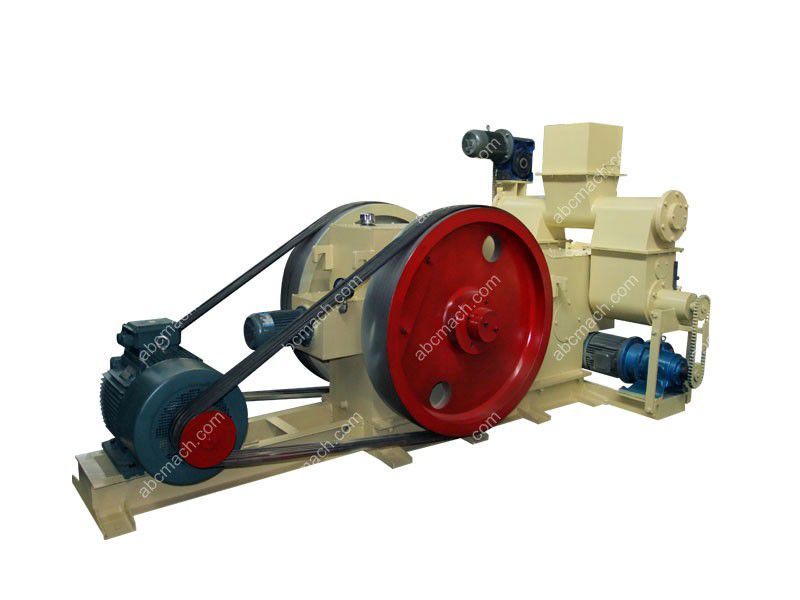 Shape of Briquettes
: Cylinder in any length.
Diameter of Briquettes
:70mm, 30mm, 22mm, 10mm, 8mm
Suitable Biomass Materials
for the Briquetting Machine: straw, grain shells, peanut seedlings (shell), cotton stalks, wood chips, sawdust, branches, bark, bamboo powder, wood wastes, forest residues and so on.
Moisture Requirement
: around 15%.
Size Requirement
: better to be less than 10mm (peanut shells need no crushing, but wood chips need to be crushed to less than 3-5mm).
BriquettingCapacity: 0.7-1.5 T/Hour
Yes! I am Interested!
Ask for Price
Details:
| Model | GC-MBP-500 | GC-MBP-1000 |
| --- | --- | --- |
| Output (kg/h) | 500 | 1000 |
| Size (mm) | 3200*1500*1500 | 3500*1800*1700 |
| Weight (kg) | 4500 | 7000 |
| Total power (kw) | 35 | 61 |
| Finished fuel rod's diameter (mm) | φ50 | φ70/φ22/φ10/φ8 |
This punching briquetting machine (mechanical stamping briquetting plant) matches with the 45kw main motor connected with inertia wheel. The main motor drives the connecting rod doing reciprocating motion in stamping type. The speedy attack makes the temperature of raw material increases rapidly, fiber becomes soft, volume compresses and density is higher. Compared to other briquetting machine, advantages of wood briquetting plant are significant, such as advanced design, stable structure, high adaptability and efficiency, low cost.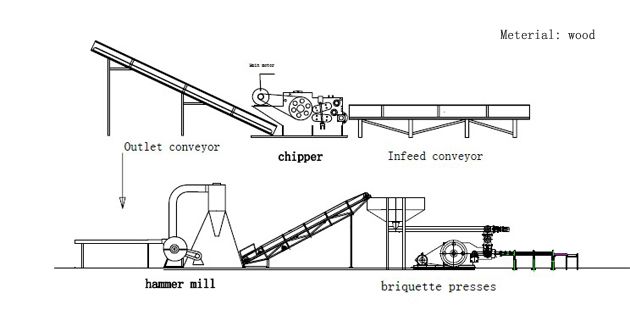 Complete wood Briquette Plant (Raw Material: Wood/Log)

Capacity of Different Briquetting Moulds
The capacity is based on sawdust briquetting production.
| Mould (Diameter) | 8mm | 10mm | 22mm | 30mm | 70mm |
| --- | --- | --- | --- | --- | --- |
| Quantity of Holes | 61 | 37 | 7 | 4 | 1 |
| Capacity | 950 | 900 | 820 | 880 | 1200 |
Compared to the Europe briquette making machines, GC-MBP briquette machine has strengthened the pressure of briquetting. The speedy attack makes the temperature of raw material increases rapidly, fiber becomes soft, volume compresses and density is higher.
Info on mechanical piston / stamping briquette press operating cost compared ring drive pellet mill.
The mechanical piston briquetting machine is mainly used for briquettes production, and also available for pellets production in case of the pellets size is 8mm or more. The briquetting machine is lower cost than ring die pellet mill in same capacity level, but the pellet mill should be more flexible in variable size of pellets production.

Please advise the production capacity in kg or tons per hour, size and moisture content of raw material, size and shape of finished briquettes or pellets (refer to attached picture), and specific requirement on auxiliary equipments such as dryer, chipper and crusher etc.....so that I could offer appropriate proposal & models.
Details of 500kg/h Paraffin and Sawdust Briquette Plant. Ask price for the operation.
Thanks for your kind inquiry. Would you please help for following questions so that I could offer our appropriate models / proposal:

- what's the size and moisture content of raw material;
- what's the size and shape of briquettes you need (refer to attached pictures);
- if there's any specific requirement on auxiliary equipments such as chipper, crusher and dryer etc.
I am after a machine that will turn wood shavings into pellets or briquettes, I would like a small mill if there is one available. I would be using it in a zoo where we have a lot of access to dry wood shavings. Any information would be much appreciated. Many thanks
Would you please help for following questions so that I can offer you appropriate proposal and quotation:

- what's the capacity requirement (range of capacity);
- what's the material you use for pelletization (plant species);
- what's the size and moisture of material;
- what kind of power supply you have (3-phase, 380V and 50Hz) or diesel engine;
- do you need a hammer mill or dryer for raw material processing;
- exact sea port name you need us to ship to.
- if you're interested in distribution of our products in your country.
Overview of Briquetting System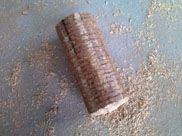 Rice Husk Briquettes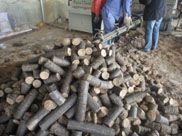 Eucalyptus Skin Briquettes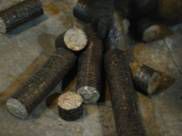 Cotton Straw Briquettes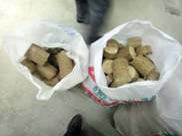 Sawdust Briquettes
According to the differences of shape, size, moisture and composition of raw material, density of final briquettes is different. Therefore, quality of raw material is the core element to improve the briquette production efficiency.

Basic Structure of the Biomass Briquette Machine
Unloading Device
The Main Punching Briquette Machine
Oil Pump
Feeding Belt Conveyor
Batch Loader Box
Separator
Feeder
Frequency Control
What Kinds of Materials Can be used to Make Briquettes?
This GC-MBP-1000 briquetting machine is mainly used for crushing and briquetting the raw materials, such as crop stalks, grain shell, peanut seedlings, cotton bar, sawdust, saw dust, branch, bark, bamboo power, furfural residue, wood scraps, forest residues and house refuse. Screw Briquette Press for Sale>>
The output fuel briquette is a kind of renewable biological energy source, which can be used for generating electricity, heating and also used as life fuel. To some extent, it may instead of mass of fossil energy.
Working Procedure of This Mechanical Stamping Briquetting Machinery
The main function of feeding machine, also known as belt conveyer with packing augers, is to deliver the dry and kibbling material into the depiler machine. The Separator machine pass the material from feeding machine to two flow boxes by driving lever and packing auger equably. Through the two flow boxes on left and right side, the material accesses into the briquette making machine. In order to delivering the material equably, the longer packing auger delivers the material to the central feeding port connecting with two separate deliver ports, and through the two separate deliver ports, the material is feeding into the main machine by two packing auger.
As the core equipment, the main machine must be forced feed lubrication by CBN310 giant gear pump with 1.5kw motor drive to ensure all moving components are in normal lubrication condition. Please start the oil pump motor before main machine. Because of the locking function of oil pump motor, the main machine can not start without starting oil pump motor.After starting oil pump motor, the main machine can be started. Then check oil pressure indicator firstly to make sure oil pressure is in normal. If it has not reached to the normal oil pressure, 5-10kg/cm (0.5-1mpa), please check flow divider on inlet oil line and bearing.When main machine runs without abnormal vibration and noise and eccentric wheel drives the reciprocating motion of pulley in 280 times per minute, the feeding machine begins to feeding. The raw material gets into the flow box by feeding machine and Separator machine. Then gets into the pressing compartment through packing augers on left and right side of flow box.Under the extruding of the punch chip and drill drift, raw material gets softened with increased temperature and small volume. Through the moulding with throat taper, the product which has been solid and hard is expelled gradually.
The forming of briquette is affected by pressure and temperature. Briquetting machine works relying on momentum of crank block. Under the normal status, crank block extrudes the material in 280 times per minute. The pressure can reached to 300t, and the temperature can reached to 150-200℃. Therefore, briquetting machine can adapt the raw materials very well.