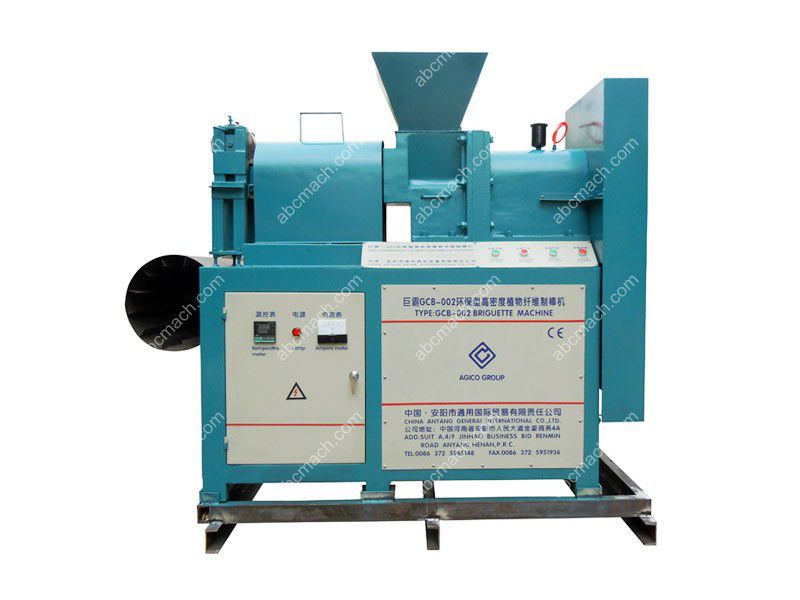 GCBC series briquette press
is our newly developed model after six years of research and has alsoobtains the national utility model patent. The service life of both screw shaft and inner former is greatly improved, which can reach up to 1-2 years.
The heating section is designed with two heat collars made from thick copper wires and the inside is ceramic.
This fuel briquette press also has a specific lubricating system for the gear box, which has an exhaust function to keep consistent air pressure.
Auto cutting system enhances theautomation level of briquetting process automatically. It also makes it capable to customize the length of final fuel briquettes produced by this briquette making machine.
Special designed forming hopper makes it easy to clean the machine and discharge the inputted material once it is jammed.
Yes! I am Interested!
Ask for Price
Details:
Suitable Biomass Materials for The Screw Briquette Machine: pine wood,cedarwood,weed tree sawdust and bamboo dust.
Model
GCBC- I
GCBC-IIA
GCBC-II
Input Raw Material Size (mm)
3-5mm
3-5mm
3-5mm
Output Capacity kg/h
180-210
300-350
300~350
Shapes Of Briquettes
Φ=40mm, 50mm, 60mm, 70mm
Motor Power (kw)
15kw, 380v, Six Grades
18.5kw, 360v, 6 Grades
22 kW
Electric Heater (kw)
2.2kw*2
2.2kw×2
5 kw
Heating Range
280~350℃
280~350℃
280~350℃
Life of The Inner Former
1-2years
1-2years
1-2years
Size of Briquettes Inside Hole
Dia.16mm
Dia.16mm
Dia.18mm/16mm
Density of Briquettes
1.3T/m³
1.3T/m³
1.3T/m³
Weight(kg)
700kg
800kg
780 kg
Overall Dimension(mm)
2700*600*1600 mm
2000*600*1700
1500*1200*1600
Raw Material Moisture Requirements
8~10%
8~10%
8~10%
This is with reference to the above subject we are looking for Compact Briquetting Machine. Our Saw-dust generation is 200 kgs per day.
Please suggest the suitable machine for the same.

Please kindly check the quotation of the briquette making machine we send to your email. But you see, the smallest capacity of our briquette machine is 180-210kg/h. And if you can indicate the material condition like size, moisture, it will help us a lot on recommending suitable machine.

I have a sawmill for eucalyptus and cypress wood in Ethiopia. We are generating about 100 kg of sawdust per hour. Please advise on the GCBA-I/II and GCBC-I/II Screw(Charcoal) Briquette Machine. Please advise also on a complete biomass briquetting line.

According to your request, we would like to recommend you our GCBA-I/II briquette machine. I will send details in the following email for your reference. For the GCBC type, the price is too costly for start of this business.If you want the complete plant, please kindly let us know your material size and miosture. Such we can recommend you suitable dryer and hammer mill.
Typically the output biomass briquettes will be further processed to charcoal briquettes by charring. The charring kiln can be divided into earth kiln, machine kiln and kiln wells. 4 Tons biomass materials with water content of about 30% for example, through screening, drying and briquetting, can make biomass briquettes about 3 Tons. Then after charring, you can get about 1 Ton charcoal briquettes. For a 1TPD charcoal briquette production line, about 10 charring kiln is needed (using in turns).
Operation Instructions of Screw Briquetting Machine
The operation instructions of GCBC series
screw type briquetting machine
(briquette extruder) are as follows:
Bottom must be firm and feet must be cushion flat for the installation, the ground must be strongenough.
Power in line use 16 square meters copper-core line. Motor speed direction are turning right side. At the same time connect the ground base joint line. Motor power: 18.5 KW, 6 stage, 380 V, 37 A.
After electrify circuit is through, check the ammeter, temperature control meter, the indicator light, twist keys, and find whether heating tube is normal or not. If there is abnormal phenomenon, you must check it to be fixed.
First check the raw materials for briquetting (sawdust and other raw materials with dry degree ratio. Note: pine wood chips, phoenix tree, metasequoia or glyptostroboides sawdust ratio should be no more than 30%. Cedar wood, teak, rubber wood shavings in principle cannot be used as raw materials. Grain rice straw and rice husk processed charcoal have low coal ratio, low heat calories, high ash content and burning time is short. Fir flocks is the best raw materials of the charcoal. At the same time, other raw materials like wood should dry to water content lower than 8%, for bamboo crumbs under 4%. Raw materials of high water cut will lead to corrosion and fire with noise.
Heating before operation of the briquette press machine. In usual, the middle sleeve heating temperature adjusts to 350 centigrade. Temperature control instrument in will be showed and then turns on production. In actual production, according to the surface of the material make great burning, can reduce the degree of proper adjustment temperature, but it has to point out that too low temperature will not get briquettes. Heating circle power is 4 KW.
After the briquette press starts up, put little material in the hopper to see whether screw operates as it is expected. If screw can smoothly send out materials, increase the material for the quantity. If screw don't eat raw material, you should stop put material. After positive running stop, open inverted and stop immediately. Open again is forwarded to the material. Try again and again several times to repeat operation, until you can make charcoal. If still can't get stick out, check raw materials and screw.
Maintain the material input speed after briquetting machine normal operates. At the same time, the ammeter is 37A. Less than 37A will not get charcoal. Higher than 37A will lead to overloaded. At this time, you should check the cause of the high current, check motor or screw to find whether then failures to prevent motor burn out are.