Israel has a predominantly Mediterranean climate, with hot, dry summers and mild, humid winters. There are only two distinct seasons in a year: A dry summer from April to October and a wet winter from November to March. There is huge demand for clean energy due to long winter period. Biomass wood pellets can perfectly meet the demand. (Read more: Wood Pellet Business Plan >>)
2~3TPH Wood Pellet Plant Project Report in Israel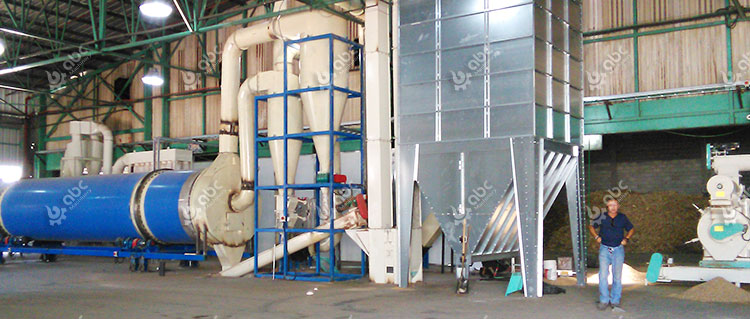 Country: Israel
Raw Material: pine wood logs
Capacity: 2~3 tons per hour
Final Products: biomass wood pellets
Main Equipment: wood chipper, crusher, dryer, ring die pellet mill, cooler, packaging machine, etc.
Main processes: wood chipping, wood crushing, drying, pelletizing, cooling and packaging.

Highlights of Complete Pine Wood Pellet Plant Design


Turn Pine Wood into Commercial Biomass Pellets
The dryer is a three-drum machine. Compared with single-drum types, it takes smaller spaces for the same output and the heat provided by the furnace is fully utilized, which can meet requires of customers.
It is equipped with dry bin for the storage of raw materials that come from drying machine, which can provide sufficient materials for the next process of pelletizing and also reduce labors for the whole wood pelletizing plant.
If you are going to start biomass pellet manufacturing business, ABC Machinery is definitely a great choice for you to purhcase or design the whole wood pellet processing equipment. Our professional and experienced engineers will offer full supports, from preliminary project planning to project installation. In a word, choose us, you can't not only get high efficient and quality guaranteed wood pellet production plant, but also can save a lot of cost.

Biomass Pellet Production Process for Pine Wood Pellet Plant Project
According to provided pine wood, the wood blocks go through the chipper and then through the shredder and into the dryer. And then it all goes into the dry bin. The dry material from the dry bin is fed into the pellet machine. The particles from the pellet machine enter the cooling machine through the belt, and then go through the elevator to the finished product bin, which is packed with small packaging. Check below video of the test running of this pine wood pellet production plant, it includes the complete wood pellet production process.

Efficient and Low-cost Wood Pellet Mill for Sales
| Model | BPM420 | BPM508 | BPM510 |
| --- | --- | --- | --- |
| Capacity | 1000-1500kg/h | 1500-2000kg/h | 15000-2000kg/h |
| Power | 90+1.5+3kw | 110+1.5+1.2kw | 90+1.1+2.2kw |
| Weight | 3000kg | 3700kg | 3200kg |
| Packing Size | 1100*2700*2000mm | 1200*2900*2000mm | 1200*2900*2000mm |

Tips on pine wood pellets manufacturing
About making pine wood into biomass fuel, there are many questions, among which how many biomass pellets can be produced by a tone of pine sawdust is frequently asked by many customers. According to the mositure of sawdust raw material is 18%, the moisture of finished biomass pellets is 8%. In the biomass pellet production process, after high temperature pelletizing, the moisture drops from 18% to 8%, then the moisture loss is 10%. Therefore, a ton of pine wood sawdust processed into biomass pellet products will shrink by 10%, that is, 1 ton of pine wood sawdust can produce 0.9 tons of biomass pellet fuel products.