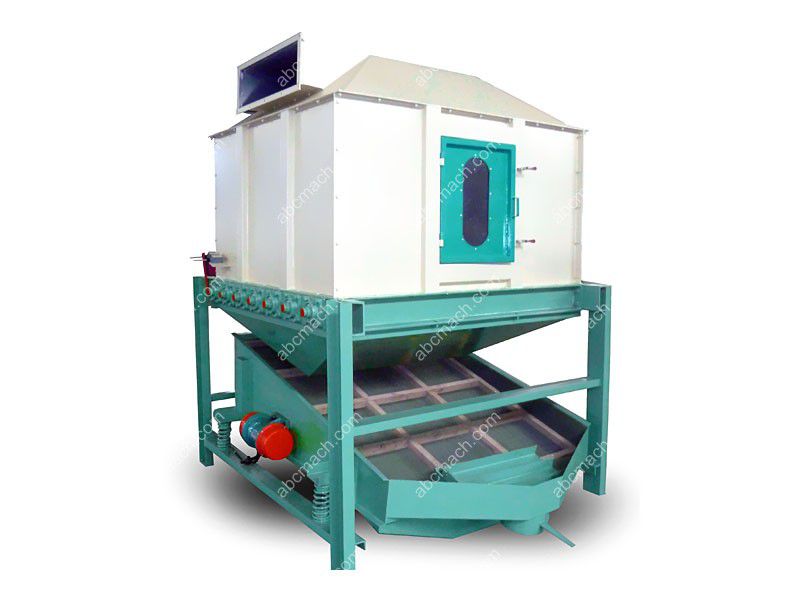 SKLN counter-flow cooler, which is an advanced wood pellet cooling device used for cooling particle material, is the best cooling machine designed for wood pellets production. This wood pellet cooling machine consists of air seal machinery, head cover, material separation awl, cooling chamber, observation window, material level indicator, adjusting ventilation door, machine base, air-inlet screen bottom, discharging panel and motor, etc.
It possesses the advantages of small floor space, easy transport and installation, simple assembling and disassembling, low blast consumption and good cooling effect.
Yes! I am Interested!
Ask for Price
Details:
After the pellets are produced, before package and storage, ensure the moisture content is 15-17% and temperature is 70-85℃. If not, the pellets will be affected with damp and break up.
| Model | SKLN1.0×1.0 | SKLN5 | ZHSKLN10 |
| --- | --- | --- | --- |
| Capacity | 2t/h | 5t/h | 10t/h |
| Overall dimension (L*W*H) | 1270×1090×3030 | 2240x1810x2640 | 2740x2310x2780 |
| Power of discharging motor(kw) | 0.75 | 0.75 | 0.75 |
| Power of air seal machinery(kw) | 0.75 | 0.75 | 0.75 |
| Volume of material chamber | 0.5m3 | 2.25 m3 | 4 m3 |
Structure Details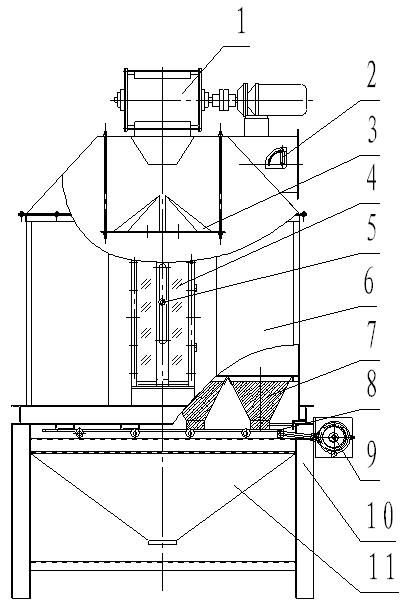 Counter-flow Cooler
This pellet cooler is mainly composed of feedingbelt, air seal machinery, material separation awl, cooling chamber, observation window, material level indicator, base, air-inlet screen bottom, material discharging panel, discharging hopper, vibration motor, draught fan, cyclone and dust-collecting fan and so on.
1. Air seal machinery
2. Adjusting ventilation door
3. Material separation awl
4. Observation window
5. Material level indicator
6. Cooling chamber
7.Air-inlet screen bottom
8. Material discharging panel
9. Motor
10.Base
11.Discharging hopper
Working Principle of SKLN Counter-flow Pellet Cooler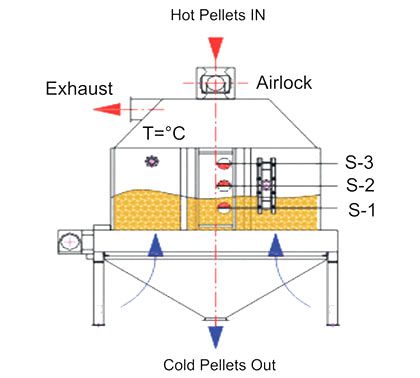 The pellets manufactured by pelletizing press pass by impeller type feeder and fall down to the material separation awl, then it is scattered around the material chamber evenly. When height of the piled material reaches to the level indicator, it sends signal and motor gets to run. Discharging panel is pushed to and fro, and the cooled pellets are discharged out. When material height is lower than indicator, it sends signal and the motor stops running. The cold air is sucked from the bottom of air-inlet screen, then the air gets out from the ventilation door overhead with heat and water after it pass through the pellet material bed vertically. In the counter-flow cooling process, the inhaled cold air contacts the cold pellets on the lower bed and turns into hot air, which contacts the pellets in a high temperature on the higher bed again. The temperature of hot air gets out from ventilation door overhead is almost the same with the temperature of pellet just gets in. In this way, it effectively avoids chilling and it can control the moisture and temperature of finished products. So it reduces crack on pellet surface and ensures the production quality.
---
Installation and Adjustment
Mutual position of air-inlet screen bottom and material-discharging panel had been adjusted before leaving factory. It need to be adjusted if it is not in the right position, the adjustment way is: take down axis pin and screw the joint cover, then adjust the distance between joint cover and pusher rod.Counter-flow cooling machine should be installed flatly, and its feet should be level up.
Position of material level indicator depends on the physical condition. When finished product is in a high moisture content, widen the distance of indicator; and narrow the distance when moisture content is low.Adjustment of material separator awl is according to the uniformity of particle material placed in the material chamber.
Start-up and Shutdown
Start fan and air seal machinery first to drive the counter-flow wood pellet cooler. When height of piled material reaches to level indicator, the indicator sends signal and the motor runs automatically; when height of discharged material is lower to the indicator, the motor will stop running automatically. After manufacturing, press material-discharging button to empty the material chamber, then shut down fan and air seal machinery, etc. It is not allowed to stop the fan when machine is running with material in material chamber, because the particle material which is not fully cooled will cause moisture condensation, and results in machine rusting and products mould.
It has the direct relation between the quality of final biomass pellets and cooler effect. If the pellet cooling machine is improper, the cooling effect will getting worse and cannot meet the requirements of safety storage. And what is even worse is that pellet surface cracks with being fragile, low hardness and high powder content.Our counter-flow pellet cooler is popular among users, which can avoid the above-mentioned defects, and ensure the product quality.