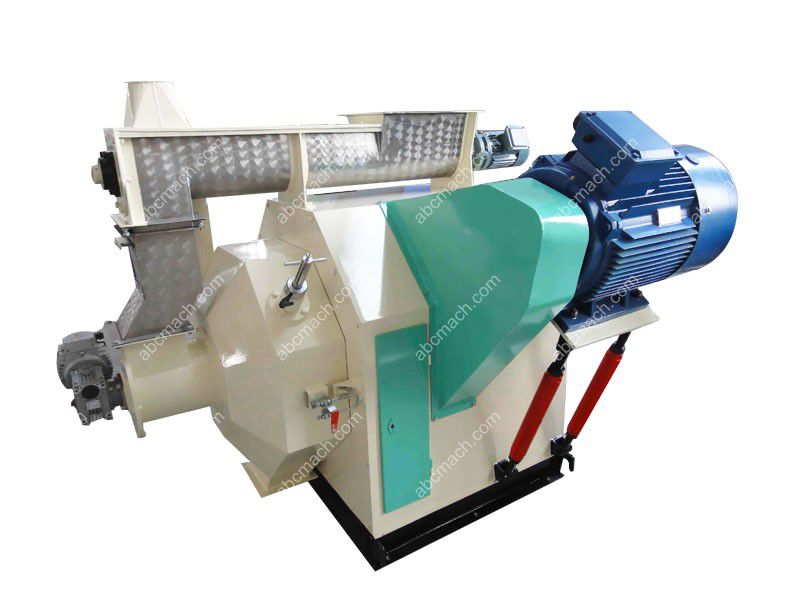 This pellet mill is designed with double belt driven structure. It is suitable for small to medium scale pellet making plant. You can make fuel pellets from various biomass and wood materials such as saw dust, bamboo powder and straw. After pelleting, the final pellets are featured of bright, clean, less crack, high density and quality, uniform length, etc. All the technical indicators can reach international standards.
Need detailed information or latest price of this ring die type wood pelleting machine? Contact us now through email: info@abcmach.com
Yes! I am Interested!
Ask for Price
Details:
Model
BPM25
BPM35
BPM42
BPM508
BPM510
Main Motor
22kw
30*2kw
90kw
110kw
90kw
Feeding Motor
0.75kw
0.75kw
1.5kw
1.5kw
1.1kw
Forced-feeding
Motor
0.37kw
0.75kw
3kw
2.2kw
2.2kw
Capacity
200-250kg/h
500-700kg/h
1.0-1.5 t/h
1.5-2.0 t/h
1.5-2 t/h (Sawdust)
2-3 t/h (Palm Fiber)
Weight
2200kg
3T
3.7T
3.2t
Packing Size
1700*1200*1000mm
1850*1950*1500mm
2150*1950*1900mm
1100*2700*2000mm
1200*2900*2000mm
Hi I would like to build a ring die pellet mill. I have motors and plant but would like to buy just the ring die, rollers and housing for them ideally in a vertical configuration so the drive could be from the base. At this stage I am looking for output of 250-500kg/hr of 6mm wood pellet with a power load below 50kW. Can you help?

From my understanding, you just need the pellet machine without motor?

We have the KMPM35 ring die wood pellet machine, its power is 30kw*2units. And the rotate speed is 960rpm. Pls confirm whether your motor can match our pellet mill, then we can send the description of the pellet mill.

Could you tell me do you have an agent in the UK.?
Yes, we are discussing with one customer on the agent these two days, because they purchased a batch of wood pellet machines from us already and they also have a ability to do the aftersales service.
I would like to start a wood pellet mill plant.

Thanks for your inquiry in our wood pellet plant. Do you need one wood pellet machine or the

wood pellet plant

? The wood pellet plant include

crusher

,

dryer

,

wood pellet mill

,

cooler

etc. If you need, pls offer your raw material information, such as size, moisture etc, then we can design it for you. How about the capacity of the machine or the plant you want?
Our wood pellet machines for sale can adapt to a variety of biomass materials:
Sorts of Wood: Wood dust from furniture factories, logging camps, building materials ; wood branches from gardens or mountains;
Sorts of Bamboo: Bamboo wastes from bamboo handicraft, such as chopsticks, wastes of toothpicks;
Sorts of Straw: Cotton straw, corn straw, soybean stem, rape flowers stem, wheat stem, rice stem, cassava stem, bagasse, rod herbaceous plants, as of tobacco rod, sea buckthorn and so on.
Sorts of Grass: Energy grass, elephant grass, giant king grass, alfalfa grass (mostly used as fodder)
Others: Palm shavings, PKS, Coconut shell, chaff (rice husk, wheat husk…) etc.
ABC Machinery is a reliable wood pellet machine manufacturer specialized in and complete biomass pellet plant including screening, crushing, drying equipment. We have built more than two hundred wood pellet production lines at home and abroad. We can supply overall service from pellet plant design, installation,debugging and after sale service.