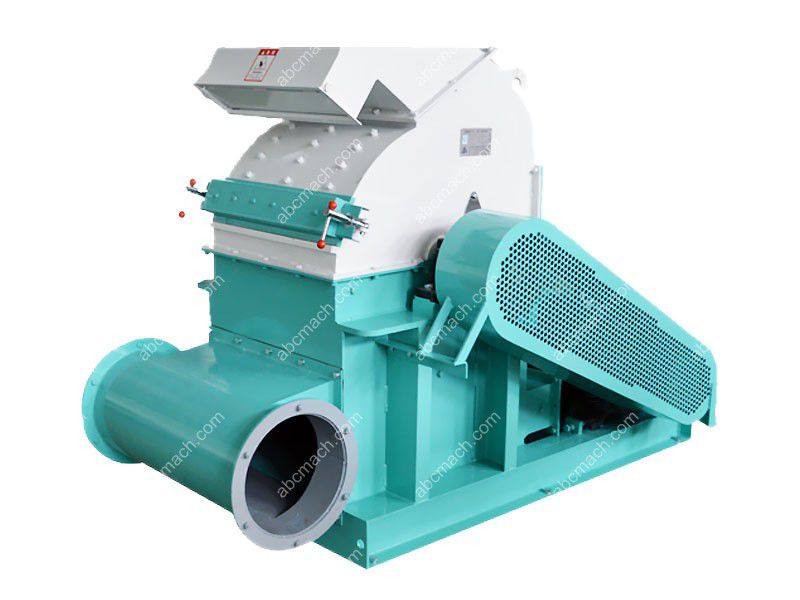 This set of wood hammer mill for sale can grind all kinds of crude fiber and large lump wood materials, for instance, branch, barks, roots, life solid waste and industrial solid wood wastes etc. The diameter of output product can reach 3-5mm.
This wood hammer mill has the welded-steel plate construct. Besides, the motor and the rotor of grinder are installed on the same base, and transported by belt. The rotor is proofed by dynamic balance test. And the feed inlet is on the top of the grinder, which suits the feed device such as screw-propeller and belt conveyor. The hammers are arranged in symmetry. This equipment well known for its simple, sturdy and durable structure, safe and easy to install, operate and maintain and tiny vibrate, high product efficiency.
Yes! I am Interested!
Ask for Price
Details:
This hammer milling machine is coarse grind equipment for biomass pellet line. It is designed for materials with high fiber or high water content and materials with low hardness. It has high productivity and low energy consumption. Below are the technical parameters and performance criteria of this wood hammer mill for sale.
Technical Parameters
Model and specification
SFSPMX80×45
SFSPMX80×60
SFSPMX80×80
SFSPMX80×100
SFSP80-V
Rotor diameter(mm)
800
800
800
800
800
Width of crushing chamber (mm)
450
600
800
1000
1200
Main shaft speed (rpm)
2400
2400
2400
2400
2300
Hammer linear speed(m/s)
100
100
100
100
96
Hammer quantity
36
48
72
96
132
Equipped power(kw)
18.5/22
30/45
45/75
75/90/110
160/200
Bearing model
NSK2216
NSK 2216
NSK 2317
NSK 2317
NSK 2317
Belt model
C2692*5
C2692*5
C2692*5
C2692*5
C2997*5
Ant vibration pad
6
Size of sieve mesh
445*1250
595*1250
795*1250
995*1250
795*1250
External size
Length (mm)
2105
2105
2105
2305
2150
Width (mm)
980
1172
1372
1520
1930
Height (mm)
1600
1600
1600
1600
1800
Air inflow rate (m3/min)
74
91
110
141
Performance Criteria
If the hammer milling machine is installed well and under normal operation, the performance criteria of this equipment are as the following table:
| Model and specification | SFSPMX80×45 | SFSPMX80×60 | SFSPMX80×80 | SSFSPMX80×100 |
| --- | --- | --- | --- | --- |
| Equipped power (kw) | 18.5~22 | 30~45 | 45~75 | 75~110 |
| Production output (t/h) | 1.5~2 | 2~3 | 3~4 | 5~7 |
Note: Demands need to be satisfied to meet the performance criteria mentioned before: The type of raw materials: water content should not over 14%; bulk density should not below 0.4 t/ m3. Sieve diameter of chipper is φ10mm; open porosity should not below 14%. 5cm is the advised size of raw material, and the output will reduced if the size of raw materials gets smaller. The small power configuration is used for materials with small bulk density and easy to grinded.
Hammer Mill Vs. Wood Crusher
Hammer mill is also called wood grinder or shredder in some places. It is one of the key machinery for crushing system of biomass pellet making process. Below is the detailed information of the wood shredding/crushing machine.
Hammer mill and wood crusher are different. Actually, hammer mill is used for further crushing. After crushing, the diameter of wood materials is around 200mm; while after hammer milling, the diameter can be 3-5mm.
The Main Structure of SFSP Wood Hammer Mill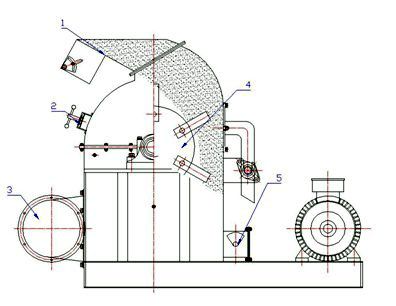 Equipment Base: It has the function of connecting and supporting other parts of grinder. Smashed powder should be discharged from the draft fan equipped on the side of or below the base.
Rotor: Rotor is composed of main shaft, hammer frame board, axis pin, hammers, bearing and other parts. It is the main moving element of the mill. The rotating speed of rotor is high; therefore, the assembly must proofed by the balance test before the axis pin and hammers are installed
This milling machine includes several main parts showing as the left image.
Feed Inlet
Deferrization Device
Dischage Outlet
Rotor
Tuyere
Working Principle of Hammer Mill: Raw materials are uniformly fed into the mill from the feed inlet. They are smashed under strike of the high speed rotating hummer and friction from the sieve plate. After the centrifugal force and air flow, raw materials will discharge from the outlet on the air conveyor base.
Installation Of Hammer Mill
The main shaft and motor of this equipment use belt to rotate. The motor installed on the base of this machine, under the base there has an ant-vibration pad. During installation, the machine is directly placed on a basic plane through the ant-vibration pad, and does not need other connection to fasten. It should be noted that during the installation of the ant-vibration pad, it should be kept on the same level. The soft connection should be used in feeding and discharging device. The size of installed machine and installation requirements can be seen in the sample diagram.
The mill shall be equipped with corresponding power starting device, protection device and electric meter.
Operating Instruction
Read this guide carefully before using this equipment. Moreover, operators need to understand the structure of this equipment and need to familiar with the performance criteria and operating method.
Carefully check all connection parts before turning on the device and make sure there are no loosing parts.
Check if the rotation of rotor is flexible. Card, touch and friction sounds are not allowed to happen.
Under the guarantee of human security situation, the equipment can be turned on. The air inflow system must be in normal working condition and it should have 2-3 minutes free running before feeding.
Uniform feeding is needed to ensure the motor works under rated load.
The hammer milling machine need to be stopped and inspected immediately under any abnormal situation. Troubleshooting under operation is strictly prohibited.
If the feeding port is blocked, it is not allowed to use hands or sticks to feed.
Iron, stones and other abnormal materials are strictly forbidden to mix with raw materials.
The workplace need to meet the ventilation and fire prevention requirements.
Select a reasonable equipment power. And it is not allowed to arbitrarily raise the rotating speed of the main shaft.
1-2 minutes free running is needed after operation to discharge all smashed materials. Then the equipment can be turned off.
If strong vibration happened during operation, close the equipment directly and find out the reason. After troubleshooting, the equipment can be turned on.
Well cleaning and necessary inspection is needed after every round of operation.
If the user does not purchase magnetic feeding devices, make sure add the magnetic feeding device during installation.