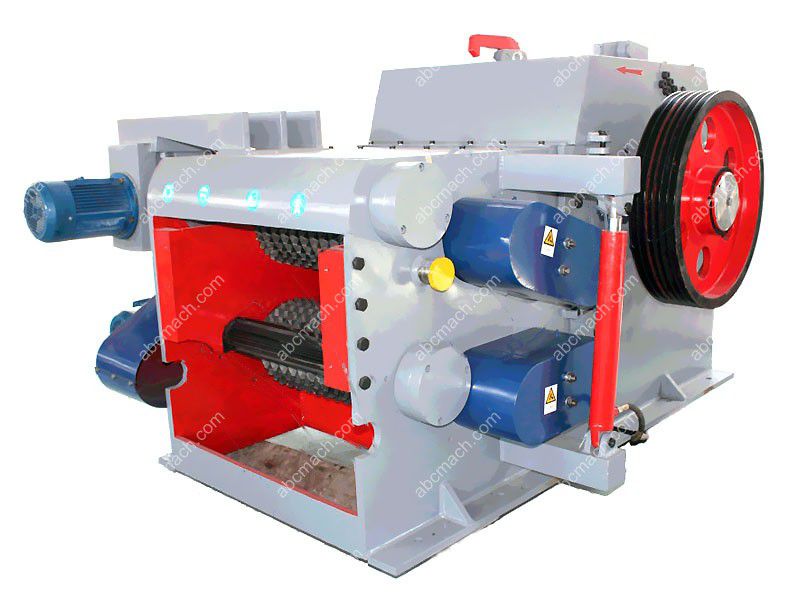 This is a newly developed Drum Chipper Machine.Drum type wood chipper is composed of engine base, knife roller, feedroller, feeding conveying system, hydraulic dampingsystemand electrical control system.
Size requirements for chipping raw material
: diameter less than 200mm; length less than 1000mm.
Size of final wood chips
: thickness less than 3mm; length less than 15-25mm.
(This industrial chipping machine can produce perfect wood chips with uniform chip thickness and desired length by changing the distance of the knives.)
Yes! I am Interested!
Ask for Price
Details:
| | |
| --- | --- |
| Model | BBX215 |
| Rotor Diameter(mm) | 500 |
| Number of rotor knives(pieces) | 2 |
| Feed opening(mm) | 180x400 |
| Rotor Speed(Rpm) | 592 |
| Feed Speed(m/min) | 38 |
| Stock processed max diameter(mm) | 160 |
| Chip length(mm) | 35 |
| Capacity(m3/h) | 4-5 |
| Main drive motor power(KW) | 45 |
| Feed roller motor power(KW) | 2.2x2 |
| Weight(t) | 2.9 |
| Overall dimensions(LxWxH)(mm) | 1540x1240x1020 |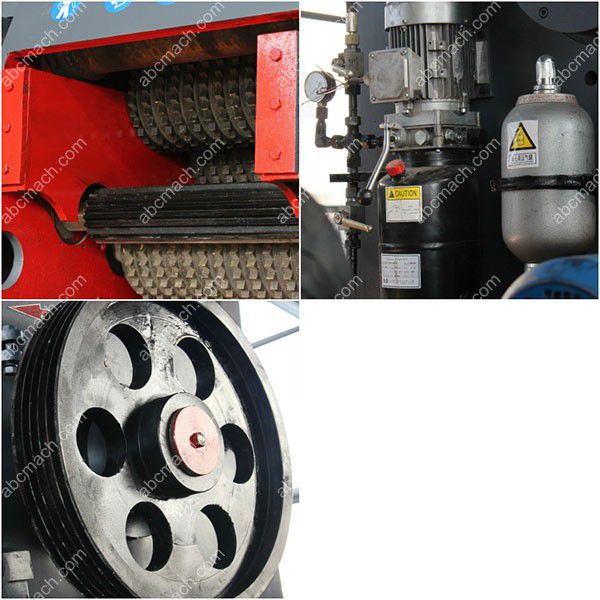 Wood Chipper is also known as wood shredder. It is one of the key machinery for the crushing system of wood pellet line. As its name suggested, wood chipper machine is a kind of wood processing equipment which is designed to chipping wood materials to small pieces. It can process log, undersized log, wood branches, logging residues, wood slab and other wood processing residues. For the wood chippers for sale on the market, the basic technical parameter is the cutting length of wood chips.The best way to tell the quality of one chipping machine is to see the quality of its cut-out wood chips. The final products of good chipper machine are featured with uniform size and littledebris.
Advantages of Drum Chipper Machine
Wood chipper can generally be divided into dis chipper and drum chipper by structure. Below is the advantages of drum type chipper.
Compact structure
Low energy consumption
Safe
Reliable
easy operation
Wide raw material adaptability. It not only can cut a variety of log, but also can cut woodharvesting andprocessing residues, as well asbamboo, cotton stalks and othernon-woodgrasses.
Structure of Drum Type Wood Chipping Machine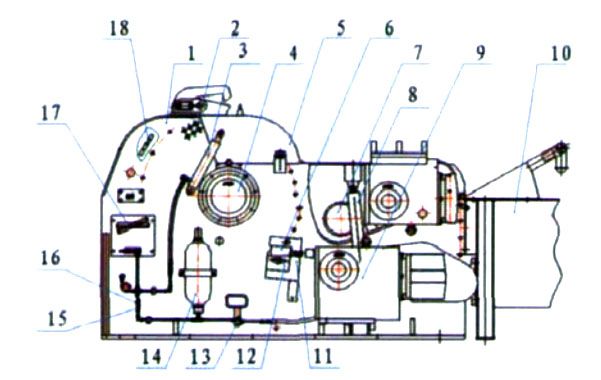 1. Frame Assembly
2. Scrap Skewer
3. Small Cylinder
4. Knife Roll Assembly
5. Cover
6. Internal Keys
7. Top Feeding Assembly
8. Large Oil Cylinder
9. Bottom Feeding Assembly
10. Transmission Assembly
11. Bottom Knife Holder Support
12. Bottom Knife Holder
13. One-Way Throttle Valve
14. Accumulator
15. Hydraulic System
16. Globe Valve
17. Hand Pump
18. Screen Mesh
Working Principle of Drum Chipper Machine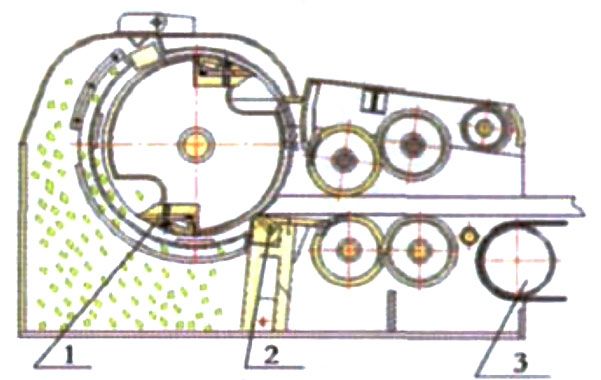 1.Fly-cutter 2.Dead Knife 3.Conveying System
Through transport system and feed door, wood materials will be sent into the chipper machine. These wood materials will be cut into wood chips under the shearing of high-speed rotating knife and dead knife mounted on the base of the machine.Chips with desired size will be screened out through the mesh and then be exported through conveying system. Some larger wood chips can not pass through the screen holes and will stay in the chipper for further chipping.